Ingredient Spotlight: White Lily Flour
Established in 1883 in Knoxville, Tennessee, White Lily flour lives on as a staple in Southern pantries. This flour is known for producing the lightest, fluffiest biscuits around. Read on to find out why!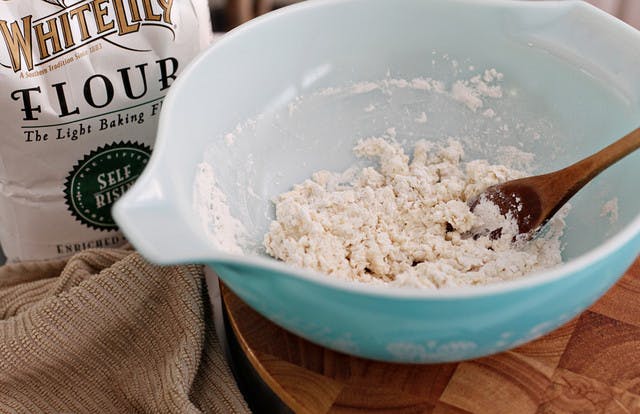 Known as "the light baking flour," White Lily's flour is made from only soft red winter wheat. Because this type wheat has low protein and gluten contents, it is the ideal choice for creating a lighter consistency to biscuits, an extra flakiness to pie crusts, and added moisture to muffins. Our I-Can't-Believe-Biscuits-Can-Be-This-Easy Cream Biscuits are proof that White Lily self-rising flour reigns as the best selection for airy, buttery biscuits.
We feature White Lily all-purpose flour in our Chicken & Dumplings with Field Peas. Take care not to overwork your dumpling dough to ensure you will have the lightest dumplings around. Try adding extra flavor to your dumplings in our Roasted Chicken Legs with Butter Beans & Herbed Dumplings. Here, fresh herbs are chopped and tossed into the dough. Check out this video on How to Make Herbed Dumplings.
White Lily flour is versatile making it useful for nearly any baked good recipe. If substituting White Lily for another all-purpose flour, be sure to supplement a little extra than what the recipe calls for adding. For every cup of all-purpose flour, 1 cup and 2 tablespoons of White Lily should be added.
What Southern treat do YOU prepare using White Lily?