Beer Pairings Week of September 8, 2015
Looking for the perfect brew to go along with your PeachDish meals? We've got you covered. We've partnered with the owners of BeerGirl, a local Atlanta shop, to help you select the perfect beverage. BeerGirl's passionate owners, Alexia Ryan and Erik Lewis opened their shop with the dream of connecting the people of their community with delicious craft beer from the South and beyond. Here are this week's suggested pairings: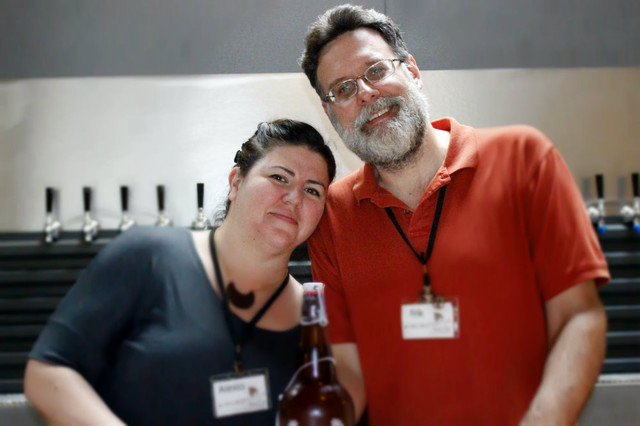 Chicken & Dumplings with Field Peas
Try a less hoppy Pale Ale with a good malt base the will hold up to the heartiness of this dish but won't fight the richness of the sauce. The citrus and bitterness of the hops will keep your palate clear and really enhance the fresh herb flavors.
Suggestion: Ballast Point Grunion Pale Ale, San Diego, California
Salmon Croquettes with Dill Sauce & Gem Lettuce Salad
Though lighter hefeweizen is more common these days, a darker maltier dunkelweizen still has the same spicy and fruity esters as its lighter cousin while offering a richness that will stand up to salmon.
Suggestion: Franziskaner Hefe­Weisse Dunkel, Germany
Kielbasa­Veggie Sauté with Sliced Tomatoes & Grits
Schwarzbier is sometimes called "black pils" because despite its color (which, due to its medium­light body, is rarely black) it is a very clean and refreshing lager. The toasty malts and dry finish lend to this classic lager and sausage pairing and lower alcohol will keep it from amplifying any spiciness in the kielbasa.
Suggestion: The Duck­Rabbit Schwarzbier, Farmville, North Carolina
Sungold Tomato & Chevre Pita Pizza with Zucchini Salad
Though the guidelines on the American Wild Ale style are a bit vague and the wild ales themselves can vary greatly, they are all brewed with some sort of acid­producing bacteria or wild yeast that can yield the same kind of tartness as you would expect from a white wine like a Sauvignon Blanc. Go for a lighter colored wild ale that won't overwhelm the fresh tomato acidity or zucchini salad.
Suggestion: Boulevard Tell­Tale Tart, Kansas City, Missouri
Georgia ­local recommendation: Monday Night Spirit Animal, Atlanta, Georgia
Potato & Chickpea Curry with Lime Basmati Rice
Because of the craft beer industry's penchant for experimentation, we now have beers with virtually every spice profile available in the market. So, when looking to pair a dish with some regional flavor profiles, why not try a beer with the same or similar regional flavor profiles? Try something like a witbier with lemongrass and ginger that will enhance those complex curry spices.
Suggestion: Westbrook White Thai, Mount Pleasant, South Carolina
Georgia­local recommendation: Second Self Thai Wheat, Atlanta, Georgia