Ingredient Spotlight: Tomatoes
As the long hot days of summer slowly dwindle, we savor the last of its famous bounty: tomatoes.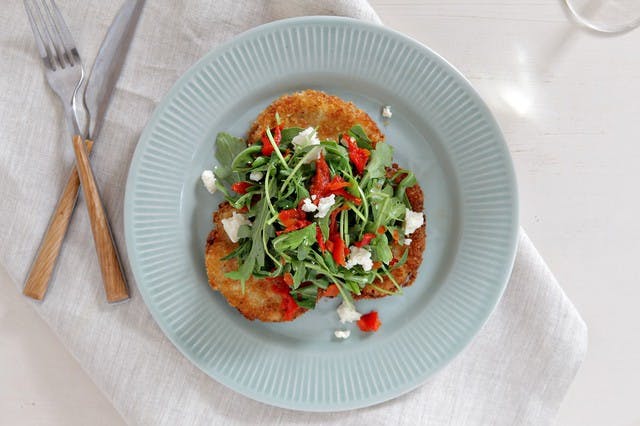 This fruit, often treated as a vegetable in the culinary world, originally hails from Central and South America. Peoples as long ago as the Aztecs have been using the tomato in cooking. Tomatoes are a powerhouse of nutritional benefits. Most notably, they have high levels of the very powerful antioxidant, lycopene. Tomatoes also provide strong amounts of Vitamin C and beta-carotene as well as an array of phytonutrients.
Today, there are over 7,500 different varieties of tomatoes in existence! They can be broken down into categories mostly based off their size and shape.
-Slicing tomatoes (also known as globe tomatoes) are those most widely produced for commercial use. Try them as a summertime classic salad in our Kielbasa-Veggie Saute with Sliced Tomatoes & Grits.
-Beefsteak tomatoes are typically sliced for sandwiches or burgers.
-Plum tomatoes are most often used in tomato-based sauces and pastes.
-Pear tomatoes are often used for pastes but have a richer flavor (think San Marzano) than Plum.
-Cherry and Grape tomatoes are excellent eaten whole and tossed in a salad. Sungolds are a type of cherry tomato that shine in our Sungold Tomato & Chevre Pita Pizza with Zucchini Salad and Trout with Sungold & Cucumber Gazpacho Over Wheat Berries.
Heirloom tomatoes have also made a comeback as of late. Showing up in a variety of hues, these summer beauties are more delicate than the standard tomato but come packed with a punch of flavor.
Green tomatoes are simply tomatoes that are not fully ripened (they can be any variety). These gems are typically a fall treasure as they must be pulled from tomato plants that have reached their peak of the summer. They are rich in antioxidants as well as B vitamins. Green tomatoes are not as juicy or sweet as their fully developed versions, but they are particularly delicious when fried (as in our Fried Green Tomatoes with Roasted Peppers Salad & Chevre).