Weekly Wine Pairings
Each week, Wine Specialist Sarah Pierre brings you suggestions to complement your PeachDish meals. Sarah is one of the owners at 3 Parks Wine Shop in Glenwood Park, Atlanta. She paired up with the team of The Shed at Glenwood and The Pig and The Pearl and opened 3 Parks in 2013. Prior to opening the store, she spent most of her career working and managing notable restaurants in Atlanta and New York City. Sarah selects all of the wines that are offered at 3 Parks Wine Shop and also assists in pairing wines for local events and dinners throughout Atlanta.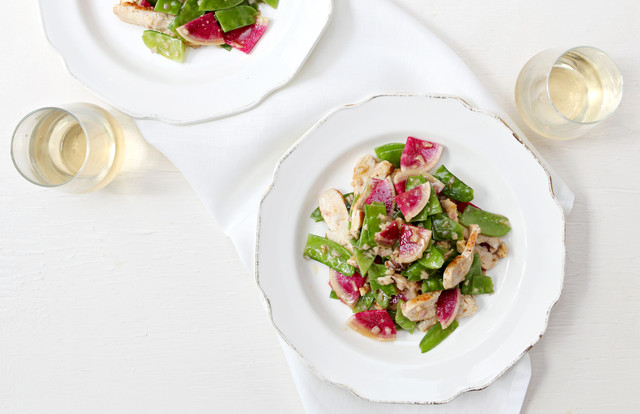 Faux Gumbo with Red Beans & Corn
Pinot Noir - When pairing spicy dishes with wine, select young wines with minimal to no oak and that are moderately lower in alcohol. This "faux" gumbo won't be extremely spicy, so any Pinot Noir will work. Suggestion: 2012 Bethel Heights Pinot Noir is a winner for this one.
Rosé d'Anjou - An off-dry Rosé - specifically from Anjou region in the Loire Valley. These wines are excellent with spicy and/or cajun style dishes. Suggestion: Remy Pannier Rosé d'Anjou
Grouper Stew with Potatoes & Peppers
Montepulciano d'Abruzzo - With this particular dish, your main components are fish and tomatoes - both of which are tricky pairings. Lighter Italian reds are always great options. Try a Montepulciano d'Abruzzo which tends to be lighter and extremely approachable. Suggestion: Farnese Fantini Montepulciano d'Abruzzo, Italy
Pinot Grigio - A crisp white wine like Pinot Grigio is a classic Italian pairing for fish and stewed tomatoes. Like we say in the South, "If it ain't broke...don't fix it". Suggestion: Bollini Pinot Grigio Trentino, Trentino-Alto Adige, Italy
Chicken Breast, Walnut & Snow Pea Salad
Pinot Noir - Light, bright, and always great with a salad- especially one that is dressed with a mustard vinaigrette. Suggestion: Calera Pinot Noir, Central Coast, California
Côtes du Rhône Blanc - This salad will easily be able to tackle a full, slightly earthy white. If you haven't tried one, get to your local wine shop and share it with your friends. Suggestion: M. Chapoutier Cotes du Rhone Belleruche Blanc, Rhone
Tofu Bowl over Brown Rice with Golden Gravy
Syrah - Grab one from California. You'll want a savory red wine to pair with the well-seasoned tofu and veggies and the rich, flavorful gravy. I also think the texture of the tofu will pair well with a drier, slightly fuller Syrah. Suggestion: Bell Syrah, Napa Valley, CA
Chablis - A French Chardonnay is delicate and fresh on the palate - very different from its California version which tends to be oaked and full bodied. Suggestion: Laurent Tribut Chablis, Burgundy, France