Ingredient Spotlight: The Spotted Trotter Kielbasa
Our friends at local Atlanta boutique charcuterie house, The Spotted Trotter, have done it again. They've delivered some of the best-tasting, highest quality meat around: introducing kielbasa.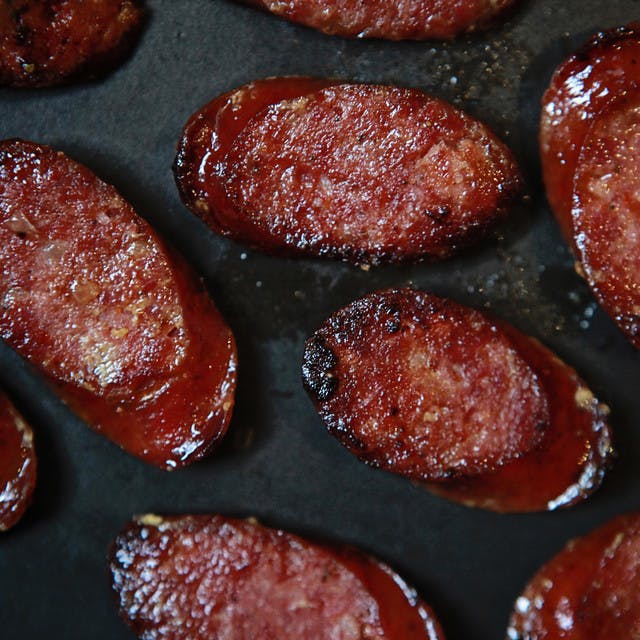 "Kielbasa" is Polish for "sausage," and a variety of different styles exist. Most contain pork but some, like The Spotted Trotter's, are a mixture of beef and pork. Lamb, turkey, chicken and even veal kielbasa are also popular choices.
Kielbasa is often flavored with cloves and other spices, garlic, pimento and herbs and then smoked (although it can also be purchased fresh). If smoked, kielbasa can be served hot or cold, and grilled, baked or boiled. Kielbasa is fabulous added into soups or stews, served with sauerkraut, or even sliced and served as a snack (popular with vodka in Poland!).
We prefer to use The Spotted Trotter's kielbasa because this local company's meats are all-natural and from animals that are humanely-raised and hormone-free. The Spotted Trotter also uses organic herbs and produce when seasoning their meat. We highlight their garlicky smoked sausage in our Kielbasa-Veggie Saute with Sliced Tomatoes and Grits.
Try these other dishes showing off sausage from The Spotted Trotter- you can order their products online at thespottedtrotter.com.
Spotted Trotter Beef & Pork Kielbasa with Potatoes and Cabbage
Pork & Black Cherry Sausage & Quinoa with Escarole
Bacon & Greens Sausage with Hoecakes & Pepper-Shallot Confit
Spotted Trotter Sausage, Crisp Apple, & Kale Pasta in Cream Sauce