Weekly Beer Pairings for September 1, 2015
Looking for the perfect brew to go along with your PeachDish meals? We've got you covered. We've partnered with the owners of BeerGirl, a local Atlanta shop, to help you select the perfect beverage. BeerGirl's passionate owners, Alexia Ryan and Erik Lewis opened their shop with the dream of connecting the people of their community with delicious craft beer from the South and beyond. You can find their shop at Here are this week's suggested pairings: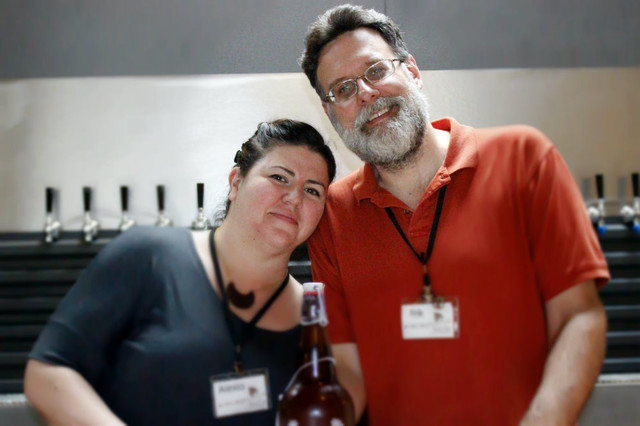 Curried Chicken Breasts with Escarole and Basmati Rice
Curries have a lot of complex flavors going on and even though your first instinct might be to go for an IPA (it is an India Pale Ale right?) the hoppiness of an IPA will more likely end up competing rather than complementing. Something with a little malty body and soft subtle mouthfeel, like a Belgian blonde, would work well with a creamy curry.
Suggestion: Leffe Blond, Belgium
Pork Lettuce Wraps, with Cucumber Sesame Rice Noodles
The spicy-sweet and clean flavors of this dish call for a beer of equal character. Something like a Saison style, which was originally brewed to be sturdy enough to last through the summer months but not too heavy for warmer weather, would match well. Look for one with light to medium body, some characteristic spice and lemon zest aromas and a dry (with maybe a little hop) finish.
Suggestion: Brooklyn Sorachi Ace, Brooklyn, New York Georgia-local recommendation: Creature Comforts Arcadiana Saison, Athens, Georgia
Stuffed Summer Squash & Carolina Gold Rice
Rye is not just for bread! (Or whiskey!) Rye beers are made by substituting rye for some or all of the barley when brewing giving the beer a little spicy and sour-like characteristic that helps clean your palette and keep the hop finish in check. That rye is really going to make the nuttiness of the squash and pecans pop while a little hop will stand up well to the pepper and cheese filling.
Suggestion: Terrapin Rye Pale Ale, Athens, Georgia (And it's Georgia-local!)
Quinoa & White Bean Veggie Burgers with Potato Wedges
Amber ales often get overlooked when pairing with food because they go well with just about anything. Because they are darker in color, have more caramel flavor, more body and are very evenly balanced, ambers will mirror the flavors in this burger and give you that satisfying full belly feeling.
Suggestion: Thomas Creek Appalachian Amber Ale, Greenville, South Carolina Georgia-local recommendation: Strawn Amber Ale, Fairburn, Georgia
Grilled Grass-fed Burgers with Avocado and Elote
There are so so many beers that will go great with a burger, but as the summer is getting ready to say its fairwells, we might do well to pour a dark beer. Porters are lighter than stouts in body, if not in color, and their dry roasty malts will highlight the smoke and really let you savor that end of summer grilled burger. They'll also accentuate the sweetness of the corn and enhance the rich mouthfeel of avocado.
Suggestion: Anchor Porter, San Francisco, CA Georgia-local recommendation: Jailhouse Restraining Order Porter, Hampton, GA
Beef Medallions, Roasted Fingerling Potatoes, Sauteed Green Beans
Black Lager or Schwarzbier - Some people might say stout is the best choice to accompany a steak, but for something a little less heavy in the summer months, try a black lager. Lagers are bottom fermented at cooler temperatures resulting in a clearer beer with medium body and the toasted malts will lend depth to the tenderloin without weighing you down.
Suggestion: Uinta Baba Black Lager, Salt Lake City Utah