Weekly Beer Pairings
Looking for the perfect brew to go along with your PeachDish meals? We've got you covered. We've partnered with the owners of BeerGirl, a local Atlanta shop, to help you select the perfect beverage. BeerGirl's passionate owners, Alexia Ryan and Erik Lewis opened their shop with the dream of connecting the people of their community with delicious craft beer from the South and beyond. Here are this week's suggested pairings: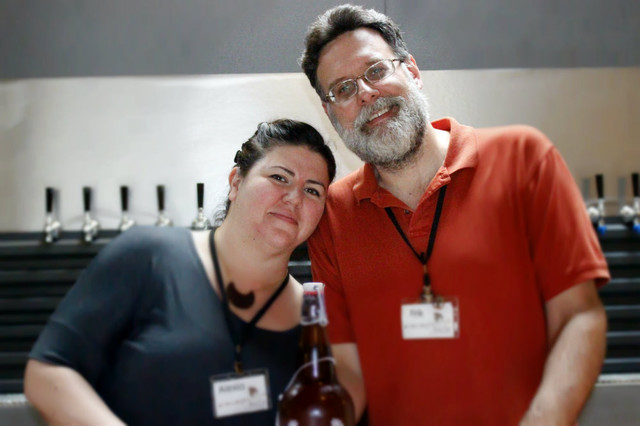 Summer Squash, Basil & Corn Risotto
Berliner Weisse - Berliners are light bodied and lower in alcohol (3-5%) so they won't overpower the delicate flavors of sweet summer squash and crisp corn. The tartness and a dry finish leaves the palate feeling clean and ready for the next beer!
Suggestion: Bayerischer Bahnhof Berliner Style Weisse, Leipzig, Germany Georgia-local recommendation: Creature Comforts Athena, Athens, Georgia
Spiced Eggplant Steaks with Lemon-Garlic Couscous
Saison, or saison with Brettanomyces - Traditionally brewed in the cooler months as a sturdier beer that would hold up during the summer seaons (pre-refrigeration), saisons tend to have citrusy aromas that will make the lemon and garlic of the couscous really pop. The addition of the wild yeast strain Brettanomyces gives it an earthy, funky flavor that echos those Mediterranean spices.
Suggestion: Boulevard Saison-Brett, Kansas City, Missouri
Beef Tenderloin, Roasted Fingerling Potatoes, Sauteed Green Beans
Black Lager or Schwarzbier - Some people might say stout is the best choice to accompany a steak, but for something a little less heavy in the summer months, try a black lager. Lagers are bottom fermented at cooler temperatures resulting in a clearer beer with medium body and the toasted malts will lend depth to the tenderloin without weighing you down.
Suggestion: Uinta Baba Black Lager, Salt Lake City Utah
Chicken Fundida with Guero Chilies & Squash
Beware higher alcohol content beers! Alcohol will intensify the heat of the chilies. Go for a pilsner. This lightly hopped classic will keep the heat in Czech (see what we did there?)
Suggestion: Pilsner Urquell, Plzen, Czech Republic Georgia-local recommendation: Three Taverns Prince of Pilsen, Decatur, Georgia
Grass-Fed Cheeseburgers with Caramelized Onions & Roasted Zucchini Sticks
What goes better with a cheeseburger than a malt? American two-row malt that is. Throw in some indigenous hops, yeast and water and you've got the perfect pairing. An American Pale Ale will stand up to bold flavors while giving you just enough bitterness to cut through the richness.
Suggestion: Highland St. Tereses Pale Ale, Asheville, North Carolina Georgia-local recommendation: Burnt Hickory Ezekielís Wheel Pale Ale, Kennesaw, Georgia
Trout with Sungold & Cucumber Gazpacho Over Wheat Berries
American Wheat Beer- The understated character of wheat beer is ideal for matching with light fish and the beer's botanicals will complement the cucumber and feta. American wheats possess very little of the fruity esters that are the hallmark of their German and Belgian counterparts, and instead offer a cleaner and light bodied alternative that won't overpower this dish.
Suggestion: Bell's Oberon, Galesburg, Michigan Georgia-local recommendation:Southbound Scattered Sun Belgian Wit, Savannah, Georgia