Weekly Wine Pairings
Each week, Wine Specialist Sarah Pierre brings you suggestions to complement your PeachDish meals. Sarah is one of the owners at 3 Parks Wine Shop in Glenwood Park, Atlanta. She paired up with the team of The Shed at Glenwood and The Pig and The Pearl and opened 3 Parks in 2013. Prior to opening the store, she spent most of her career working and managing notable restaurants in Atlanta and New York City. Sarah selects all of the wines that are offered at 3 Parks Wine Shop and also assists in pairing wines for local events and dinners throughout Atlanta.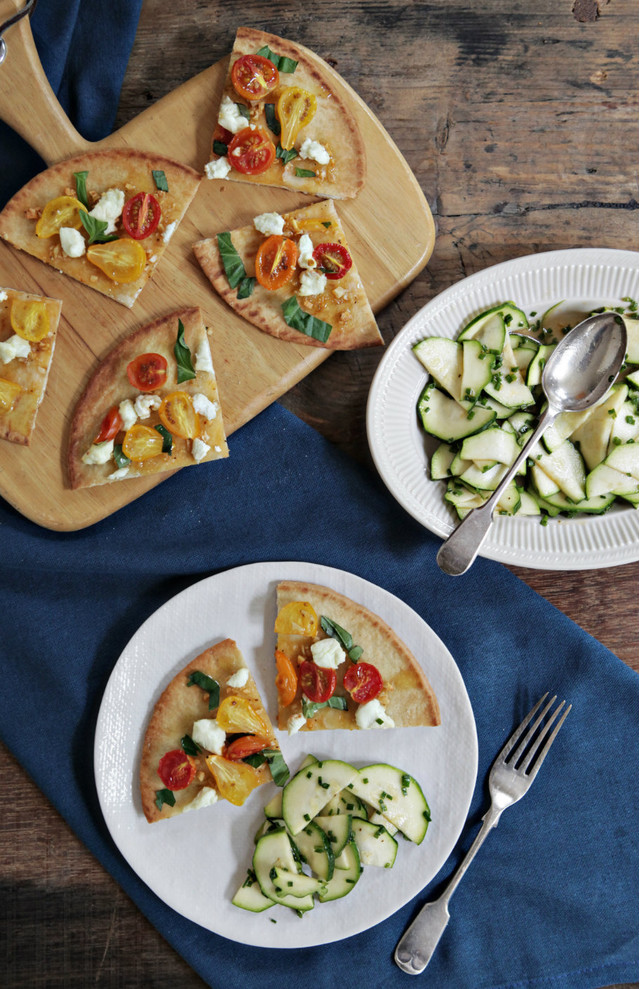 Butter Bean & Barley Salad with Feta & Eggplant Coins
Oregon Pinot Noir - This PeachDish meal is bursting with flavor. It's full of vegetables and herbs with a nice pop of acidity from the lemon. Pair this dish with a light, earthy Oregon Pinot Noir which won't overpower the dish and will allow all the ingredients to shine. Suggestion: Elk Cove Pinot Noir, Willamette Valley, OR
Pinot Grigio - Try a more neutral white wine that won't interfere with all the components of the dish. Suggestion: Barone Montalto, Sicily, Italy
Stuffed Summer Squash with Fresh Tomato Sauce
Chianti Classico - All I can think of is Italy. Lots of fresh herbs, including basil and oregano, mozzarella and ricotta cheese, and a bed of stewed tomatoes - the obvious choice would be the Italian mother's milk: Chianti.
Gavi - This acidic white from Piedmont, Italy is 100% Cortese. It's light and zesty and will pair nicely with the tomato sauce. Suggestion: Riva Leone Gavi, Piedmont, Italy
Sungold Tomato & Chevre Pita Pizza with Zucchini Salad
Beaujolais - If you're going to go with a red wine, pick something that is lighter and softer. You definitely don't want a wine with a lot of tannin. Beaujolais (Gamay) is perfect - light, delicate fruit, perfect amount of acid, and very little tannins.
Sauvignon Blanc - A Sancerre works particularly well for this dish. It has a way with goat cheese that makes you go back for seconds. Suggestion: Domaine Fournier Pere et Fils Sancerre, France
BUN – Vietnamese Noodle & Chicken Salad
Sparkling Rosé - If you can find a Bugey Cerdon, you're in for a treat. This off-dry Sparkling Rosé is a great pairing for Vietnamese dishes - especially if you choose to make this one spicy.
Sauvignon Blanc - Once again, Sauvignon Blanc is a great pairing for this dish. The fresh herbs and cucumber will complement the wine.