Weekly Wine Pairings
Each week, Wine Specialist Sarah Pierre brings you suggestions to complement your PeachDish meals. Sarah is one of the owners at 3 Parks Wine Shop in Glenwood Park, Atlanta. She paired up with the team of The Shed at Glenwood and The Pig and The Pearl and opened 3 Parks in 2013. Prior to opening the store, she spent most of her career working and managing notable restaurants in Atlanta and New York City. Sarah selects all of the wines that are offered at 3 Parks Wine Shop and also assists in pairing wines for local events and dinners throughout Atlanta.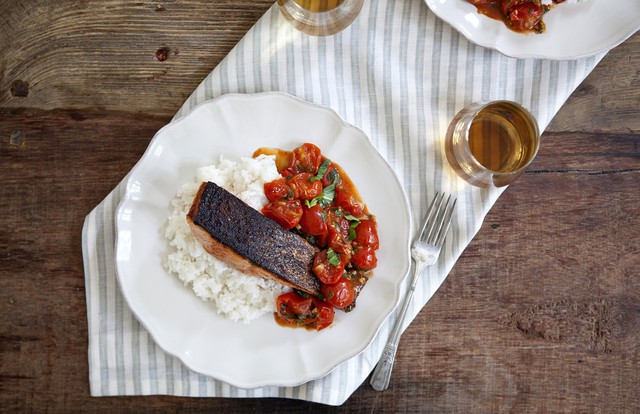 Salmon with Tomato-Basil Fondue Over Rice
Barbera d'Asti - Stewed tomatoes and fresh basil will pair nicely with a glass of Barbera. It's important to select a wine that's not full bodied - a Chianti would work as well.
Verdicchio - A dry white is the way to go with this meal. Salmon is a rich fish, so a nice crisp and acidic white wine would be perfect to cut through those natural oils.
Paprika Chicken Quesadillas with Sweet Corn Stir-fry
Pinot Noir - I would go for an Argentinian Pinot Noir. They tend to have more spice and roundness. Suggestion: Bodega Chacra "Barda" Pinot Noir, Patagonia, Argentina
Sauvignon Blanc - Pick up a bottle of New Zealand Sauvignon Blanc for these Quesadillas. The fun twist to this dish is the addition of Feta cheese - its creamy texture with that Feta tang should be a really good match with this wine. Suggestion: Loveblock Sauvignon Blanc, Marlborough, New Zealand
Fig, Blue Cheese & Chevre Pizza with Curly Endive Salad
Lambrusco - Blue Cheese is pungent with bold flavors, and Endive is usually bitter. Because of this, you'll want to go with a sweeter wine. If you insist on a red wine with this pizza, try a sweet Lambrusco.
Riesling - Pairing white wine with Blue Cheese and Endive works the same as red wine. The sweeter the wine, the better the pairing. Many people go right to a dessert wine pairing with Blue Cheese, but nobody wants to drink a dessert wine with pizza. Grab your sweetest bottle of Riesling and dig in.
Soy-Garlic Tempeh, Snow Peas, Carrots and Soba Noodles with Peanuts and Cilantro
Zinfandel - This dish would be fun with a jammy, fruity, spicy red wine. Suggestion: Joseph Jewell Zinfandel, Dry Creek, CA
Vouvray - Chenin Blanc at its best. It's a great pairing for a spicy, sweet & salty Asian dish. Suggestion: Remy Pannier Vouvray, Loire, France