Weekly Wine Pairings
Each week, Wine Specialist Sarah Pierre brings you suggestions to complement your PeachDish meals. Sarah is one of the owners at 3 Parks Wine Shop in Glenwood Park, Atlanta. She paired up with the team of The Shed at Glenwood and The Pig and The Pearl and opened 3 Parks in 2013. Prior to opening the store, she spent most of her career working and managing notable restaurants in Atlanta and New York City. Sarah selects all of the wines that are offered at 3 Parks Wine Shop and also assists in pairing wines for local events and dinners throughout Atlanta.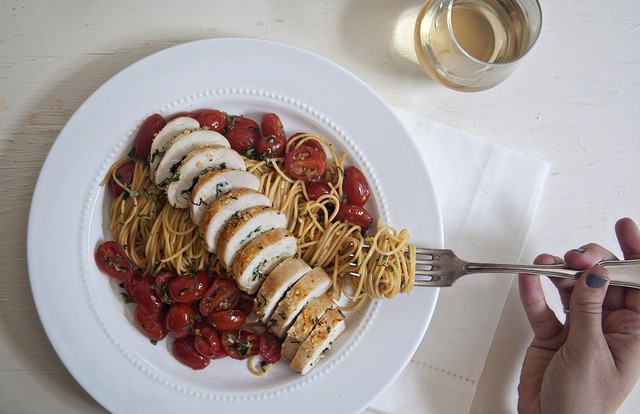 Zucchini-Parmesan Pancakes with Carrot, Field Pea & Walnut Salad
Crianza, Rioja - This dry Tempranillo based wine from Spain is perfect for everyday drinking. The oak aging on the wine isn't too strong and won't overpower the dish, and the concentrated fruit notes will work really well with the salad component of the meal. Suggestion: Bodegas Franco-Españolas Crianza, Rioja, Spain
Cava - A sparkling wine would be perfect for this dish! It will complement the richness of the Zucchini Cakes and the creamy carrot, pea and walnut salad. Cava is to Spain as Champagne is to France. Suggestion: Segura Viuda Heredad Reserva Brut Cava, Catalonia, Spain
Chicken Braciole with Tomato-Basil Capellini
Chianti Classico - For Italian style dishes with a light tomato sauce, a Chianti Classico is delicate enough but also acidic enough to complement the slightly stewed, sweeter tomatoes. Suggestion: Tenuta di Nozzole Chianti Classico Riserva
Ribolla Gialla - This crisp, acidic Italian white wine is perfect for a lighter pasta dish.
Tabbouleh Salad with Sungold Tomatoes, Pine Nuts & Feta
Provence Rosé - A perfect meal to pair with a Mediterranean wine. Tabbouleh has such an assortment of flavors, it's best to go with a wine that can match the prominent ones like the mint, tomato, and feta. A dry Proveçal Rosé can do that. Suggestion: Commanderie de la Bargemone Rosé, Provence, France
Pinot Grigio - This Middle Eastern classic calls for a more neutral white wine that won't interfere with all the components of the dish. Suggestion: Jermann Pinot Grigio, Venezia Giulia, Italy
Beef Tenderloin with Herbed Onion Rings & Charred Okra
Barolo - Not only will this full bodied, dry Italian red pair wonderfully with a steak, it will also be perfect with the smoky char flavor and the texture of the okra.
Chardonnay - Try out a slightly oaked Chardonnay from California. Suggestion: Landmark Chardonnay, Sonoma, California