Weekly Wine Pairings
Each week, Wine Specialist Sarah Pierre brings you suggestions to complement your PeachDish meals. Sarah is one of the owners at 3 Parks Wine Shop in Glenwood Park, Atlanta. She paired up with the team of The Shed at Glenwood and The Pig and The Pearl and opened 3 Parks in 2013. Prior to opening the store, she spent most of her career working and managing notable restaurants in Atlanta and New York City. Sarah selects all of the wines that are offered at 3 Parks Wine Shop and also assists in pairing wines for local events and dinners throughout Atlanta.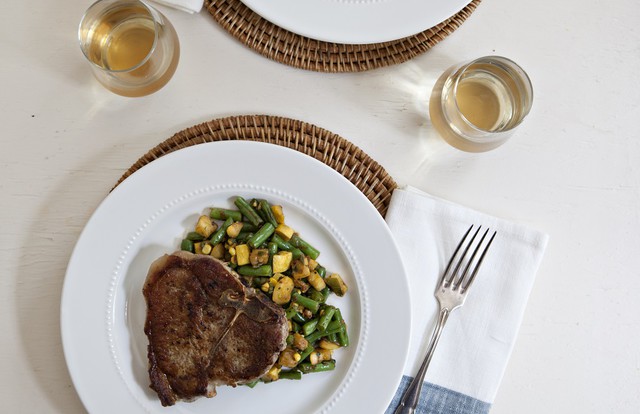 Cucumber, Mango & Coconut Rice
Garnacha - You want a red wine that is not tannic/dry - sometimes it just gets weird with Asian dishes. Garnachas are fresh, and there is a perfect amount of fruit on the wine to tackle the spiciness of the dish. Try to avoid a garnacha with oak aging if you can.
Gewürztraminer - This aromatic white wine has a nice structure and weight which is perfect for this sort of dish. You don't necessarily want a light, dry wine that can be overpowered. You will find a touch of sweetness when you sip this wine, and the tropical fruit is distinct. The combination of these features with the spiciness of Gewürztraminer means you've got yourself a winner. Suggestion: Albert Seltz Gewürztraminer, Alsace, France
Casarecce Pasta with Summer Squash, Sweet Peppers & Basil-Almond Pesto
Cabernet Franc - Cab Franc pairs really well with savory, herbal dishes. It has smooth tannins and a subtle hint of herbaceousness. It is the perfect wine for this earthy pasta dish that takes a fun play on pesto by mixing it with sweet peppers. Suggestion: Pierre Brenton Cuvee Trinch! Cabernet Franc, Loire, France
French Sauvignon Blanc - Look for a Sauvignon Blanc from France. The wine will have great acidity, be super crisp, and will have an apparent grassiness that will go hand in hand with the main ingredients of pesto - basil and olive oil. Suggestion: Domaine Octavie Touraine Sauvignon Blanc, Loire, France
Pan Seared Salmon with Mustard Sauce & Cucumber-Peach Salad
Pinot Noir - Mustard sauce works really well with Pinot Noir - especially ones from Burgundy or Oregon that have a nice touch of spice. And of course, Salmon + Pinot Noir = Besties.
Godello - Pronounced "go-day-oh," this wine is definitely becoming a favorite of mine. This Spanish grape varietal makes a wine that is extremely food-friendly and tends to be a great alternative to Chardonnay. Suggestion: Bodegas Rafael Palacios 'Louro do Bolo' Godello, Valdeorras, Spain
Pork Porterhouse & Succotash
Dao Red Blend - Portuguese red blends have an elegance and finesse that works really well with pork...and this is a big piece of pork. Suggestion: Alvaro Castro Tinto, Dao, Portugal
Pinot Noir Rosé - Depending on the winemaker, Pinot Noir Rosé can have a bit more structure and concentration than, say, a Rosé from Provence, France which is more delicate. The wines are aromatic, and the fruit tends to pop out of the glass. Suggestion: Stoller Pinot Noir Rosé, Dundee Hills, Oregon