Ingredient Spotlight: Barley
Break out the super food! Barley is a grain packed with a powerful punch of nutrition. Used by humans even before prehistoric days (that's right), barley is one of the most ancient grains in cooking. Even notable gladiators consumed it for strength in Roman times!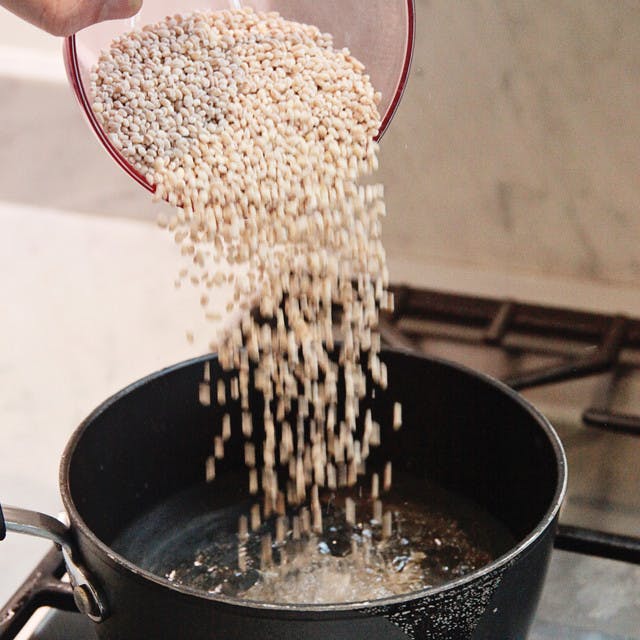 Featured in our Butter Bean, Barley Salad with Feta & Eggplant Coins, barley is a gluten-containing whole grain that is high in vitamins, minerals and antioxidants. Barley contains soluble fiber and beta glucans- both of which aid in removing excess cholesterol from the body. Barley is also rich in stress and fatique-fighting B vitamins.
Much of the barley used in cooking is pearled barley (not an actual whole grain as it is missing its bran layer). Pearled barley's flavor is similar to that of oats- earthy and sweet. Barley's high starch content makes it an excellent thickener for soups and stews. It can also be used in pilafs or other grain-based dishes. Try it in our Toasted Barley Pilaf with Mixed Mushrooms and Leeks topped with Manchego Cheese and Toasted Walnuts or our simple Beef and Barley Soup. Our Pea and Barley Salad Roasted Shiitake, Radish and Almonds is a must for a light yet flavorful dish.
Interested in cooking with other unique grains? Check out the benefits of Bulgur, the buzz about Buckwheat, and the craft behind Carolina Gold Rice!