Weekly Wine Pairings
Each week, Wine Specialist Sarah Pierre brings you suggestions to complement your PeachDish meals. Sarah is one of the owners at 3 Parks Wine Shop in Glenwood Park, Atlanta. She paired up with the team of The Shed at Glenwood and The Pig and The Pearl and opened 3 Parks in 2013. Prior to opening the store, she spent most of her career working and managing notable restaurants in Atlanta and New York City. Sarah selects all of the wines that are offered at 3 Parks Wine Shop and also assists in pairing wines for local events and dinners throughout Atlanta.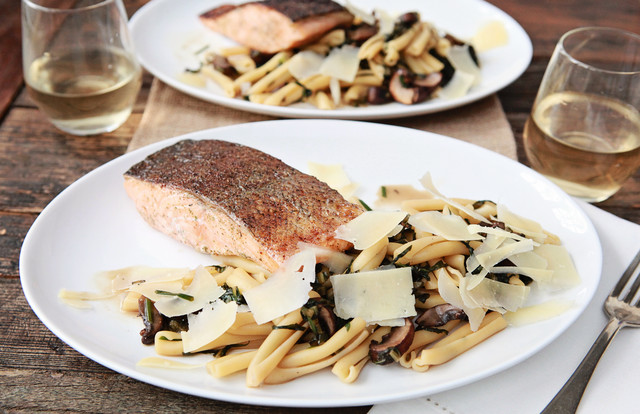 Roasted Salmon with Dandelion Greens & Casarecce Pasta
Pinot Noir - When pairing fish with a red wine, you will always be successful if you match the weight of the fish with the weight of the wine. The lighter the fish, the lighter the red. I would pair this salmon dish with Red Burgundy (French Pinot Noir). The mushrooms and dandelion greens are a perfect match for an earthy Pinot Noir.
Pecorino d'Abruzzo - Fear not! Don't shy away from obscure Italian white grape varietals for dinner. A lot of them act as perfect food pairing wines, and they work really well with fish and seafood dishes. Pecorino is a full bodied wine that is rich in texture while also having vibrant acidity. The minerality in this white hits your palate immediately followed by summer fruit: melon, peaches, & citrus, herbal notes and white pepper. This earthy pasta dish with salmon calls for a touch of sherry which also complements the slight nuttiness that you will find in many Pecorinos. Suggestion: Cantina Tollo Pecorino
Faux Gumbo with Red Bean & Corn
Pinot Noir - When pairing spicy dishes with wine, select young wines with minimal to no oak and that are moderately lower in alcohol. This "Faux" Gumbo won't be extremely spicy, so any Pinot Noir will work. Suggestion: 2012 Bethel Heights Pinot Noir is a winner for this one.
Rosé d'Anjou - An off-dry Rosé - specifically from Anjou region in the Loire Valley. These wines are excellent with spicy and/or cajun style dishes. Suggestion: Remy Pannier Rosé d'Anjou
Green Bean & Red Quinoa Salad with Radish, Fennel & Cucumber
Sangiovese - You'll need a wine with some nice acidity for this dish. A young Sangiovese/Chianti will be perfect for this refreshing salad that brings fennel to the forefront.
Verdicchio - Italian whites typically have an affinity to fennel - especially raw fennel. The Verdicchio will also dig the tanginess that the lemon contributes to this salad. If you can't find a Verdicchio at your local wine shop, look for any Sicilian white - they typically work with fennel. Suggestion: Andrea Felici Verdicchio Dei Castello di Jesi
Bacon & Greens Sausage with Hoecakes & Pepper-Shallot Confit
Monastrell - A robust sausage like The Spotted Trotter's Bacon & Greens Sausage calls for a wine that has the strength to stand up to it but the fruitiness/sweetness to compliment the sweet peppers and shallots in this dish.
Vouvray - from the Loire Valley. When you think sausage and white, you want a wine that is rich and higher in acid. This Chenin Blanc is off-dry and will be an outstanding option, especially with the sweet peppers. A sparkling Vouvray (Chenin) will also be a great option.