The Story Behind Gumbo
We're taking you to the Louisiana side of Southern cooking with this week's Faux Gumbo with Red Bean and Corn. While gumbo's ingredients range depending on the chef, our vegetarian version features the ultimate pairing of fresh vegetables and a classic roux.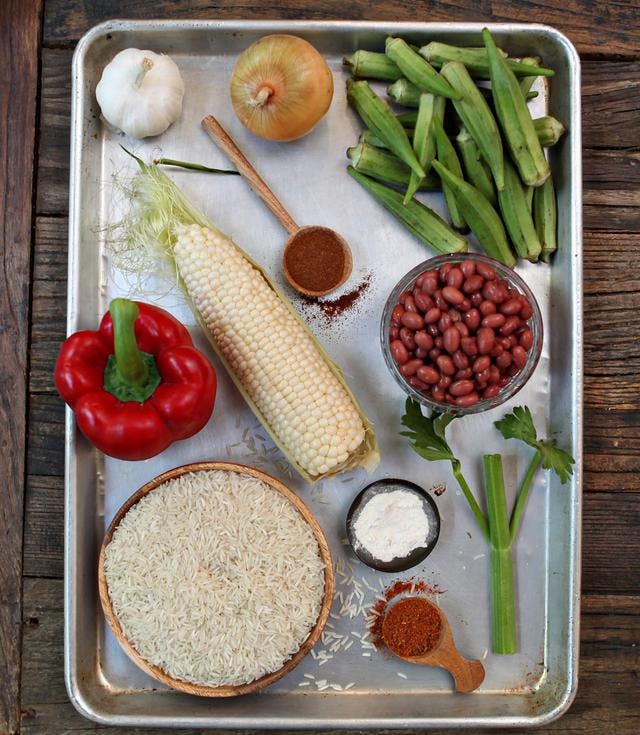 Origins
"Gumbo" is actually a West African word meaning "okra," and this crop is often the focal point of the thickened soup served over rice. The name "gumbo" was first referenced in early 19th century Louisiana. The dish's origins, however, are mixed- the addition of filé* is credited to the Choctaw Indians while the roux** base is a French cooking technique.
*Filé powder is sassafras leaves that have been dried and ground. This powder also acts as a thickening agent. Handmade filé is listed on Slow Food USA's Ark of Taste as an ingredient facing distinction.
**A roux is created by browning flour with fat (typically oil). In gumbo, most would say that the darker the roux, the better.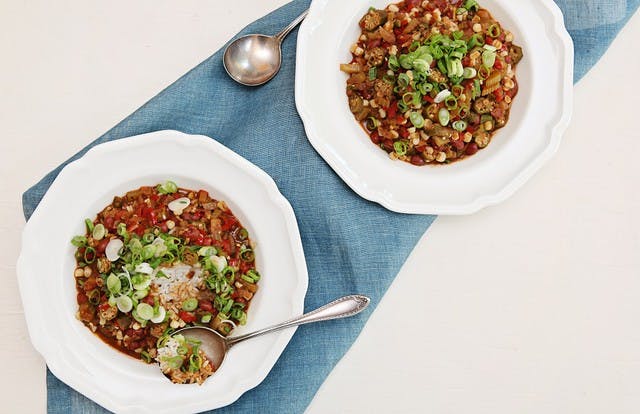 Styles of Gumbo
There are several different methods for thickening this dish. Some only use filé to thicken while others rely on just the roux. The addition of okra is another way to thicken gumbo.
Assorted proteins can be worked into a gumbo recipe. From chicken, sausage, and ham to oysters and shrimp, the chosen ingredients are strictly up to the chef. Seafood gumbo (highlighting the flavors of crab, shrimp and oysters) is a favorite along the coast while a "surf 'n turf" variety pleases the palate of others. Vegetarian gumbo, like ours, is equally delicious as the stand-out flavors of fresh veggies take the stage.
For more information about the history of gumbo, visit our friends at the Southern Foodways Alliance.