Weekly Wine Pairings
Each week, Wine Specialist Sarah Pierre brings you suggestions to complement your PeachDish meals. Sarah is one of the owners at 3 Parks Wine Shop in Glenwood Park, Atlanta. She paired up with the team of The Shed at Glenwood and The Pig and The Pearl and opened 3 Parks in 2013. Prior to opening the store, she spent most of her career working and managing notable restaurants in Atlanta and New York City. Sarah selects all of the wines that are offered at 3 Parks Wine Shop and also assists in pairing wines for local events and dinners throughout Atlanta.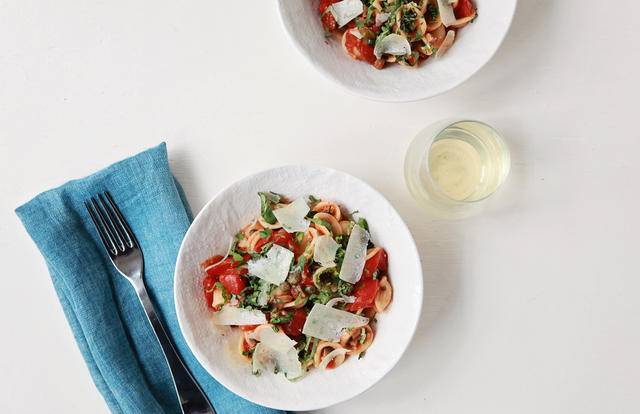 Spicy "Puttanesca" with Orecchiette Pasta, Nicoise Olives, and Pecorino Romano
Barbera - This rustic dish calls for a versatile, food friendly Barbera from the Piedmont region in Italy. It screams, "I love Garlic, Tomatoes, and Olives!"
Sancerre - Or any other Sauvignon Blanc from the Loire Valley. It is a crisp white wine that should sing when paired with Olives, Tomatoes, and Capers.
Spicy Tofu Fajitas with Peppers, Onions, Tomatillo Salsa & Sour Cream
Garnacha - This wine is fresh, and there is a perfect amount of fruit on the wine to tackle the spiciness of the dish with only a bit of dryness - try to avoid one with oak aging.
Verdejo - If you can get your hands on one, this slightly herbaceous, mineral driven, acidic white will pair perfectly with your Spicy Tofu Fajitas. If Verdejo isn't accessible to you, go for your favorite Sauvignon Blanc.
Chicken Breasts with Buckwheat, Chard & Feta
Let's take this to Oregon!
Oregon Pinot Noir - Buckwheat, Chard, Feta, oh MY! Pair this with an earthy Oregon Pinot Noir and dinner is served.
Oregon Riesling - A dry or off-dry Riesling is the perfect match for Feta Cheese as well as the nutty, smoky, richness of this dish.
Pork Chops with Mustard Gravy & Radishes
Red Burgundy/French Pinot Noir - Classic pairing for Pork Chop with Mustard Sauce
Chablis or your favorite Chardonnay: A French Chardonnay is perfect for this dish. If you're not a big fan of Chardonnay, look for an Unoaked California Chardonnay and it might change your mind.