Ingredient Spotlight: Thai Basil
The Greek word "basil" translates to "royal," and we think this herb is just that. Historically, Italians have held basil as a symbol of love while Indian culture has viewed this plant as a representative of hospitality. Over 60 different varieties of basil exist, and we chose to feature one of those this week in Chef Lupo's "Faux 'Pho' with Rice Noodles, Mung Bean Sprouts, Charred Carrots & Spring Onions"- the flavorful Thai basil.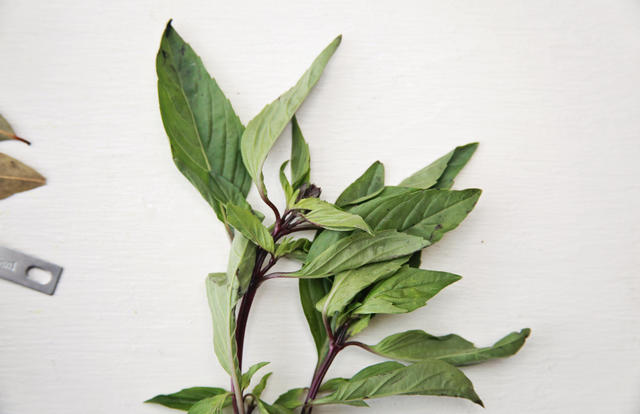 Thai basil contrasts what we think of as "classic" basil (sweet basil) in that it provides a hint of spiciness acompanied by a licorice flavor. This variety is sometimes called "licorice basil" or "anise basil" because of its taste. Thai basil withstands heat well and holds its flavor for a longer cooking time. Southeast Asian cuisine often incorporates Thai basil, especially in red and green curries, into its dishes. This purple-stemmed basil is also used as a "topping" for pho.
What's your prefence in cooking: Thai basil, sweet basil, or even another variety?