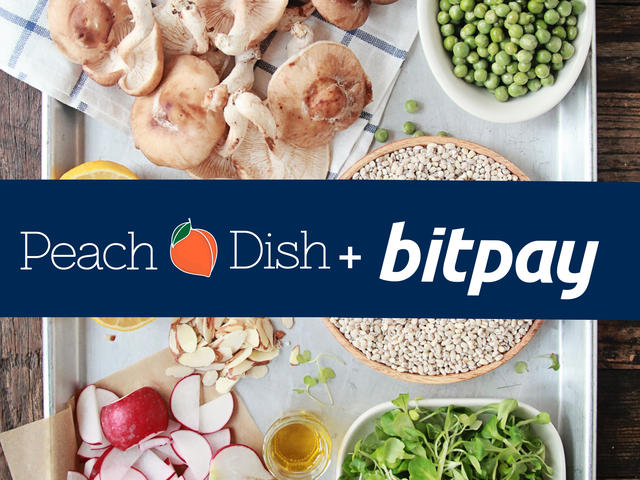 PEACHDISH NATIONAL MEAL KIT DELIVERY SERVICE ANNOUNCES PARTNERSHIP WITH BITPAY
PeachDish is now the first meal kit service to accept Bitcoin February 23, 2015 For Immediate Release
ATLANTA, GA—P​eachDish, the national meal kit service delivering the freshest ingredients and chef­developed, Southern­inspired recipes, is partnering with BitPay, the international electronic payment processing system for the Bitcoin currency. The partnership makes PeachDish the first meal kit delivery service to accept bitcoins, the peer­to­peer digital currency. "There's a strong BitPay community out there, and we're eager to make PeachDish available to them," says PeachDish President Judith Winfrey. "We're always delighted about the opportunity to support and partner with another disruptive Atlanta­based business in the process."
"PeachDish is bringing innovation to the experience of creating good meals," says BitPay's communications manager Julia Patterson. "We are excited to be equipping the company with an innovative payment method with our bitcoin processing." To launch the partnership, PeachDish is sponsoring a social media contest encouraging use of the hashtag #btcpeach, rewarding users with bitcoins through the ChangeTip app, which allows for transfer of bitcoins through social media. Users of #btcpeach will also be rewarded with chances to win PeachDish boxes. PeachDish is proud to work with BitPay—another Atlanta­based start­up—to make its responsibly sourced, high­quality food from purveyors like Belle Chevre, the acclaimed cheese maker from Alabama, and White Oak Pastures, Georgia's largest organic farm, accessible to Bitcoin users. Other recent partnerships include PeachDish delivery via Uber.
About PeachDish PeachDish was born in 2013 when Hadi Irvani, a native Atlantan, combined his passion for great food and experience with business and e­commerce. In June 2014, Judith Winfrey joined the team as President. Judith's background is in good food and restaurant operations. Her past endeavors include working with James Beard Award­winning Atlanta chef Linton Hopkins' Resurgens Restaurant Group (Holeman & Finch, Restaurant Eugene, and more), serving as the leader for Slow Food Atlanta and Regional Governor for Slow Food USA. As part of the company's commitment to sustainability, PeachDish has developed a box that ships with 100% biodegradable liners. By delivering ingredients only in the pre­measured amounts required for its recipes, PeachDish also eliminates the waste associated with store­bought packaging, as well as unused products. PeachDish makes it easy to cook a delicious, homemade dinner at home. Inspired by a new culinary tradition, PeachDish celebrates the freshest ingredients and food that's full of flavor. Bright green field herbs. Local produce and meats. Southern­inspired and innovative flavors. PeachDish appreciates that by purchasing local, organic, and at the season's peak is the best way to achieve the most flavor and nutrition. Food you can believe in, that always tastes great.
About BitPay BitPay is the global leader in payment processing for bitcoin – the world's fastest and most secure online payment method. More than 500,000 businesses and organizations worldwide have integrated bitcoin payment technology using BitPay. The company has raised $32 million in capital from top VC firms and investors, including Index Ventures, Founders Fund, and Sir Richard Branson. BitPay operates worldwide, with offices in the United States, Argentina, and the Netherlands.
Media Contact: Caroline Clements (706) 767­3651 caroline@peachdish.com