In Defense of Getting Lost: An Afternoon with Will Harris at White Oak Pastures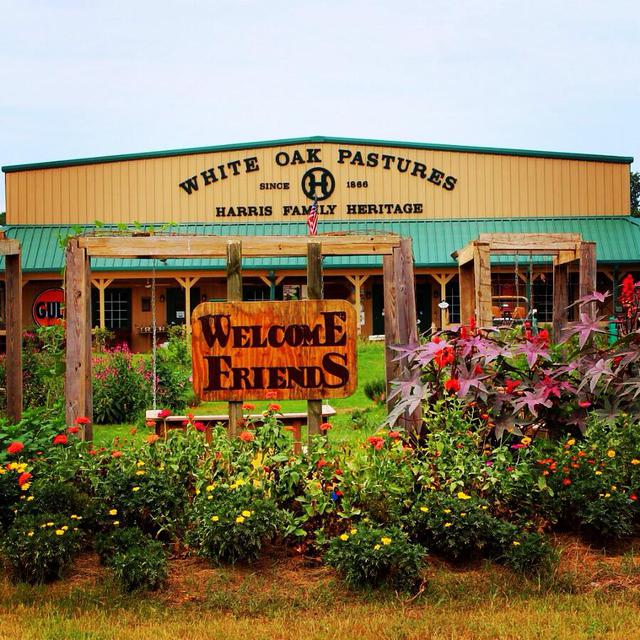 A few weeks ago, I had one of those adventures that can only begin with someone very stubborn getting very lost. I was coming home from a week of eating and drinking on the Panhandle and found myself accidentally passing through a place called Bluffton, GA, which if you're unfamiliar isn't quite Florida and isn't quite Alabama. What Bluffton is though, is a blink on a long, pine-wooded stretch of two-lane highway that runs all the way from Florida to Tennessee. US census data collected in 2010 shows that Bluffton has only 103 residents. At this point in my solo-journey home to Rome, I'd already watched a cow give birth (seriously) purely by being in the right place at the right time (or the wrong place at the wrong time, depending on your level of squemishness), taken several wrong turns, and stopped twice to ask for directions.
Sometimes, there are places that simply call out to us, begging to be explored. White Oak Pastures is certainly one of those places. After seeing almost nothing but abandoned farmhouses and the occasional cow-dotted pasture for miles and miles, the sight of the expansive farm was almost surreal. I kept driving at first, but then curiosity got the better of me as it often does, and I turned around and drove down through the gates and up to the main building.
There's something odd about showing up to a place without fully knowing exactly how to put into words why you're there. I walked into the main building where I found a man sitting with two of the biggest American Bulldogs I've ever seen.
"Hi there, what brings you out here to White Oak?" he said.
" I'm not exactly sure why I'm here", I said.
"Well, that can sometimes happen. Come in and let's talk about it", he said.
And we did. We realized that the reason I had turned around, and the reason White Oak seemed familiar to me, is that White Oak supplies many of the organic proteins that PeachDish sends! I think I must have unknowingly seen White Oak on a supplier list and forgotten about it.
The man, it turns out, was Will Harris, the well-known fifth-generation herdsman, farmer, and owner of the largest organic farm in the state.
Then he said, " Well, Ms. Clements, are you in any kind of hurry today?"
And so began our tour of the farm. Mr. Harris drove us around in his truck for over an hour and showed me his expansive operation, which stretches on either side of Highway 27, and has grown, acres at a time, over the years. Mr. Harris is one of those Southern men whose way of talking sounds more like a script written by Flannery O'Connor than actual candid conversation.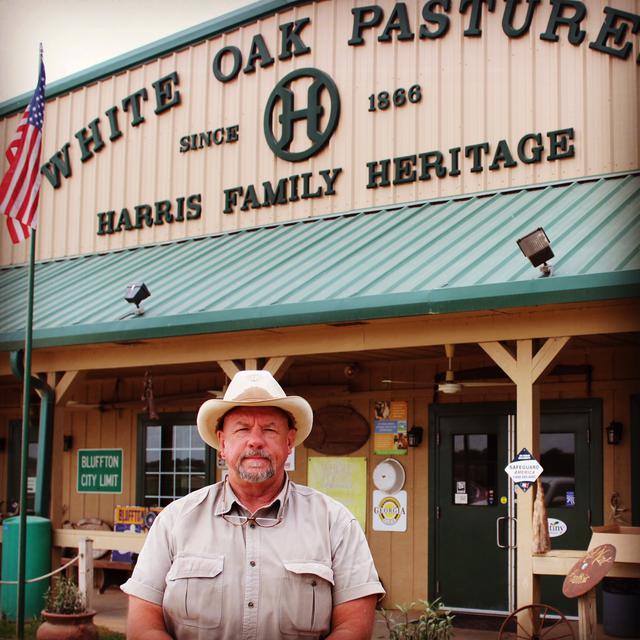 Here are some of Mr. Harris's best pieces of advice:
Organic Farming is Risky " I think the hardest part of all this was the unknown. For years we had made money and then once we invested in organics, we lost money for a few years early on. Now I know that organic is the way I believe in doing things, but back then it was scary."
Treat your People Well " We decided a few years ago that it wasn't fair to expect people to drive into town for lunch, I mean the closest place is fourteen miles from here, and that wouldn't give people much time to relax on their break. So we started a restaurant here on the farm where everyone shares communal meals. We didn't just want to feed people, we wanted to feed people well."
Treat Your Animals With Care " The key to treating animals well is asking yourself, "If I were a pig, is that where I'd want to be?" and "If I were a cow, is this comfortable to me?" There's a different energy here than on non-organic farms."
Do Things The Way Your Grandmother Did "Our Grandmothers were cooking organically and seasonally long before everyone else."
Remember the Turkeys Mr. Harris and I passed a field of turkeys and he explained that these are heritage breed birds, meaning they can fly. Seeing that there was no enclosure or fence keeping the birds there I asked what keeps them on the farm.
" Well, what things keep you in Rome, Ms. Clements?...Food and water."