Beer Pairings for the Week of September 5th, 2016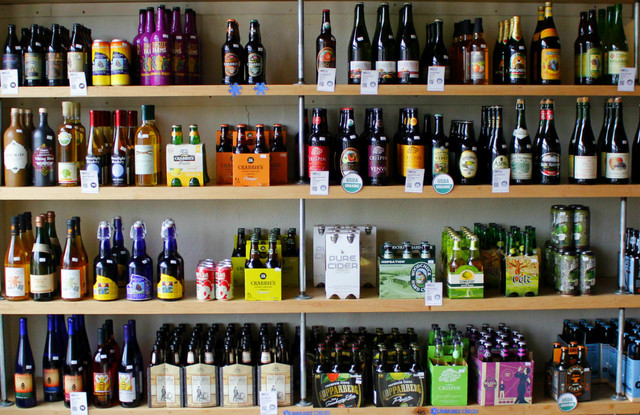 Looking for the perfect brew to go along with your PeachDish meals? We've got you covered. We've partnered with the owners of BeerGirl, a local Atlanta shop, to help you select the perfect beverage. BeerGirl's passionate owners, Alexia Ryan and Erik Lewis opened their shop with the dream of connecting the people of their community with delicious craft beer from the South and beyond. Here are this week's suggested pairings: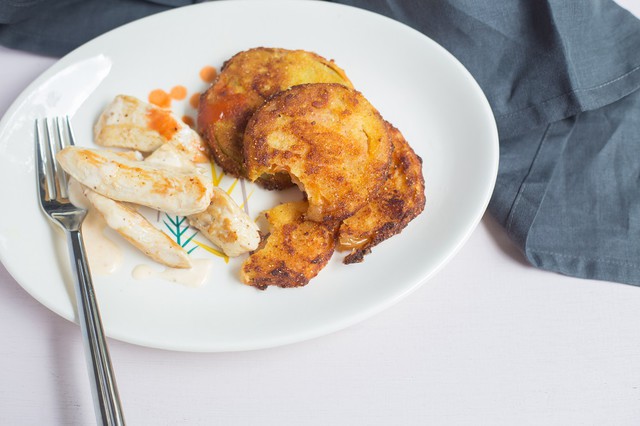 Seared Chicken with White Barbecue Sauce & Fried Green Tomatoes
Barbecue and beer is a match made in heaven, even in a dry southern county. For the sweeter styles of barbecue, we tend to avoid India Pale Ale because of the contrast between sweet and bitter can be a little jarring. IPAs with fruitier southern hemisphere hops are the exception to that rule. For this Alabama White Sauce barbecue, we suggest a tropical hopped IPA that will bring some mango and papaya flavors to temper the contrast between sweet and bitter. Suggestion: Boulevard The Calling, Kansas City, Missour Georgia Local Recommendation: Monday Night Slap Fight, Atlanta, Georgia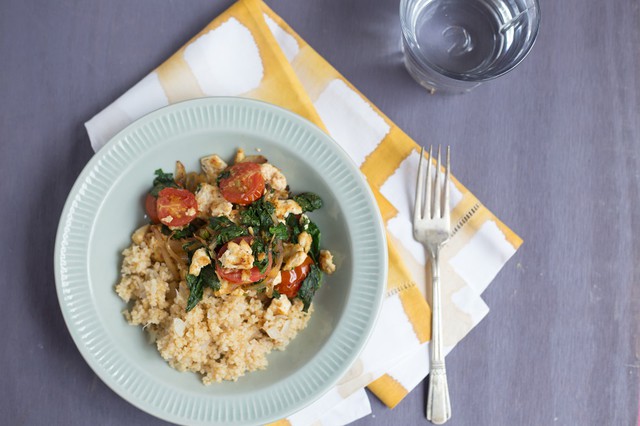 Sautéed Tofu with Greens, Tomato & Bulgur
Complementing sweet and peppery in a dish would seem like a tall order for a beer to fill. Fortunately, we have the mighty Saison, a beer full of sweet malt flavors with a peppery yeast flavor. For this dish of peppery mustard greens and sweet tomato, we suggest a Saison that perfectly complements those qualities. Suggestion: Dogfish Head Biere de Provence, Milton, Delaware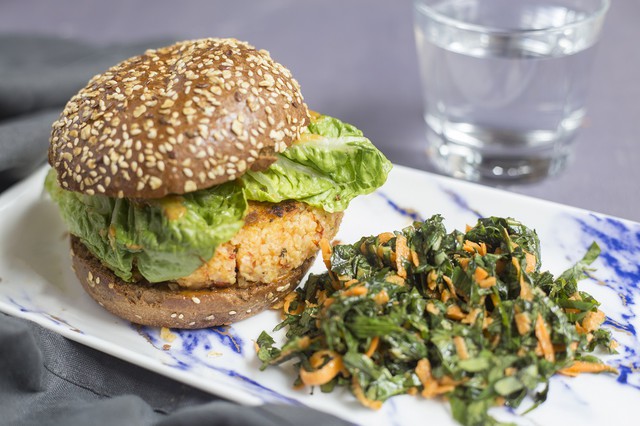 SuperFood Grain Burger with Sweet Potato Leaf & Root Slaw
What better complement to a super food burger is there than beer? Today, veggie burgers are everywhere, but eating healthy doesn't mean you skip the beer. What better way to tame a spicy sauce on a burger than a sweet hefeweizen that will calm that fire and let some of the other flavors shine through. Suggestion: Widmer Hefeweizen, Portland, Oregon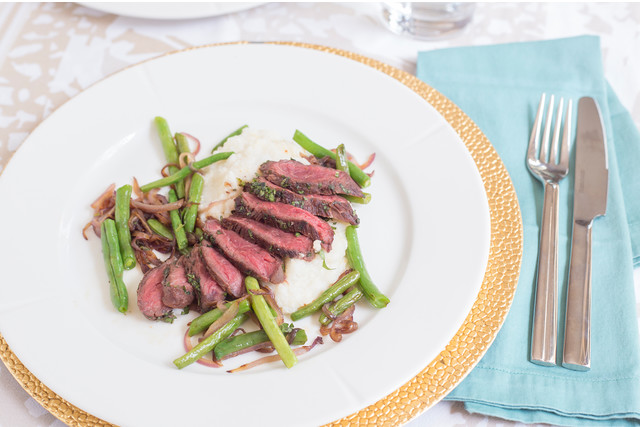 Herbed Hanger Steak with Green Beans, Red Onions & Grits
Steak always demands a big, bold beer. For us, it doesn't get any bolder than a barley wine. The Roman army marched on wine, but when out of grapes they would make barley wine. What is barley wine? Well, it's a beer where every available sugar has been removed from the malt bill to give the yeast plenty of food and produce lots of alcohol. For this dish, we suggest a barley wine that brings lots of malt sweetness, lots of bitter, and lots of alcohol to complement the big steak flavor. Suggestion: 21st Amendment Lower DeBoom, San Francisco, California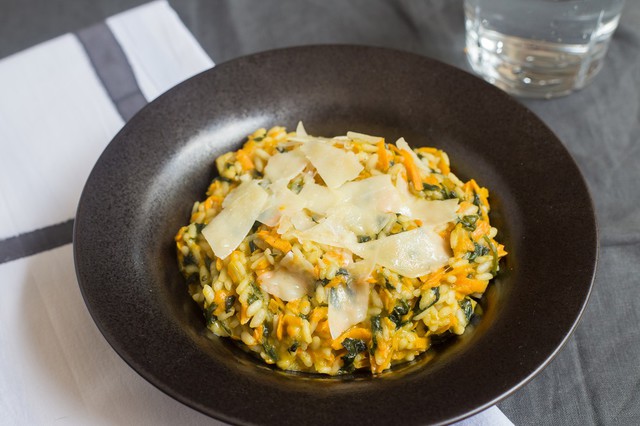 Sweet Potato Risotto with Parmesan & Nutmeg
Pumpkin beers are all the rage this time of year, but pairing a pumpkin beer can be tricky. You get the flavor of pumpkin, cinnamon, nutmeg, and brown sugar, so most will think dessert. However, pumpkin and sweet potato are like flavors so they complement each other while also letting the nutmeg shine. Suggestion: Dogfish Head Punkin Ale, Milton, Delaware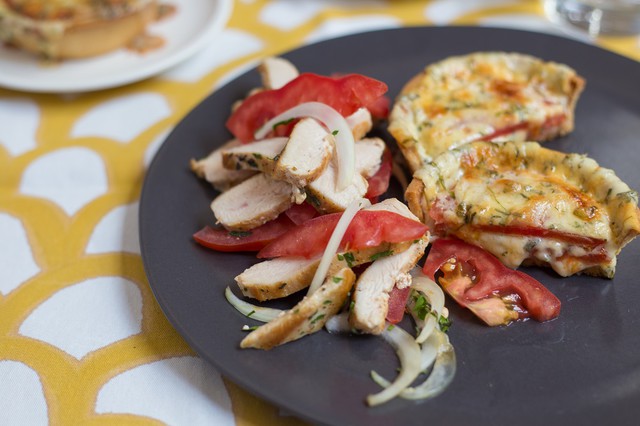 Tomato Pie with Vidalia Onion & Herbed Chicken Breast
Wheat beers are the quintessential summer beer. A sweet malt base lets yeast bring flavors beyond aroma. Wheat beers also serve as the perfect conveyance for fruit flavors in a beer. For this dish of sweet tomato and sweeter Vidalia Onion, we suggest a mango flavored wheat beer to complement the sweetness in the dish. Suggestion: Anchor Mango Wheat, San Francisco, California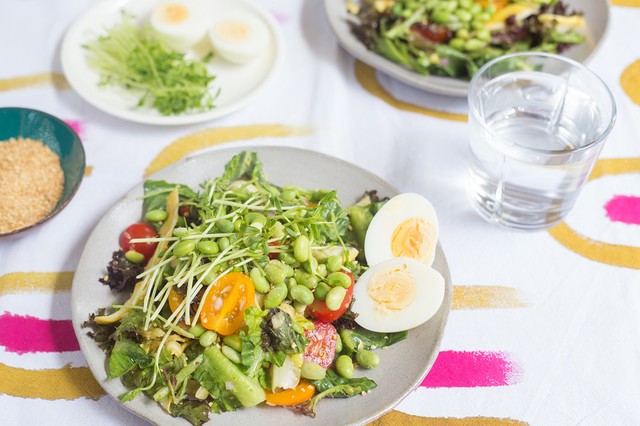 Late Summer SuperFood Salad
If we want to ramp up the health benefits of super foods, the best bet is to add in a beer fermented with a wild yeast strain. Yeasts are a good source of protein, fiber, minerals and B vitamins. For this dish, we are going to suggest a beer fermented with Brettanomyces that will add a dry characteristic to the meal. Suggestion: Boulevard Saison Brett, Kansas City, Missouri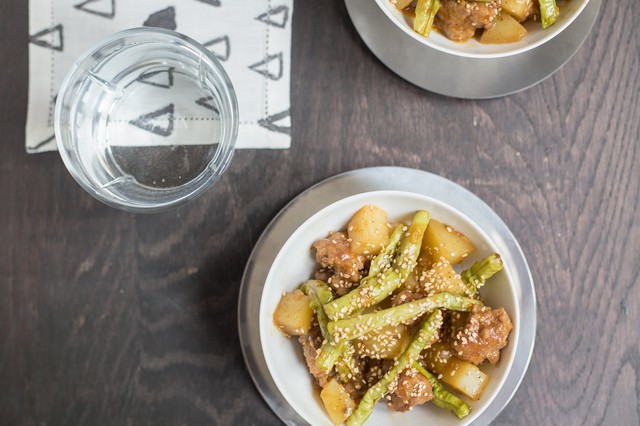 Pork Hot Pot with Long Beans & Glazed Potatoes
Belgian beer and Asian inspired food pair wonderfully together. Belgian beers, from the dark malty quadruple to the lighter Belgian blondes, don't rely on hop bitterness as a primary flavor component. For this dish, we suggest pairing the dominate flavors of garlic and ginger with a Belgian blonde that brings some toasty malts and a whole lot of sweetness. Suggestion: Evil Twin Joey Pepper, Brooklyn, New York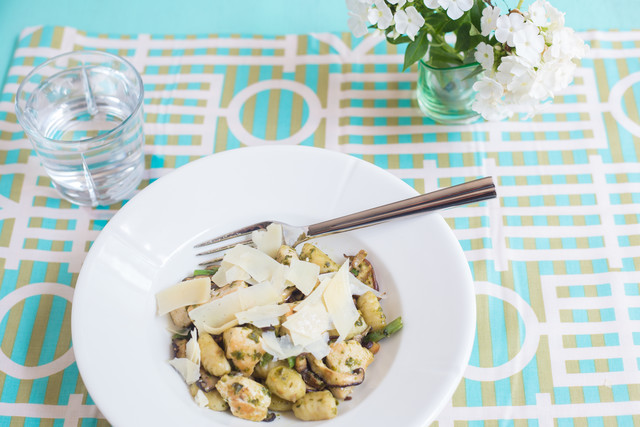 Gnocchi with Chicken, Pesto & Snap Beans
There are many types of bock beer, with each region and season having one dedicated them. Doppelbock, also known as "liquid bread" during Lent, is so famous it was even blessed by the Pope! For this dish of rich gnocchi and herby pesto, we suggest a rich nutty doppelbock as the perfect accompaniment. Suggestion: Heavy Seas Brewing, Halethorpe, Maryland & Troegs Brewery Hopplebock, Hershey, Pennsylvania.