Endless Pasta-bilities: Alfresco Pasta
No "im-pastas" here! Our friends in Nashville are the real deal, creating high quality, made-with-love pasta with flavor that speaks for itself.
Get your carb on this week: Look for Alfresco's pasta on our Menu and Market!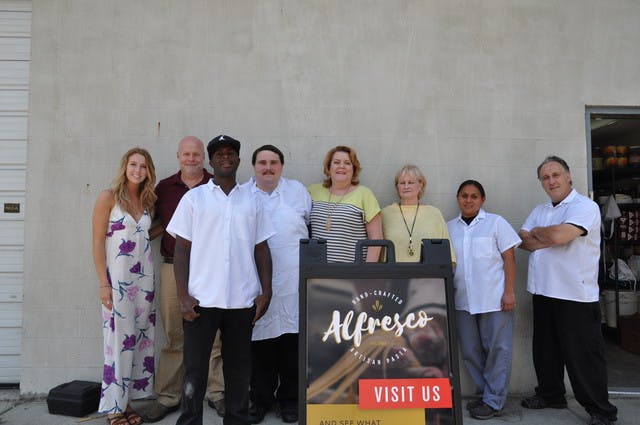 Alfresco Pasta is a small-batch artisanal kitchen in Nashville, Tennessee that churns out fresh, handmade pasta. In addition to ravioli, gnocchi, and pasta in all shapes and sizes, Alfresco also makes classic basil pesto and pizza dough in true Italian fashion. The ingredients they use are sourced carefully, sustainably and as transparently as possible, procured from local farms, the famous Benton's Bacon in Madisonville, Tennessee, and the "best goat cheese in America" from Elkmont, Alabama. Alfresco supports the community as well, empowering volunteers to sell Pasta with Purpose as a fundraising program for the nonprofit cause of their choice, which keeps 40% of the profits!
We interviewed the good folks at Alfresco Pasta to find out what makes their products so fresh and delicious: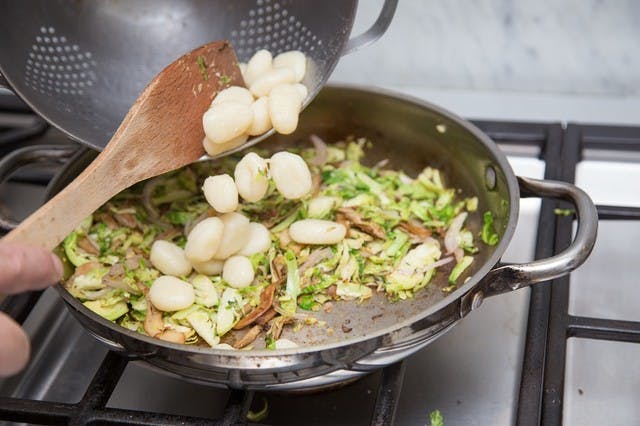 What's Alfresco's history?
Chris Grissom, Alfresco's founder, was a long time culinary expert and chef, always seeking the best quality products to use in his creations. He noticed a lack of quality in the scarce amount of fresh pasta that was available- he wanted real Italian egg pasta. So, he started his business by studying the true Italian way of making pasta, with fresh eggs and premium semolina flour.
What makes Alfresco's products great?
We source many of our vegetables and meats from local farmers, we use the highest quality seafood from the Gulf, we hand-crack in shell pasteurized eggs, and our flour comes from Montana, where the best spring durum wheat is grown. Even the Italians, the kings of the craft, source their wheat from Montana. We make our pasta slowly, cooling the machinery so as not to cook the pasta during the extrusion or cutting process.
What's your favorite dish to make with Alfresco's pastas?
It's tough to choose a single dish when the pastabilities are endless, but Pappardelle Carbonara is probably my all-time favorite. Pappardelle is a long, ribbon-like noodle that is about half an inch wide, its texture is outstanding, and it pairs well with just about anything. When I was a kid, my mom always made creamy carbonara with sautéed mushrooms, bacon, and parmesan for special occasions, After 35 years, my dad still requests it for his birthday.
What should savvy cooks know about cooking with fresh pasta?
To add a drop of olive oil to the water to keep the pasta from sticking together! Fresh pasta is more likely to clump because it is raw and is much stickier than dry pasta. Savvy cooks should also know that fresh pasta cooking times vary drastically depending on the freshness of the pasta. Keep your eye on the pot and check the pasta frequently to make sure you don't blow by that beautiful al dente stage.
What makes Alfresco unique?
Something that is a little different about us is that we are small and mighty. There are three of us in the office and four of us in the kitchen, so everybody in the Alfresco family wears many hats.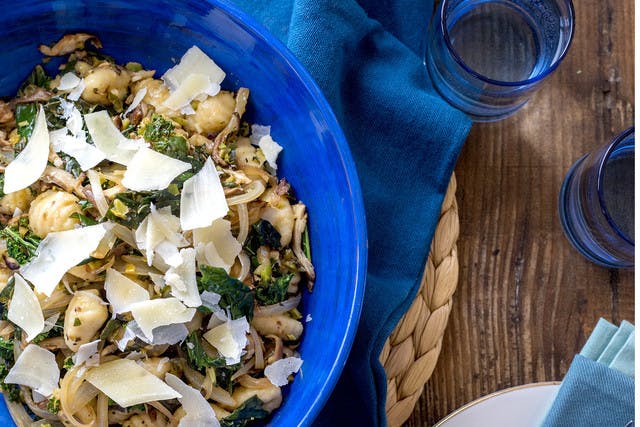 We're proud to feature Alfresco's handmade products on our weekly Menu! Check out these recipes:
Ricotta Gnocchi with Caramelized Onion, Greens & Mushrooms
Gulf Shrimp Ravioli With Spinach & Roasted Red Pepper
Sausage & Zucchini Calzone with Ricotta, Sweet Peppers & Tomato Sauce
Risotto Caprese with Tomatoes, Cheese & Basil Pesto
Get your Alfresco fix anytime when you shop in our Market!
Happy eating, y'all!