Beer Pairings for the Week of August 29th, 2016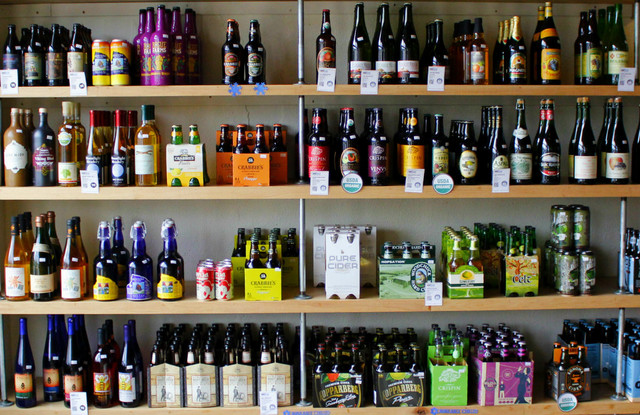 Looking for the perfect brew to go along with your PeachDish meals? We've got you covered. We've partnered with the owners of BeerGirl, a local Atlanta shop, to help you select the perfect beverage. BeerGirl's passionate owners, Alexia Ryan and Erik Lewis opened their shop with the dream of connecting the people of their community with delicious craft beer from the South and beyond. Here are this week's suggested pairings: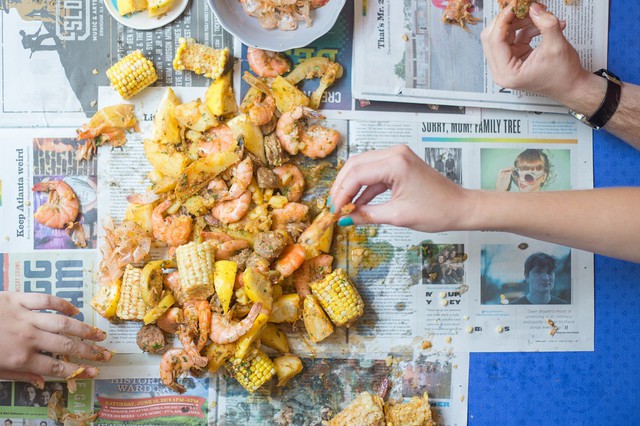 Whitney Otawka's Low Country Boil with Smoked Paprika Butter
When people think of Low Country boil and beer they tend to think of light crisp lagers. Today we run in the opposite direction and choose a brown ale. The traditional British brown ale, first perfected in seventeen hundred, was a malty-sweet, lightly hopped ale with a biscuit characteristic. For this dish, the sweet biscuit characteristic will let the spicy dish shine.
Suggestion: Against the Grain The Brown Note, Louisville, Kentucky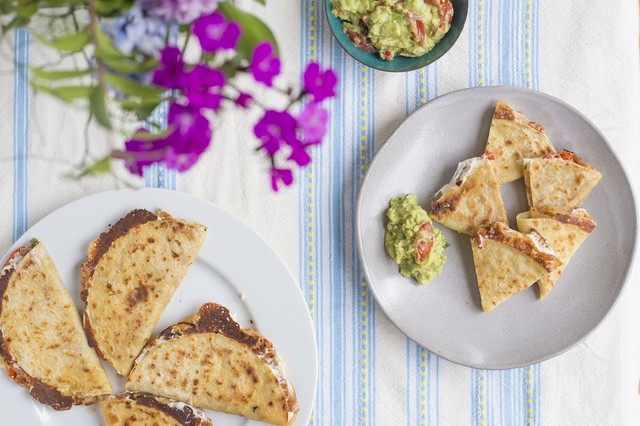 Vidalia Onion Quesadilla with Fresh Guacamole
We at Beer Girl have a great love for sour beers, from salty sour gose to Wild American Ale. There are two accepted ways of making a sour beer. The first method ferments the beer with wild yeast. Wild yeast can be the primary fermentation or used in a secondary fermentation. Wild yeast produces a little sour funk to go with the normal carbon dioxide and alcohol. The other way to make a sour beer involves adding lactobacillus, the stuff that makes milk go sour, to the finished beer. With this dish of sweet Vidalia onion and creamy guacamole, we suggest a sour that also brings some sweet fig flavor.
Suggestion: Cascade Figaro, Portland, Oregon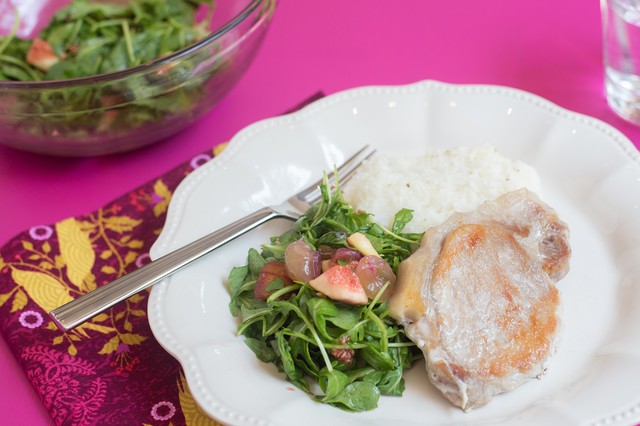 Pork Chops, Grits with Arugula, Fig & Muscadine Salad
Sour beer can be a bit of an acquired taste, and many people do not enjoy their first experience because of the overwhelming sour flavor. The bacteria or wild yeast that produce the tongue curling sensation of a sour beer can also give it a very green apple flavor that makes it a no-brainer for pairing with the fig and muscadine in this dish. Try a sour brown ale that will also have the body to hold up to the pork chops.
Suggestion: New Belgium La Folie, Fort Collins, Colorado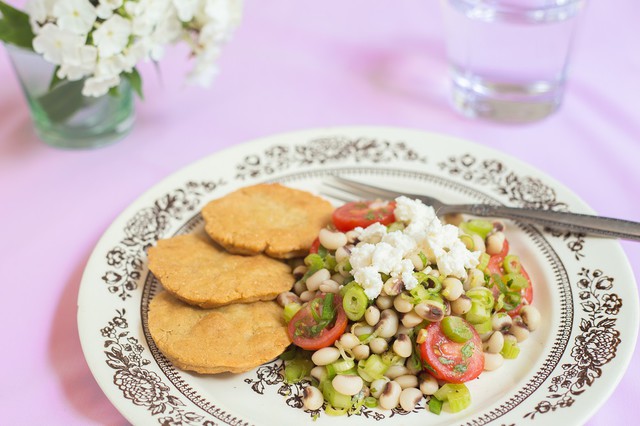 Black-Eyed Pea Salad with Masa Cakes
As the trend goes so goes the craft brewer. Recently, Mexican inspired lagers have become the rage in the beer world. Often maligned as not being serious beer, the Mexican lager is now inspiring some of our best brewers. Easily quaffable with a light flavor, they pair well with a wide variety of activities and food. This dish of classic cowboy caviar will keep its vinegar zing alive with a light traditional Mexican lager.
Suggestion: 21st Amendment El Sully, San Diego, California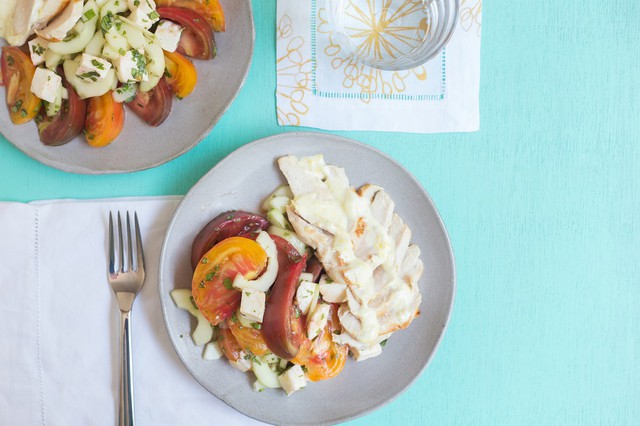 Chicken with Tomato, Cucumber & Fresh Mozzarella Salad
Even Belgian brewers have had to defend their beer from outside influences. Back in the early days of the 20th-century, Belgian beer was under siege from new lager style sweeping Europe and from the French who were purposely dropping the cost of wine to expand into the country. Belgian brewers had to adapt. The Belgian blonde, higher in alcohol than a wit, and cheaper to produce than a dubbel, allowed them to protect their market. For this summer dish of fresh basil and heirloom tomatoes, we suggest a strong Belgian blonde as the perfect accompaniment.
Suggestion: New Belgium Lips of Faith Golden Ale, Fort Collins, Colorado Georgia Local Recommendation: Arches Brewing Southern Bel', Hapeville, Georgia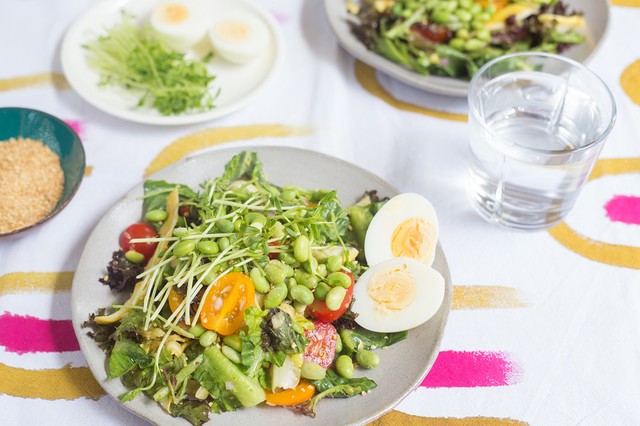 Late Summer SuperFood Salad
If we want to ramp up the health benefits of super foods, the best bet is to add in a beer fermented with a wild yeast strain. Yeasts are a good source of protein, fiber, minerals and B vitamins. For this dish, we are going to suggest a beer fermented with Brettanomyces that will add a dry characteristic to the meal.
Suggestion: Boulevard Saison Brett, Kansas City, Missouri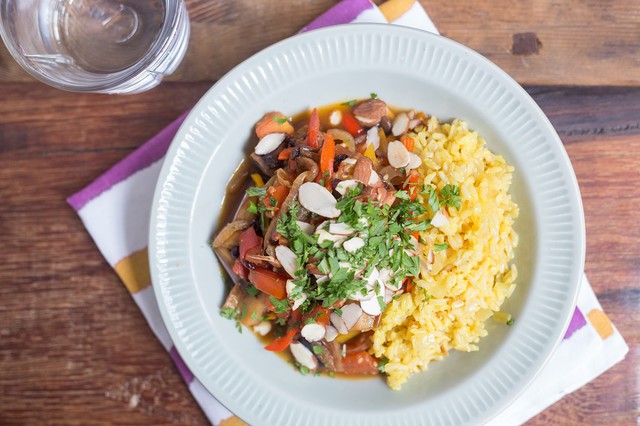 Eggplant Provencal with Tomatoes, Peppers & Saffron Rice
What is a doppelbock? Obviously, it is twice as strong as a bock, but what is a bock? A bock is a dark beer with the doppelbock being a maltier, darker version. Wait wouldn't we consider stouts doppelbocks since they are dark malty beers? Nope, a stout is an ale while a doppelbock is a lager making them the perfect dark beer to enjoy year round. For this dish of eggplant and tomatoes, we suggest the malty doppelbock to complement the tomato.
Suggestion: Weihenstephaner Korbinian, Freising, Germany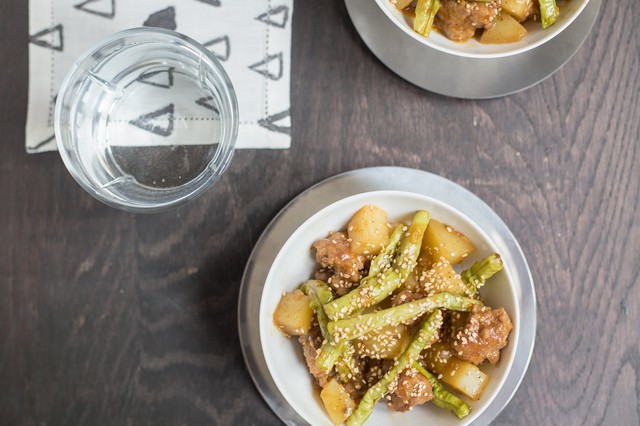 Pork Hot Pot with Long Beans & Glazed Potatoes
Belgian beer and Asian inspired food pair wonderfully together. Belgian beers from the dark malty quadruple to the lighter Belgian blondes do not rely on hop bitterness as a primary flavor component. For this dish, we suggest pairing the dominate flavors of garlic and ginger with a Belgian blonde that brings some toasty malts and a whole lot of sweetness.
Suggestion: Evil Twin Joey Pepper, Brooklyn, New York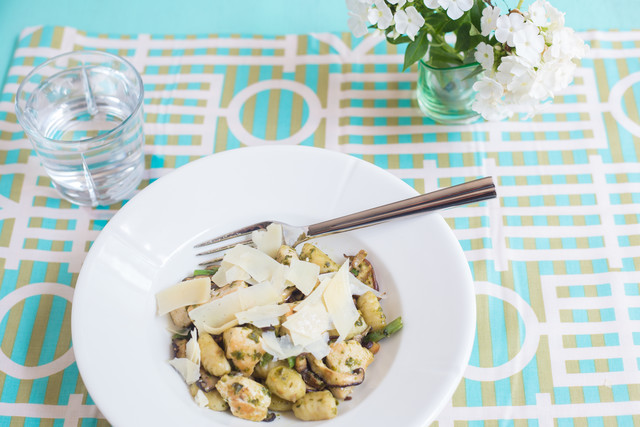 Gnocchi with Chicken, Pesto & Snap Beans
There are many types of bock beer, with each region and season having one dedicated them. Doppelbock also known as "liquid bread" during Lent is so famous it was even blessed by the Pope. For this dish of rich gnocchi and herby pesto, we suggest a rich nutty doppelbock as the perfect accompaniment.
Suggestion: Heavy Seas Brewing, Halethorpe, Maryland & Troegs Brewery Hopplebock, Hershey, Pennsylvania.