From Cali & Crepes to Southern Top Chef: Meet Whitney Otawka
As a Georgia chef by way of California, Whitney Otawka got her start at a French creperie in Oakland, California and quickly found her passion in the rigorous kitchen environment. We met up with Whitney at the Test Kitchen, where she gave us the low-down on her Low Country Boil with Smoked Paprika Butter, as well as the challenges and rewards of running a restaurant kitchen and how she finds inspiration through food.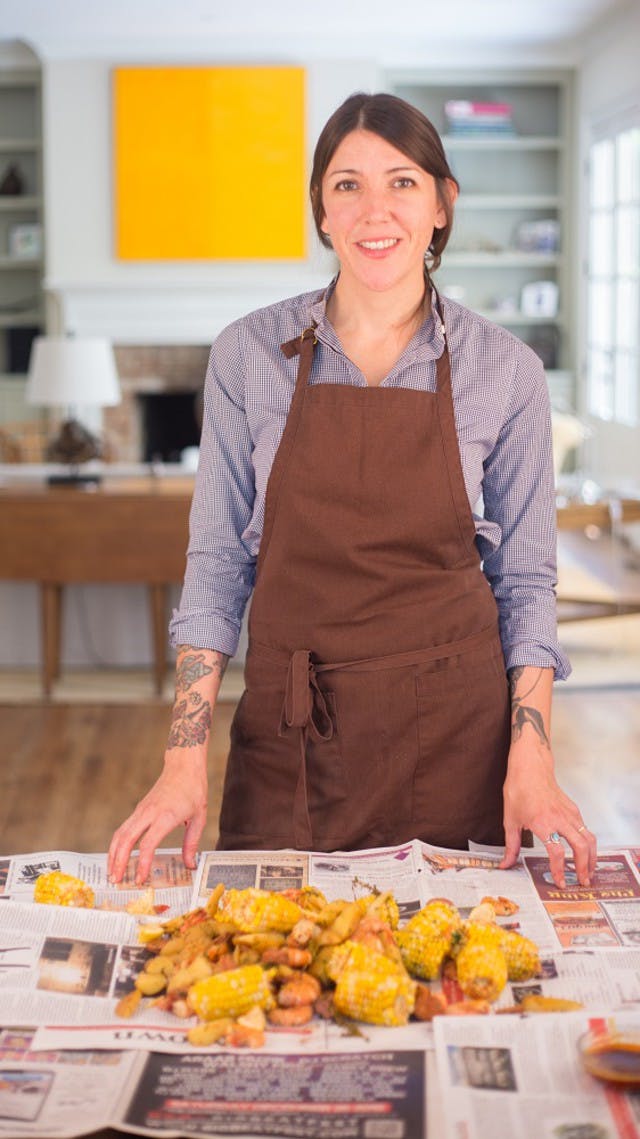 On Cumberland Island, Whitney Otawka oversees the Greyfield Inn's food and beverage program, kitchen operations, and menu creation. She strives to create a seasonally-driven menu using the best available products, bringing rustic-style dishes to the modern table with roots in beloved Southern traditions. When she's not in the kitchen or competing on Top Chef (check out season 9!), Whitney writes recipes for home cooks to enjoy. She's currently writing her cookbook, set to be published sometime in the next year!
Whitney's love for the kitchen and South wasn't instilled until her adult years, however. After growing up in the high desert of Southern California, she studied anthropology at The University of California, Berkeley, which introduced her to an unfamiliar way of eating and an endless supply of fresh produce, seafood, grass-fed beef, organic grocery stores, and more. At the age of 19, after being denied a waitressing position, Whitney found her culinary footing in the kitchen of French creperie in Oakland, California. Here, Whitney quickly discovered her innate discipline and rigor for cooking – a passion that allowed her to thrive in the demanding environment of a restaurant kitchen. She continued her culinary education in restaurants from San Francisco to San Diego, and when she moved to Athens, Georgia in 2005, she landed the position of prep cook at 5&10 under chef Hugh Acheson. She quickly worked her way up to Sous Chef, at times working simultaneously as Chef de Partie of Linton Hopkins' Restaurant Eugene in Atlanta while attending culinary school at Le Cordon Blue Atlanta. During her stint at 5&10, Whitney also staged in some of New York's finest restaurants including Per Se, Le Bernardin, and Blue Hill at Stone Barns.
In 2010, Whitney pursued a unique opportunity to serve as Executive Chef at the prestigious Greyfield Inn on Cumberland Island, Georgia, but in 2012 moved back to Athens to become executive chef at two restaurants – Farm 255 (where she was awarded a Rising Star Chef award for Atlanta) and Cinco de Diez. After a brief departure from Georgia to film Top Chef Season 9 in Texas, Whitney returned to her beloved Cumberland Island to become Greyfield Inn's Culinary Director.
With such culinary talent and love for southern-style cooking, it's no surprise that Whitney Otawka's Low Country Boil with Smoked Paprika Butter was an instant hit when she visited the Test Kitchen. Trust - once Whitney turned out that steaming pot of savory Lowcountry deliciousness, there was no working until we about licked the ink off the paper. Our interview with Whitney is below:
What made you choose this dish?
What's the most challenging part of your job?
How would you describe your cooking style?
Where do you get your inspiration?
What's the best thing you've ever eaten?
What's your favorite food indulgence?
Who's your favorite southern chef?
What organizations do you love and support?
To learn even more about Whitney, check out her website www.whitneyotawka.com and follow her on Facebook, Twitter and Instagram!