The Scoop on "Sufferin' Succotash!"
The only thing more timeless than the catchphrase is the dish itself. Although defined as a dish comprised of sweet corn and lima beans, other summer produce like tomatoes, squash, field peas, sweet peppers and okra are always welcome to the party if they're ripe 'n ready to enjoy!
Succotash dates back to the Native Americans. The word is borrowed from a term meaning "broken corn," an apt name for this sauté of sweet corn and beans. Though succotash is now a Southern staple, this humble dish got a star start on the first Thanksgiving table in New England (we think). The colonists learned from the Native Americans that by stewing down corn, field peas, lima beans, and more, they could enjoy a hearty dish year-round from crops that thrived in American soil.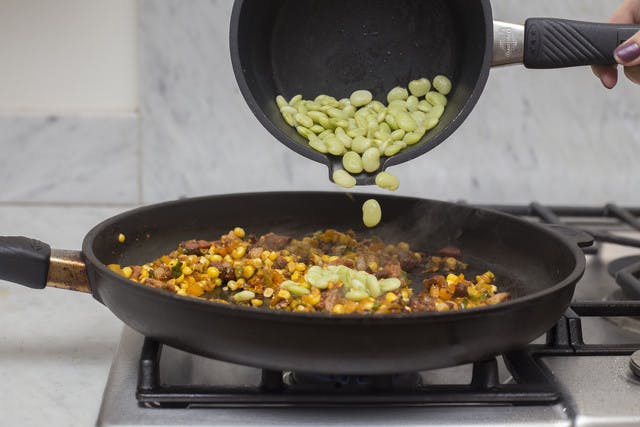 Centuries later, succotash became an American darling again. The Great Depression, the Dust Bowl, and World War II all put American wallets through the ringer. Succotash is filling, nutritious, and - since even in bad times, a pound of beans isn't going to be a grocery store luxury- affordable. Families could stretch these summer flavors through a few meals and keep dinner healthy and tasty.
In the American South, succotash is a table favorite that almost always has lima or butter beans. However, substituting in field peas, edamame or even snap beans would be no less delicious or satisfying, and would keep in tradition of making good use of the seasonal bounty you have on hand. Although limas have a short season, crisp green snap beans don't mind a little August heat, and are certainly happy to join the sizzling skillet with fresh corn and other veggies.
Like many southern-style veggie dishes, succotash tends to be prepared with bacon or ham to add rich, smoky flavors, but even just a dab of butter will do in a pinch to carry the bold flavors of seasonal produce; the sweetness of corn, the hearty beans, the savory acidity of tomatoes, the zing of fresh herbs... they all come together in the most delectable harmony in your skillet and your dinner plate.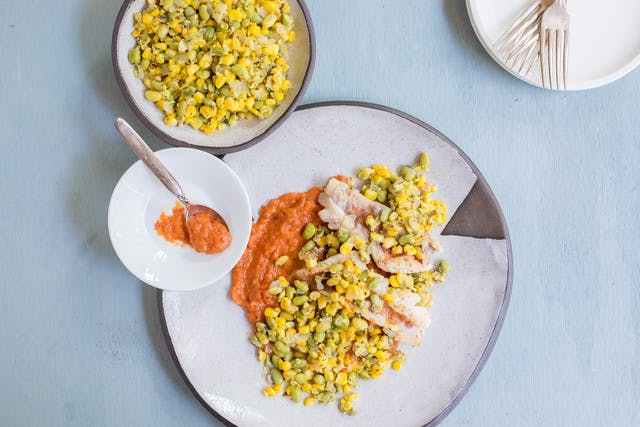 Sufferin' succotash! Try these recipes:
WILD-CAUGHT ACADIAN REDFISH WITH SUCCOTASH & TOMATO GRAVY
THREE SISTERS SALAD WITH PAPRIKA TEMPEH & PEPPER JELLY
TASSO SUCCOTASH WITH BUTTER BEANS & SWEET CORN OVER STONE-GROUND GRITS
WILD-CAUGHT GEORGIA SHRIMP WITH FIELD PEA & SWEET CORN CEVICHE
PORK MEATBALLS WITH SNAP BEAN SUCCOTASH