Beer Pairings for the Week of August 22nd, 2016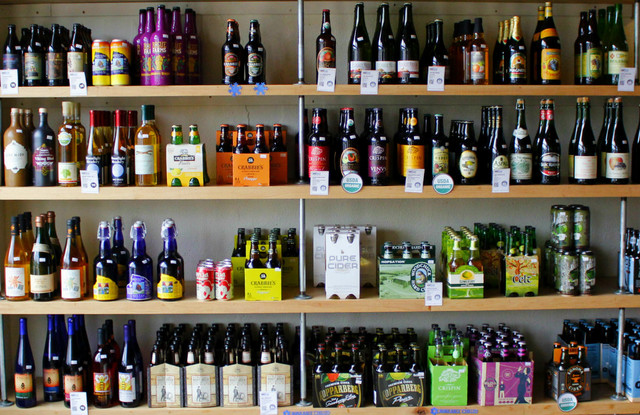 Looking for the perfect brew to go along with your PeachDish meals? We've got you covered. We've partnered with the owners of BeerGirl, a local Atlanta shop, to help you select the perfect beverage. BeerGirl's passionate owners, Alexia Ryan and Erik Lewis opened their shop with the dream of connecting the people of their community with delicious craft beer from the South and beyond. Here are this week's suggested pairings: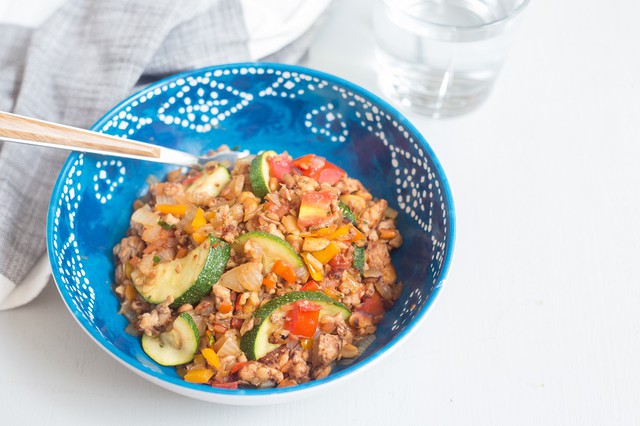 Tempeh SuperFood Sauté with Zucchini & Sweet Peppers
Why do Belgian Wits have coriander? Herbs and spices have been added to beer for a long time as a flavor additive and as a preservative. Hops do preserve beer but they aren't traditionally used to preserve wit beer. For a wit beer, coriander is the better choice. Summer garden dishes are made for a wheat beer, so pair this dish of sweet pepper and zucchini with a wit.
Suggestion: Oskar Blues Priscilla, Longmont, Colorado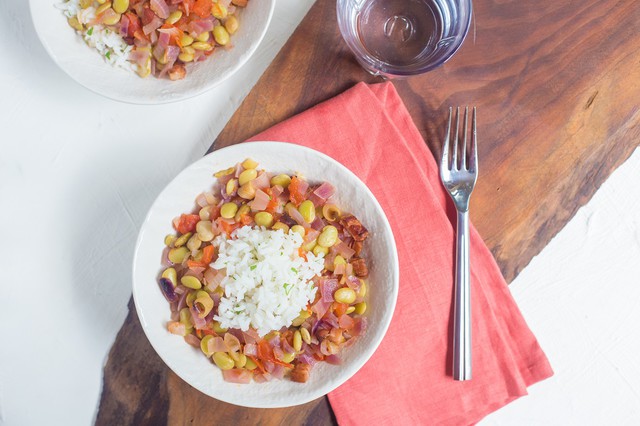 Smoked Bacon & Butter Beans with Pickled Fennel over Herbed Rice
Not all cider is sweet. In fact, cider can be very tart with less sugar than one would imagine. Ciders made from green apples can provide a tart zing without being overly sweet. For this gluten-free dish of smoked bacon, butter beans, and pickled fennel, a tart green apple cider is the perfect accompaniment.
Suggestion: McKenzies Green Apple, West Senaca, New York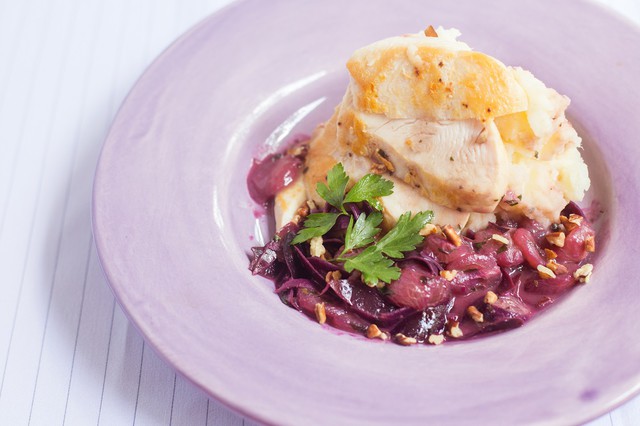 Chicken with Muscadines & Cheddar Mashed Potatoes
Big dishes are not the exclusive domain of big red wines, big dark beers do just as well. Porters got their name from the stout porters working on the docks of London who needed strong beer to go with a strong back. For this dish of chicken in a sauce of muscadines, you want a dark beer with strong chocolate and espresso flavors to let the sweetness shine.
Suggestion: Left Hand Black Jack Porter, Longmont, Colorado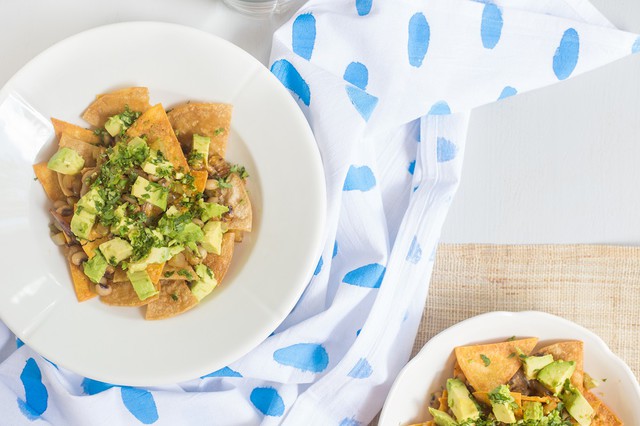 Black Eyed Pea, Green Tomato & Fresh Avocado Nachos
When people think of Vienna they don't often think of Mexico, however, the exception is when lagers are discussed. Little known fact- Viennese brewers taught Mexican brewers how to brew and the beer they taught them was the Vienna Lager. Yes, my friends stay thirsty and enjoy a Mexican inspired Vienna Lager with this dish of southern nachos.
Suggestion: 21st Amendment El Sully, San Diego, California Georgia Local Recommendation: Arches Vienna Lager, Hapeville, Georgia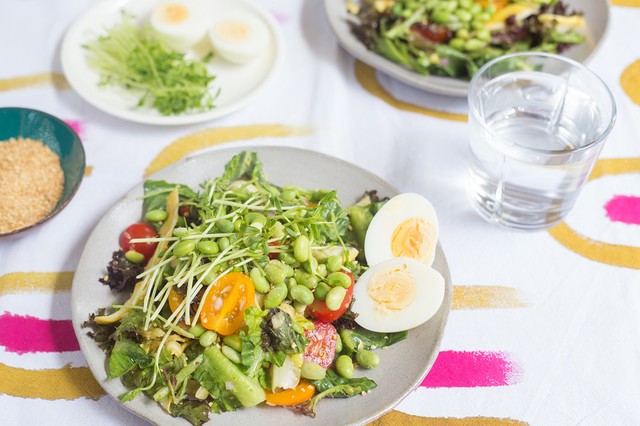 Late Summer SuperFood Salad
Well if we want to ramp up the health benefits of super foods, the best bet is to add in a beer fermented with a wild yeast strain. Yeasts are a good source of protein, fiber, minerals and B vitamins. For this dish, we are going to suggest a beer fermented with Brettanomyces that will add a dry characteristic to the meal.
Suggestion: Boulevard Saison Brett, Kansas City, Missouri Georgia Local Recommendation: Sweet Water Pit and the Pendulum, Atlanta, Georgia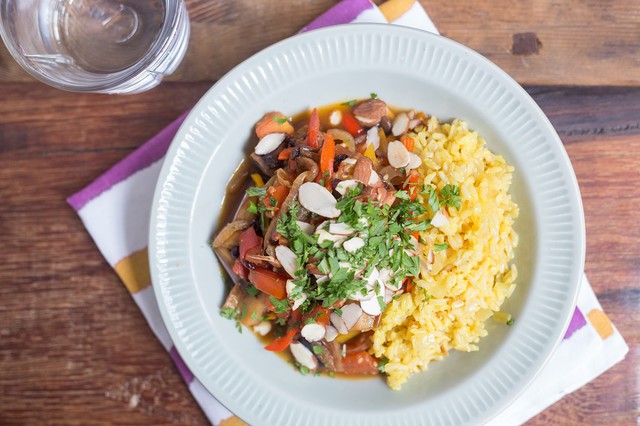 Eggplant Provencal with Tomatoes, Peppers & Saffron Rice
What is a doppelbock? Obviously, it is twice as strong as a bock, but what is a bock? A bock is a dark beer with the doppelbock being a maltier, darker version. Wait wouldn't we consider stouts doppelbocks since they are dark malty beers? Nope, a stout is an ale while a doppelbock is a lager making them the perfect dark beer to enjoy year round. For this dish of eggplant and tomatoes, we suggest the malty doppelbock to complement the tomato.
Suggestion: Weihenstephaner Korbinian, Freising, Germany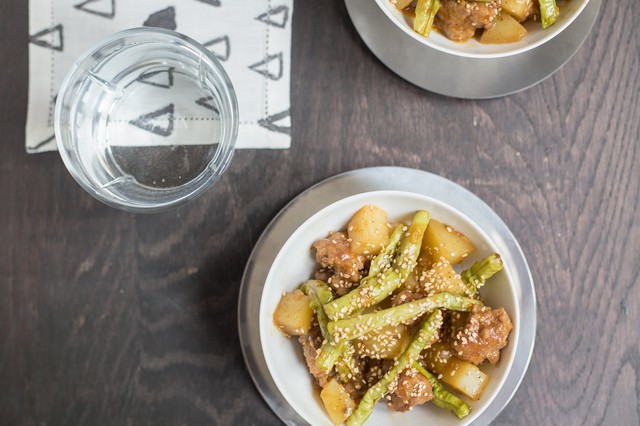 Pork Hot Pot with Long Beans & Glazed Potatoes
Belgian beer and Asian inspired food pair wonderfully together. Belgian beers from the dark malty quadruple to the lighter Belgian blondes do not rely on hop bitterness as a primary flavor component. For this dish, we suggest pairing the dominant flavors of garlic and ginger with a Belgian Blonde that brings some toasty malts and a whole lot of sweetness.
Suggestion: Evil Twin Joey Pepper, Brooklyn, New York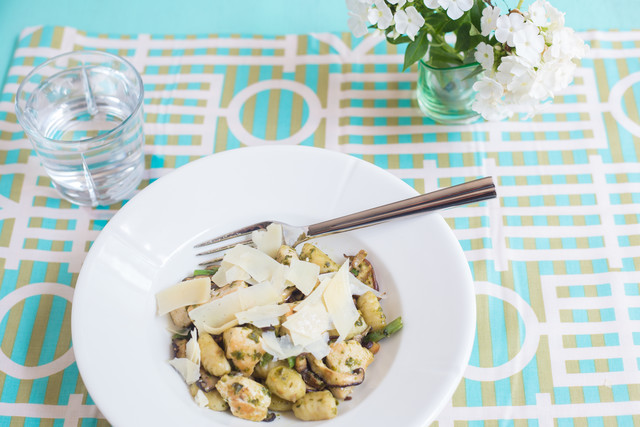 Gnocchi with Chicken, Pesto & Snap Beans
There are many types of bock beer, with each region and season having one dedicated them. Doppelbock, also known as "liquid bread" during Lent, is so famous it was even blessed by the Pope. For this dish of rich gnocchi and herby pesto, we suggest a rich nutty doppelbock as the perfect accompaniment.
Suggestion: Heavy Seas Brewing, Halethorpe, Maryland & Troegs Brewery Hopplebock Hershey, Pennsylvania.