Beer Pairings for the Week of August 8th, 2016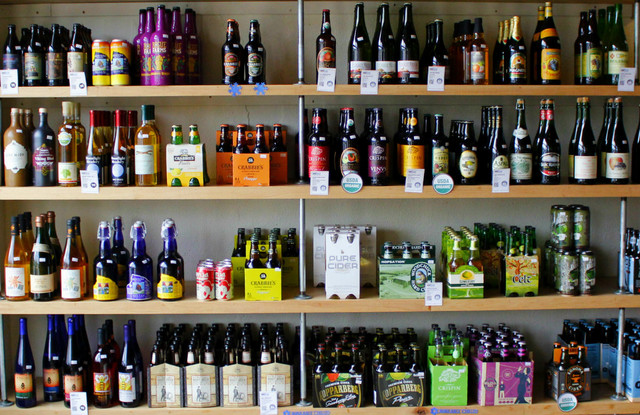 Looking for the perfect brew to go along with your PeachDish meals? We've got you covered. We've partnered with the owners of BeerGirl, a local Atlanta shop, to help you select the perfect beverage. BeerGirl's passionate owners, Alexia Ryan and Erik Lewis opened their shop with the dream of connecting the people of their community with delicious craft beer from the South and beyond. Here are this week's suggested pairings: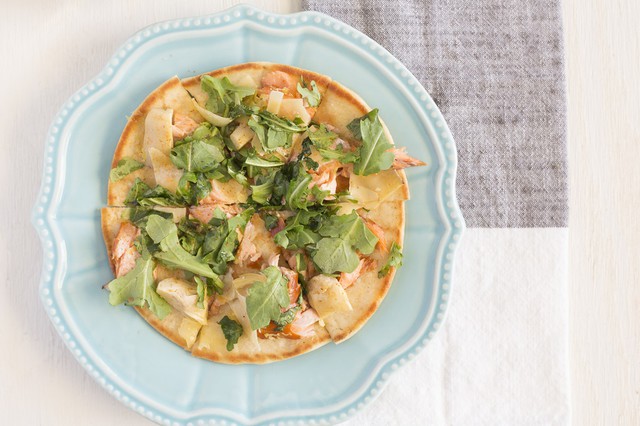 Flatbread with Smoked Salmon, Artichoke & Arugula
We've said it before: wheat beers are underappreciated for their ability to convey flavors. Hefeweizen or wit, the wheat beer can be as complicated as the brewer's imagination. Recently, brewers have started realizing that wheat beer should be embraced and celebrated; hopefully the hop heads amongst us will realize every beer does not have to be bitter to be good. To help the hop lovers make that tradition, we suggest a hoppy wheat beer to complement the bitter arugula while not overshadowing the other flavors.
Suggestion: 80 Acre Hoppy Wheat, Kansas City, Missouri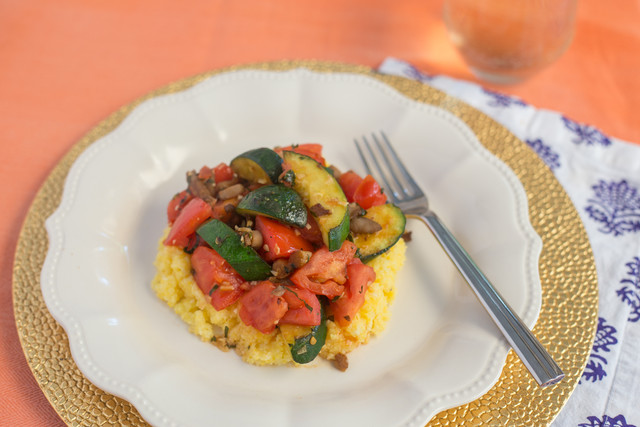 Zucchini & Tomato Sauté over Polenta
American craft beer has reclaimed many a style from the scrap heap of history. Take the Berliner Weisse, a beer that most thought of as more of a shandy thanks to the green raspberry syrup added by Berliners to a hefeweizen. However, the Berliner Weisse is actually a very tart wheat sour on its own providing the perfect vehicle for other flavors. With this summery dish, we suggest an American riff on a Berliner Weisse that brings some tart along with some sweetness to complement the summer flavors of this dish.
Suggestion: Victory Berliner with Elder Flower, Downington, Pennsylvania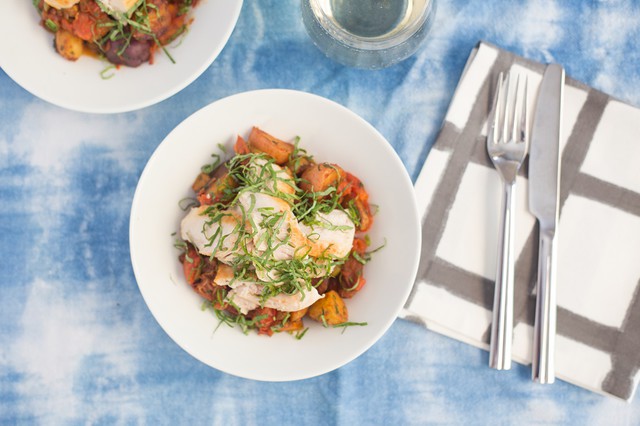 Paprika Chicken with Tomatoes, New Potatoes & Olives
Beer cocktails are nothing new, however, using barrel aging to produce beer versions of classic cocktails is rather new. By taking a rye barrel aged beer and adding the traditional ingredients for an old fashioned like citrus and cherry, brewers are becoming mixologists. For this dish, we suggest a beer old fashioned to bring a little rye sweet to the heat and acid in this meal.
Suggestion: Kentucky Bourbon Barrel Old Fashioned, Lexington, Kentucky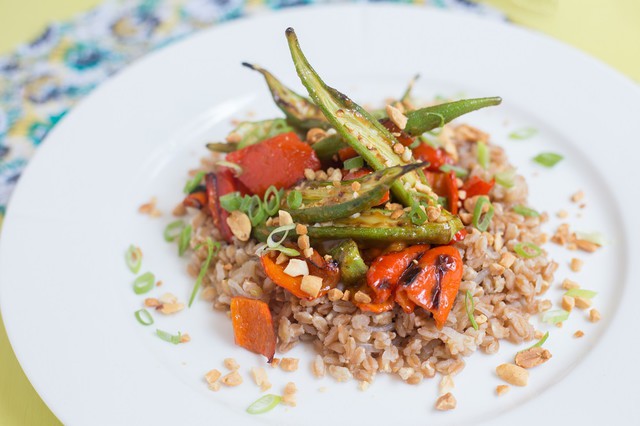 Roasted Okra & Peppers with Peanut Vinaigrette Over Farro
Hot pepper in beer? Yep, it's a real thing. Pepper can show up in styles ranging from IPAs to stouts. From blazing hot to adding just a little heat, hot peppers have joined the list of additives that brewers are using to produce flavored beers. For this dish, we want to enhance the pepper flavor, so we suggest a pepper flavored IPA.
Suggestion: Ballast Point Habanero Sculpin, San Diego, California Georgia Local Recommendation: Jekyll Pineapple Habanero Hop Dang Diggity, Alpharetta, Georgia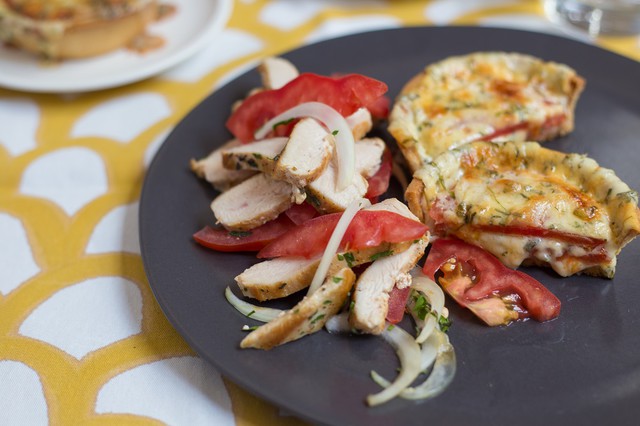 Tomato Pie with Vidalia Onion & Herbed Chicken Breast
Wheat beers are the quintessential summer beer. A sweet malt base lets yeast bring flavors beyond aroma. Wheat beers also serve as the perfect conveyance for fruit flavors in a beer. For this dish of sweet tomato and sweeter Vidalia Onion, we suggest a mango flavored wheat beer to complement the sweetness in the dish.
Suggestion: Anchor Mango Wheat, San Francisco, California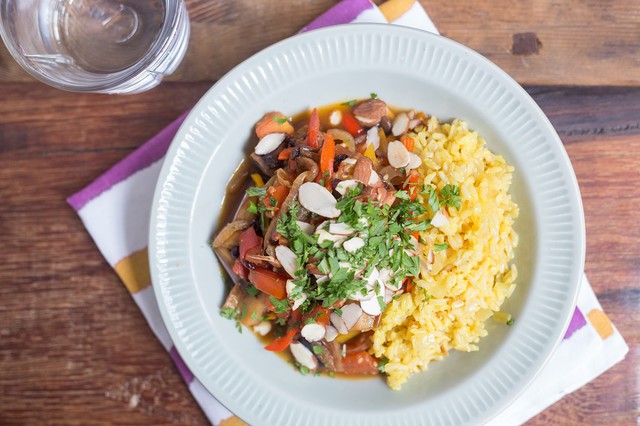 Eggplant Provencal with Tomatoes, Peppers & Saffron Rice
What is a doppelbock? Obviously, it is twice as strong as a bock, but what is a bock? A bock is a dark beer with the doppelbock being a maltier, darker version. Wait wouldn't we consider stouts doppelbocks since they are dark malty beers? Nope, a stout is an ale while a doppelbock is a lager making them the perfect dark beer to enjoy year round. For this dish of eggplant and tomatoes, we suggest the malty doppelbock to complement the tomato.
Suggestion: Weihenstephaner Korbinian, Freising, Germany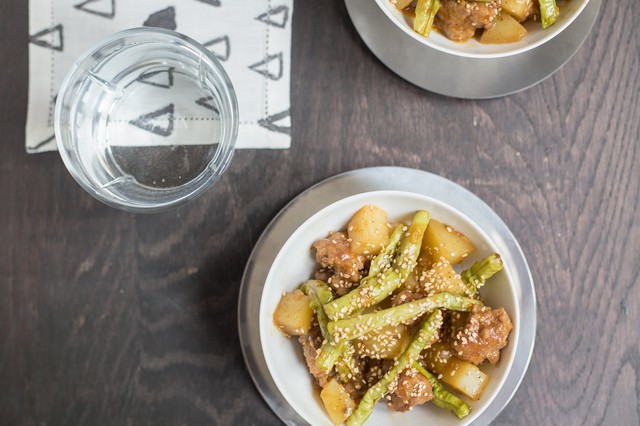 Pork Hot Pot with Long Beans & Glazed Potatoes
Belgian beer and Asian inspired food pair wonderfully together. Belgian beers from the dark malty quadruple to the lighter Belgian blondes do not rely on hop bitterness as a primary flavor component. For this dish, we suggest pairing the dominate flavors of garlic and ginger with a Belgian Blonde that brings some toasty malts and a whole lot of sweetness.
Suggestion: Evil Twin Joey Pepper, Brooklyn, New York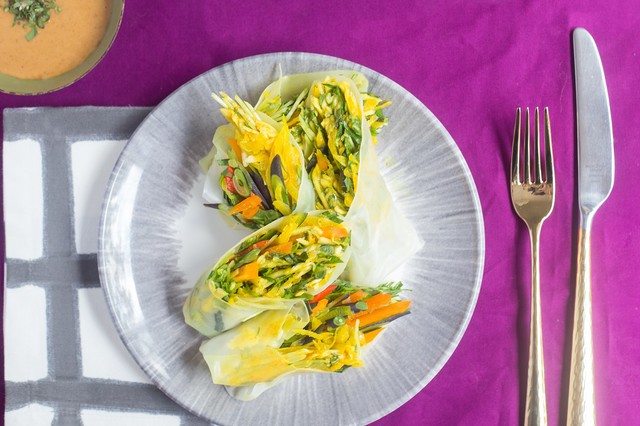 Summer Harvest Rainbow Roll
Lambics are a broad style of beer sharing the commonality of wild yeast. Lambics can be super tart all the way to super sweet, but all are brewed with wild yeast. How does one ferment with wild yeast? Simple if you happen to be in Belgium-- leave the beer in a large open vat and the yeast floating in the air will work magic. Anywhere else probably means ordering yeast from Belgium. For this spring roll of colors, we suggest a strawberry lambic to bring some added sweetness.
Suggestion: Timmerman's Strawberry Lambic, Itterbeek, Belgium