Wine Pairings for the Week of August 8th, 2016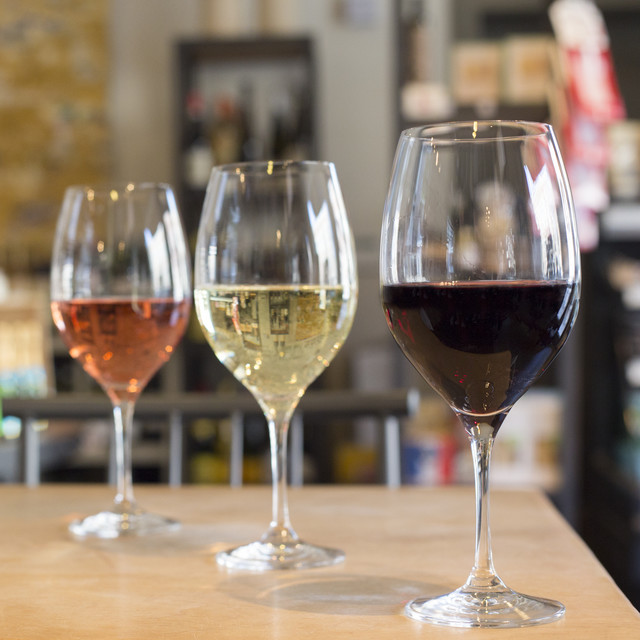 Each week, Wine Specialist Sarah Pierre brings you suggestions to complement your PeachDish meals. Sarah is one of the owners at 3 Parks Wine Shop in Glenwood Park, Atlanta. She paired up with the team of The Shed at Glenwood and The Pig and The Pearl and opened 3 Parks in 2013. Prior to opening the store, she spent most of her career working and managing notable restaurants in Atlanta and New York City. Sarah selects all of the wines that are offered at 3 Parks Wine Shop and also assists in pairing wines for local events and dinners throughout Atlanta.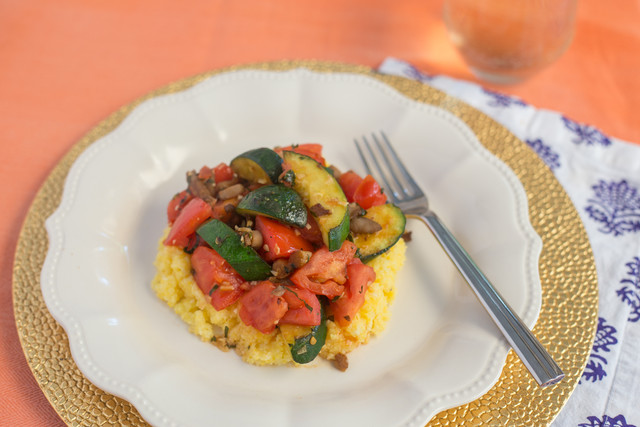 Zucchini & Tomato Sauté over Polenta
Italian Red - What grows together goes together will never go out of style! Pour a glass of Sangiovese paired alongside the Italian herbs and vegetables in this Peachdish. Suggestion: Melini Chianti, Tuscany, Italy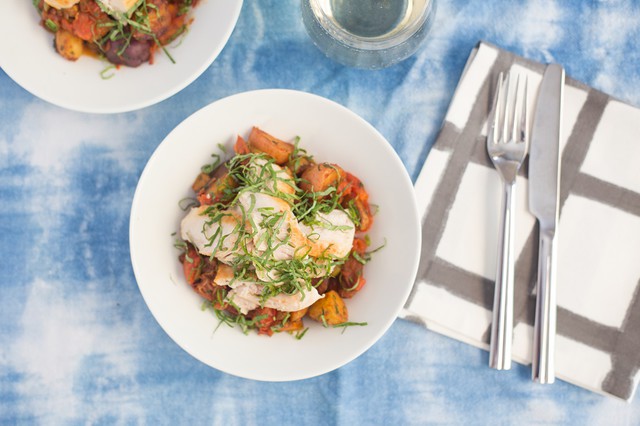 Paprika Chicken with Tomatoes, New Potatoes & Olives
Viura - Take a traditional Spanish dish and pair it with a classic Spanish food-friendly white wine. The fresh and fruity characteristics coupled with its crisp acidity is what makes Viura a household staple and everyday simple wine pairing. Coincidence or not, it's also one of the most widely planted white grapes in Rioja. Suggestion: Bodegas Franco-Españolas Rioja Royal White, Rioja, Spain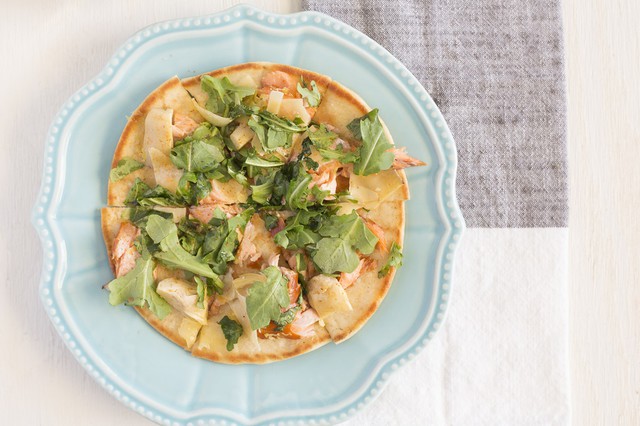 Smoked Salmon Flatbread with Artichoke & Arugula
Artichokes are commonly considered a difficult ingredient to pair with wine. Getting a bit technical here but wanted to explain - Artichokes contain a naturally occurring chemical called Cynarin which makes everything taste sweeter, including wine, but not in a good way. To counter that, you want to find an extremely dry, crisp wine that is higher in acid. Additionally, incorporating a salty component, smoked salmon, to the dish also minimizes the effect of Cynarin.
Vinho Verde - Grab a glass of this crisp, slightly effervescent, zingy white wine from Portugal. This young wine is light, fresh, and easy to drink. It's perfect with fish, and yes, artichokes. Suggestion: Calamares Vinho Verde, Portugal
Picpoul de Pinet- Not only is Picpoul the best pairing for shellfish and oysters, it also pairs with smoked salmon. This white wine from Languedoc region in the south of France is crisp, refreshing, and possesses a touch of salinity that is exactly what those artichokes need. Suggestion: Le Jade Picpoul de Pinet, Languedoc, France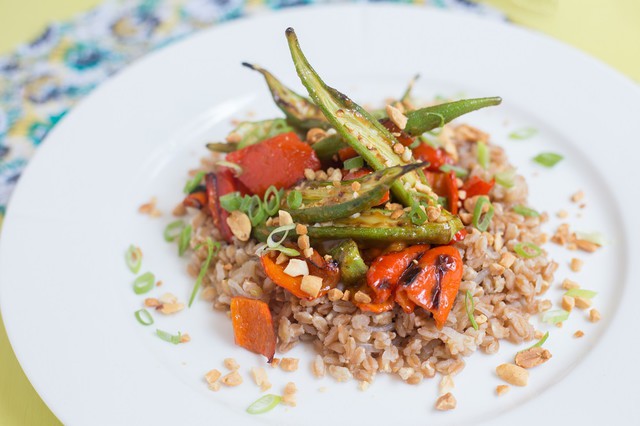 Roasted Okra & Peppers with Peanut Vinaigrette Over Farro
Syrah - Or a wine that is predominantly Syrah which will stand up to the sweet tones of the fresh vegetables. The tannin and touch of spice will meld seamlessly with the texture you'll find in the roasted okra. Suggestion: Hedges Red Mountain Syrah, Columbia Valley, Washington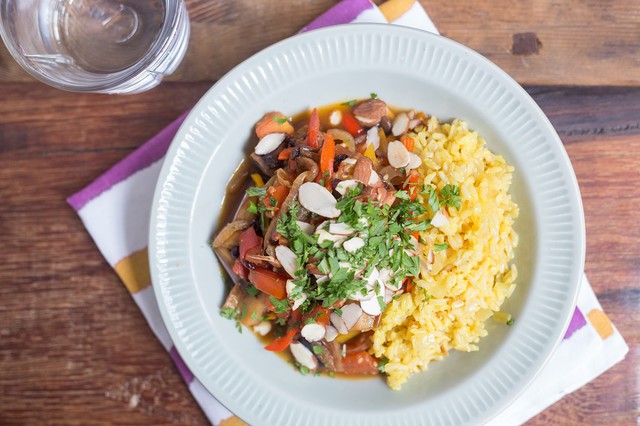 Eggplant Provencal with Tomatoes, Peppers & Saffron Rice
Chianti - Stay true to the saying "acid loves acid" when pairing wine with this dish. Tomatoes are high in acid and so is Chianti. Sauteed eggplant, aka melanzana in Italian, also pairs well with Chianti. Suggestion: Melini, Chianti DOCG, Tuscany, Italy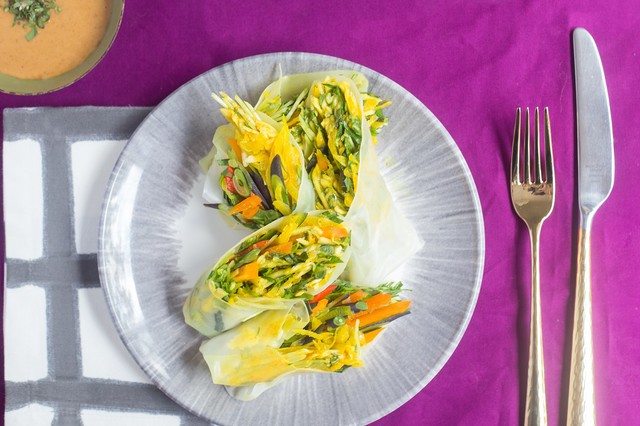 Summer Harvest Rainbow Roll
Oregon Pinot Noir - The ever so versatile Pinot Noir will pair perfectly with these rainbow rolls. The earthiness of an Oregon Pinot will work nicely with the vegetables. Suggestion: Love Oregon, Willamette Valley, Oregon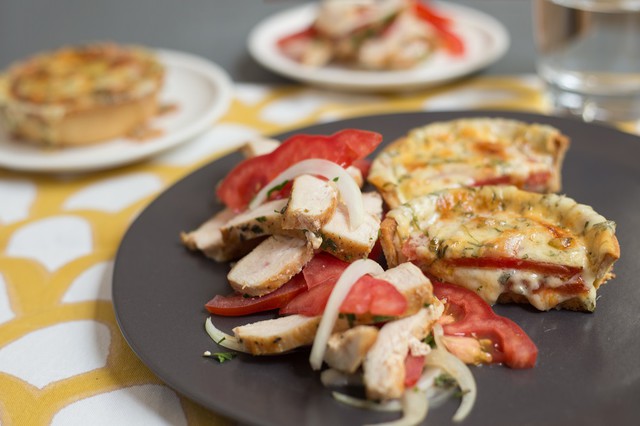 Tomato Pie with Vidalia Onion & Herbed Chicken Breast
Italian Pinot Grigio- Pair tomato pie with a crisp and acidic Pinot Grigio. The wine will hold its own to the acidity in the tomatoes and showcase the true flavors of the dish. Suggestion: Ornella Molon Pinot Grigio, Venezia DOC, Italy