Meet the Top Chef: Kickin' it with Kevin Gillespie
Kevin Gillespie is an Atlanta chef, Top Chef contestant, and has been a finalist and semi-finalist for multiple James Beard awards, including "Rising Star Chef of the Year" and for his cookbook "Fire in my Belly." He and his local restaurants, Gunshow and Revival, are proud supporters of the good food movement and serve seasonal, delicious dishes. While always pushing himself to look at the restaurant industry in innovative ways, Kevin Gillespie's passion lies in serving quality food every day - including his PeachDish recipe, Stuffed Tomatoes with Savannah Red Rice and Creamed Shrimp. He joined us in the Test Kitchen to chat about his favorite cooking memories, what inspires him, and more!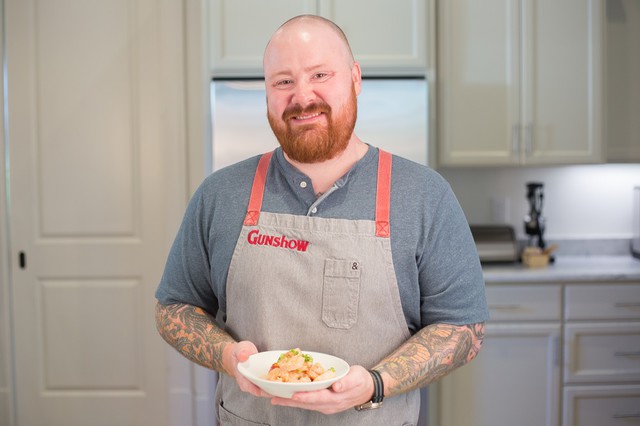 After graduating from the Art Institute of Atlanta, Gillespie worked in restaurants in Atlanta and Oregon before opening Gunshow in 2013. In 2015, he opened Revival, a fresh take on the family-style dinner. Red Beard Restaurants was established in 2015, allowing him to ensure smart expansion and provide consulting services to other start-ups. Also in 2015, Gillespie released Pure Pork Awesomeness, a follow-up to James Beard Award Finalist Fire in My Belly. He is a member of Slow Food Atlanta, Southern Foodways Alliance, Community Farmers Markets Chefs Advisory Board, Georgia Organics and the Society for the Preservation of Traditional Southern Barbecue.
Gillespie was one of three finalists and "fan favorite" on the sixth season of Bravo's "Top Chef." He was named a 2015 semi-finalist and 2016 finalist for the James Beard Foundation's Best Chef: South award and been a semi-finalist for the Rising Star Chef of the Year award for three consecutive years, nominated for Food & Wine's People's Best New Chef and named Forbes' 30 Under 30. Eater included Gunshow in its annual "The National 38" list of places to eat in America in 2015 and 2016. In 2014, Gunshow earned a spot on GQ magazine's list of "12 Most Outstanding Restaurants" as well as Esquire magazine's list of "Best New Restaurants of 2014."
Featuring premium local ingredients that reflect the fine dining experience of Gunshow, Kevin Gillespie's Stuffed Tomatoes with Savannah Red Rice and Creamed Shrimp show off the art of cooking, making it a perfect dish for date night, special occasions, or if you're just looking to treat yourself. Our interview with Kevin is below:
Why do you love this dish?
What are your first memories of cooking?
What is the most challenging part of your job?
Where do you find your inspiration?
What's the best thing you've ever eaten?
What's your favorite food indulgence?
Who's your favorite Southern cook, past or present?
Are there any charities you love and support?
To learn more about Chef Kevin Gillespie and his food, check him out at chefkevingillespie.com or follow his Instagram, @chefkevingillespie.