Beer Pairings for the Week of July 25th, 2016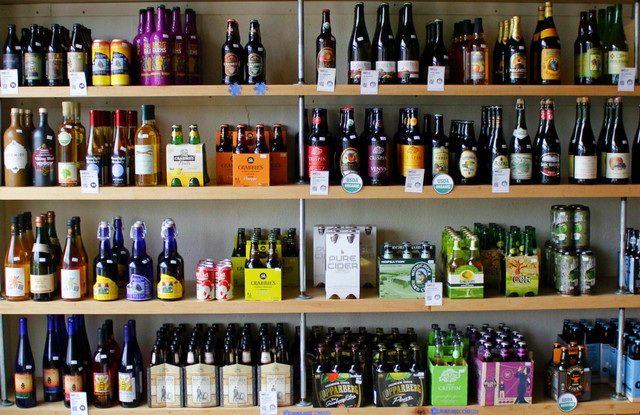 Looking for the perfect brew to go along with your PeachDish meals? We've got you covered. We've partnered with the owners of BeerGirl, a local Atlanta shop, to help you select the perfect beverage. BeerGirl's passionate owners, Alexia Ryan and Erik Lewis opened their shop with the dream of connecting the people of their community with delicious craft beer from the South and beyond. Here are this week's suggested pairings: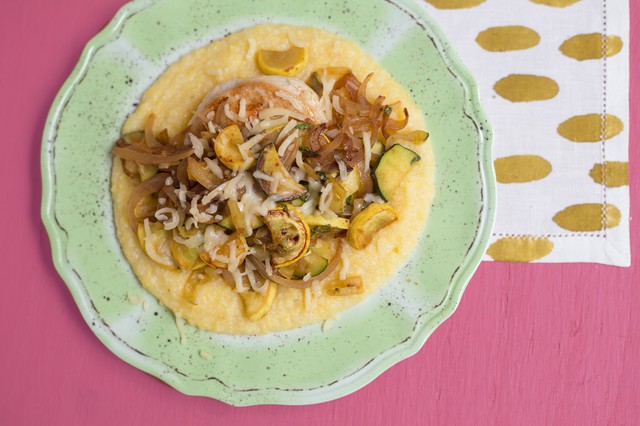 Chicken Fundido with Squash & Polenta
Did you know that certain beers can only be brewed in specific locations? Kölsch can technically be brewed only in the area around Cologne, Germany. The area is considered a Protected Geographic Indication by the European Union. Luckily, American brewers ignore that stipulation to produce some really wonderful kölsch-style beers. A kölsch is a very mild, crisp, pale ale that tastes exactly how you expect a beer to taste. For this dish, a kölsch will provide the perfect backdrop for the squash, chile, and lime to shine.
Georgia Local Recommendation: Jekyll Big Creek Kölsch, Alpharetta, Georgia Suggestion: Sünner Kölsch, Cologne, Germany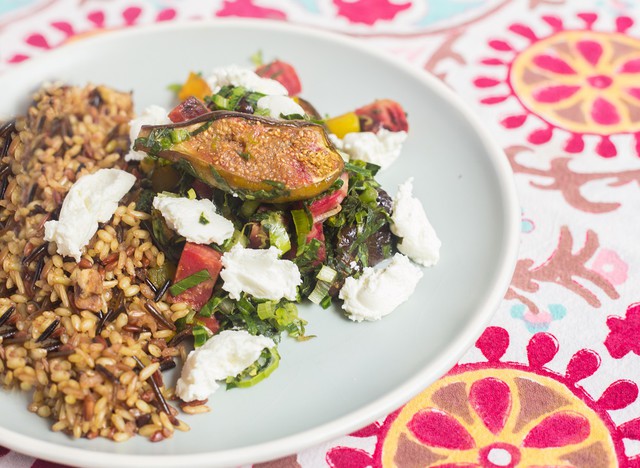 Roasted Baby Beets with Figs, Goat Cheese & Sweet Potato Greens
Beer cocktails are not a new concept. In the Canterbury Tales, Chaucer mentions the oldest known beer cocktail- the braggot. A braggot is a mixture of mead and beer. When blended correctly, the sweet honey wine tempers the malt and hop in a beer to produce a balanced beverage. With this dish of sweet beets and figs with creamy goat cheese, you will want a beverage that brings just enough sweetness as a complement.
Suggestion: Rogue Marionberry Braggot, Newport, Oregon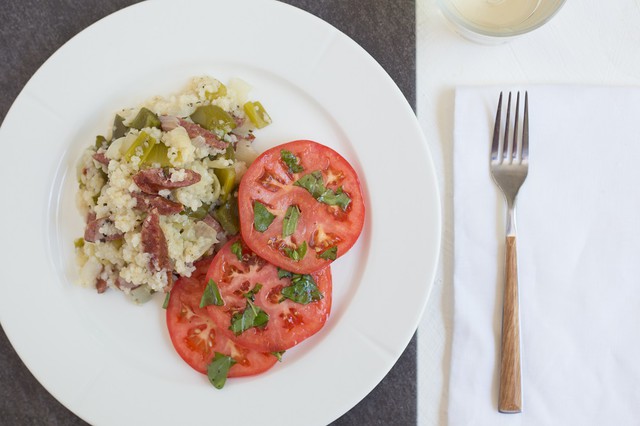 Rice Grits with Andouille, Green Pepper & Sliced Tomato
Just because it's summer doesn't mean you can't enjoy a darker beer with dinner. We say try an American brown ale this summer. Americans took the English brown and started enhancing the nutty flavor that the English were ignoring. Next time you browse the shelves of a beer store, take a gander at the brown ale section where you'll find nut flavors from chestnut to coconut. For this dish, we suggest a coconut brown ale to add a little more summer to this dish.
Suggestion: Kona Koko Brown, Kailua-Kona, Hawaii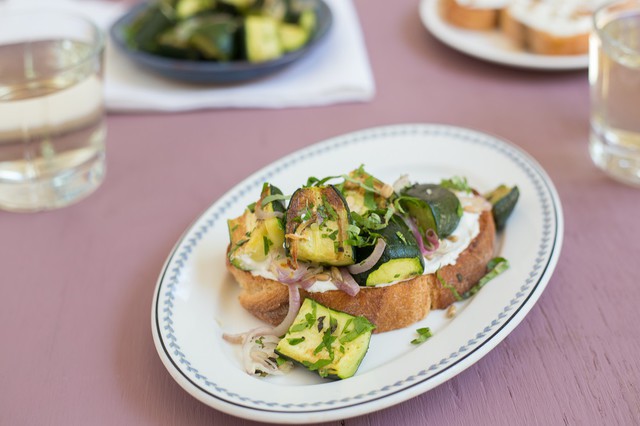 Roasted Zucchini Tartine with Ricotta, Herbs & Sunflower Seeds
Wit doesn't mean wheat in Flemish, it means white. The Belgian white beer referred to as wit is a complicated beer. Coriander and orange peel are added to peppery Belgian yeast to produce a sweet yet spicy beer. For this summer dish, we suggest a Belgian Wit to complement the summer herbs.
Suggestion: Clown Shoes Clementine Wit, Ipswich, Massachusetts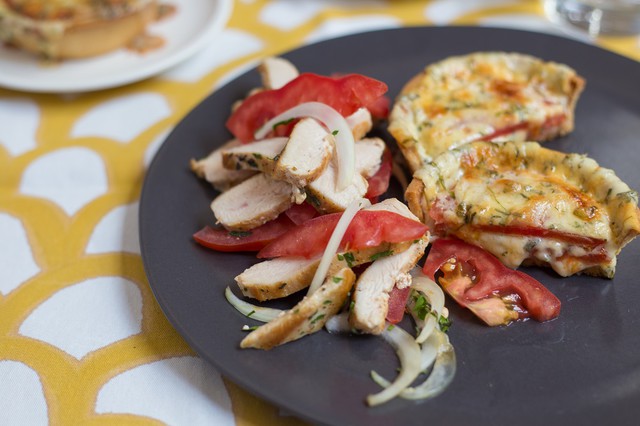 Tomato Pie with Vidalia Onion & Herbed Chicken Breast
Wheat beers are the quintessential summer beer. A sweet malt base lets yeast bring flavors beyond aroma. Wheat beers also serve as the perfect vehicle for fruit flavors in a beer. For this dish of sweet tomato and sweeter Vidalia Onion, we suggest a mango-flavored wheat beer.
Suggestion: Anchor Mango Wheat, San Francisco, California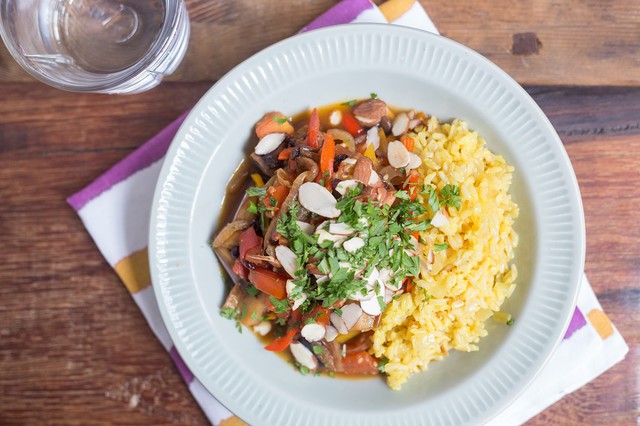 Eggplant Provencal with Tomatoes, Peppers & Saffron Rice
What is a doppelbock? It's safe to assume it's twice as strong as a bock, but what is a bock? A bock is a dark beer, with the doppelbock being a maltier, darker version. Wait- wouldn't we consider stouts doppelbocks since they are dark malty beers? Nope, a stout is an ale while a doppelbock is a lager, making it the perfect dark beer to enjoy year round. For this dish of eggplant and tomatoes, we suggest the malty doppelbock to complement the meatier vegetables.
Suggestion: Weihenstephaner Korbinian, Freising, Germany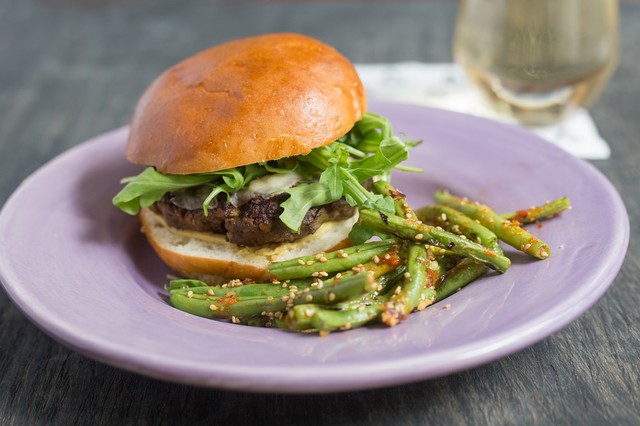 Beef & Mushroom 'Blended Burger' with Spicy Snap Beans
Session has joined the craft beer nomenclature as a proper adjective to describe lower alcohol content beer. Yes, an 8.5 percent beer might be wonderful; however, having too many with friends can be dangerous, hence the push for a lower alcohol beer you can enjoy more than one of. For this twist on the classic American burger, we recommend a classic session IPA.
Suggestion: 21st Amendment Down To Earth, San Francisco, California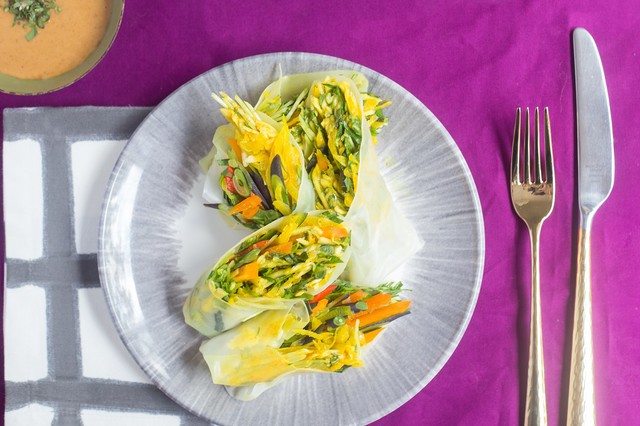 Summer Harvest Rainbow Roll
Lambics are a broad style of beer sharing the commonality of wild yeast. Lambics range from super tart all the way to super sweet, but all are brewed with wild yeast. How does one ferment with wild yeast? Simple- if you happen to be in Belgium, leave the beer in a large open vat and the yeast floating in the air will work magic. Anywhere else in the world probably means ordering yeast from Belgium. For this spring roll of colors, we suggest a strawberry lambic to bring some added sweetness.
Suggestion: Timmerman's Strawberry Lambic, Itterbeek, Belgium