Beer Pairings for the Week of August 1st, 2016
Looking for the perfect brew to go along with your PeachDish meals? We've got you covered. We've partnered with the owners of BeerGirl, a local Atlanta shop, to help you select the perfect beverage. BeerGirl's passionate owners, Alexia Ryan and Erik Lewis opened their shop with the dream of connecting the people of their community with delicious craft beer from the South and beyond. Here are this week's suggested pairings: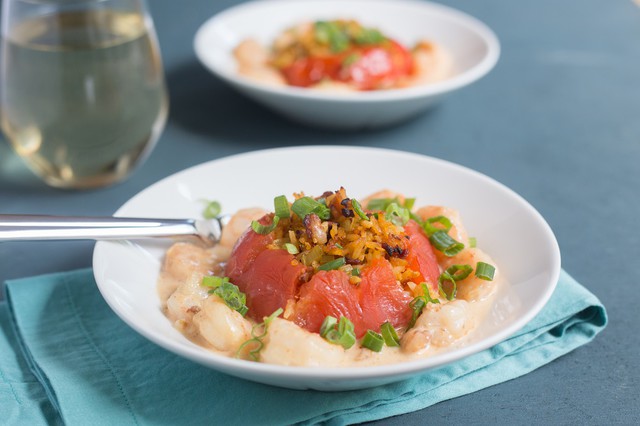 Kevin Gillespie's Stuffed Tomatoes with Savannah Red Rice & Creamed Shrimp
The eternal debate- is it a farmhouse or is it a saison? According to the beer judge guide, there's technically no difference, we just tend to call saisons a farmhouse style in the United States. The real dirty secret is that saisons aren't actually French, but were originally brewed in Wallonia, a French-speaking Belgian province. For this dish of big flavors, a spicy saison with some hop will be the perfect complement to this spicy shrimp dish.
Suggestion: Ommegang Hennepin, Cooperstown, New York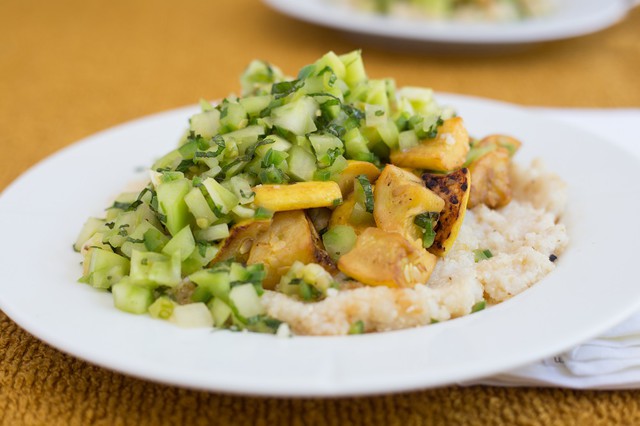 Sautéed Summer Squash & Grits with Green Tomato Salsa
Berliner Weisse - Berliners are light bodied and lower in alcohol (3-5%) so they won't overpower the delicate flavors of sweet summer squash and sour tomato salsa. The tartness and a dry finish leaves the palate feeling clean and ready for the next beer!
Suggestion: Bayerischer Bahnhof Berliner Style Weisse, Leipzig, Germany Germany Georgia Local Recommendation: Creature Comforts Athena, Athens, Georgia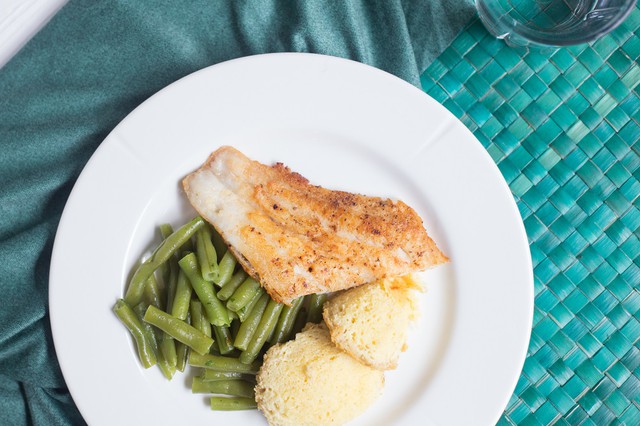 Sauteed Catfish with Spoon Bread & Buttered Green Beans
Remember when India Pale Ale was only about bitterness? That was only a year ago, but then the flavored IPA arrived and changed the game. Citrus flavored hops adding a taste dimension beyond bitter made the citrus IPA a real thing. Orange, blood orange, tangerine, mango, apricot, and yes even pineapple flavored IPAs are now what the "hop head" is craving. For this traditional southern combination, we suggest a pineapple IPA that will add a fruity component while the bitter plays well with the green beans.
Suggestion/Georgia Local Recommendation: Sweet Water Goin' Coastal Pineapple IPA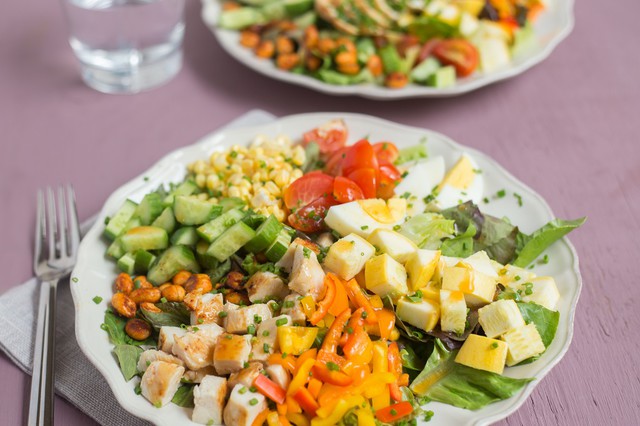 Off-the-"Cobb" Salad
A pale ale is a balancing act between malt sweetness and hop bitterness. When that balance is radically shifted to the bitter side, we get an IPA. Personally, we prefer balance in our beer because we believe hops, malt, and barley all have important parts to play. For this southern inspired cobb salad, we suggest a balanced pale ale that will let all the flavors and textures of the dish shine.
Suggestion: Foothill's Pilot Mountain Pale Ale, Winston-Salem, North Carolina Georgia Local Recommendation: Arches Equilibrium, Hapeville, Georgia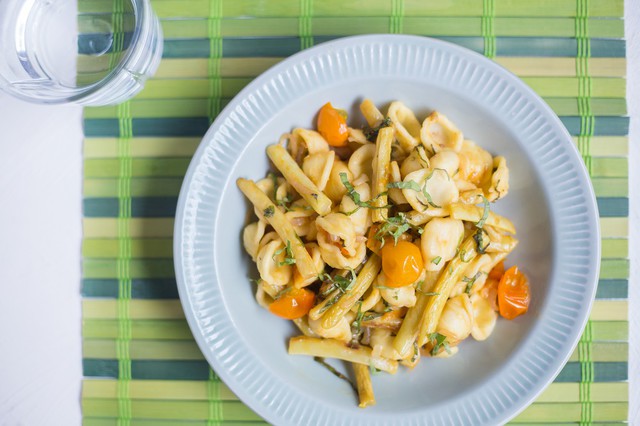 Orecchiette with Yellow Wax Beans, Sun Gold Tomatoes & Roasted Garlic
Craft cider is a real thing and is moving far beyond just a gluten-intolerant audience. The biggest shock to those new to cider is that it doesn't all taste the same. Different apples and yeasts produce a surprising number of distinct flavors. For this vegetarian dish, a dry cider will play well with the tomatoes and roasted garlic.
Suggestion: Thistly Cross Cider, Dunbar, Scotland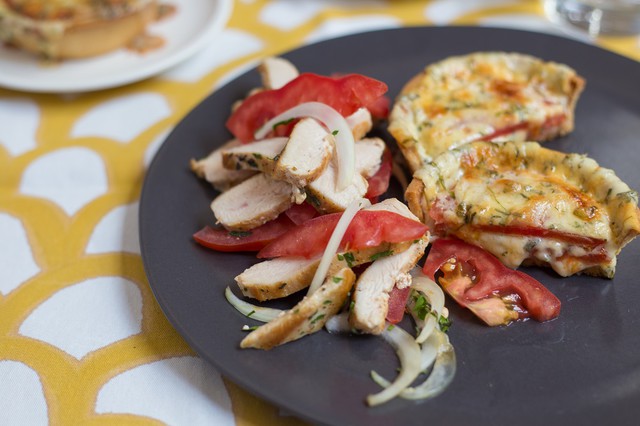 Tomato Pie with Vidalia Onion & Herbed Chicken Breast
Wheat beers are the quintessential summer beer. A sweet malt base lets yeast bring flavors beyond aroma. Wheat beers also serve as the perfect vehicle for fruit flavors in a beer. For this dish of sweet tomato and sweeter Vidalia Onion, we suggest a mango-flavored wheat beer.
Suggestion: Anchor Mango Wheat, San Francisco, California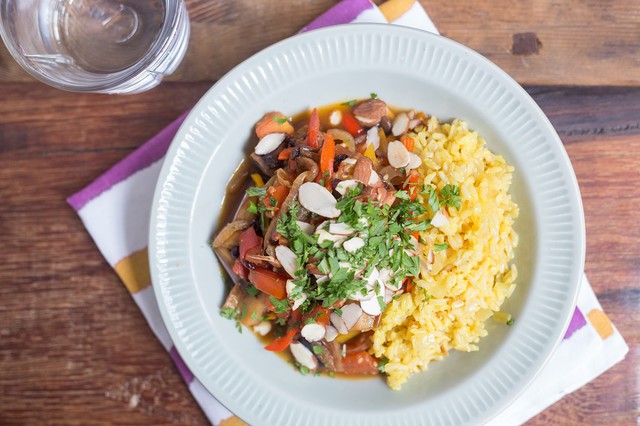 Eggplant Provencal with Tomatoes, Peppers & Saffron Rice
What is a doppelbock? It's safe to assume it's twice as strong as a bock, but what is a bock? A bock is a dark beer, with the doppelbock being a maltier, darker version. Wait- wouldn't we consider stouts doppelbocks since they are dark malty beers? Nope, a stout is an ale while a doppelbock is a lager, making it the perfect dark beer to enjoy year round. For this dish of eggplant and tomatoes, we suggest the malty doppelbock to complement the meatier vegetables.
Suggestion: Weihenstephaner Korbinian, Freising, Germany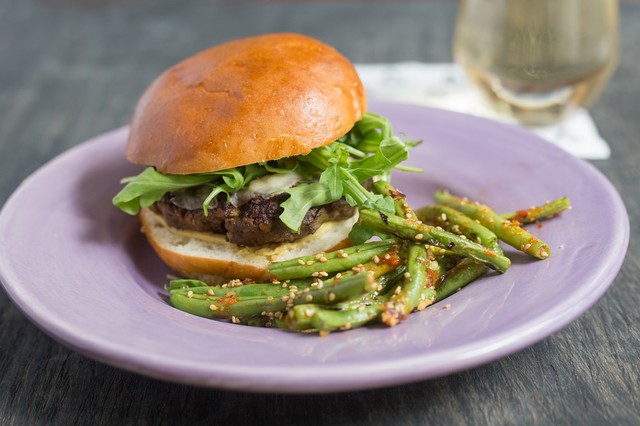 Beef & Mushroom 'Blended Burger' with Spicy Snap Beans
Session has joined the craft beer nomenclature as a proper adjective to describe lower alcohol content beer. Yes, an 8.5 percent beer might be wonderful; however, having too many with friends can be dangerous, hence the push for a lower alcohol beer you can enjoy more than one of. For this twist on the classic American burger, we recommend a classic session IPA.
Suggestion: 21st Amendment Down To Earth, San Francisco, California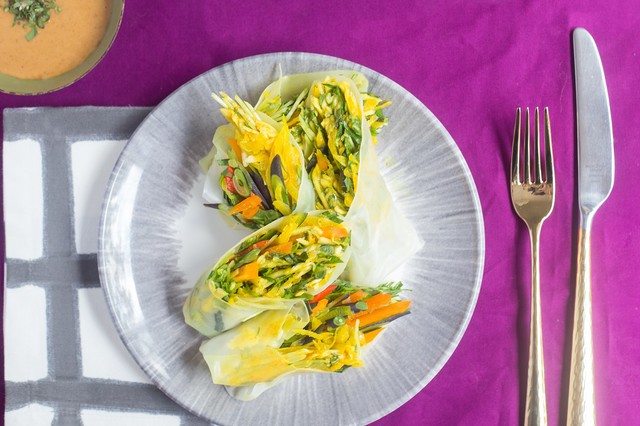 Summer Harvest Rainbow Roll
Lambics are a broad style of beer sharing the commonality of wild yeast. Lambics range from super tart all the way to super sweet, but all are brewed with wild yeast. How does one ferment with wild yeast? Simple- if you happen to be in Belgium, leave the beer in a large open vat and the yeast floating in the air will work magic. Anywhere else in the world probably means ordering yeast from Belgium. For this spring roll of colors, we suggest a strawberry lambic to bring some added sweetness.
Suggestion: Timmerman's Strawberry Lambic, Itterbeek, Belgium