Beer Pairings for the Week of July 18th, 2016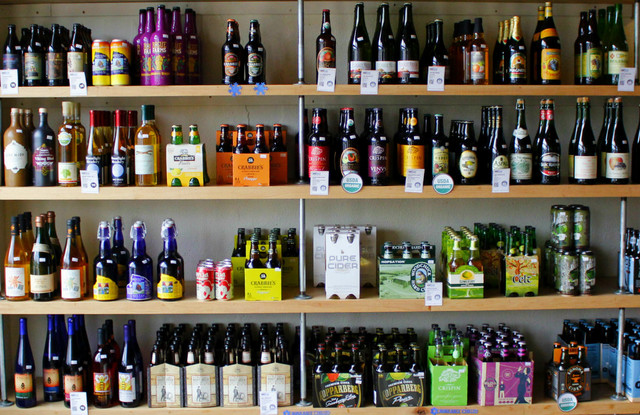 Looking for the perfect brew to go along with your PeachDish meals? We've got you covered. We've partnered with the owners of BeerGirl, a local Atlanta shop, to help you select the perfect beverage. BeerGirl's passionate owners, Alexia Ryan and Erik Lewis opened their shop with the dream of connecting the people of their community with delicious craft beer from the South and beyond. Here are this week's suggested pairings: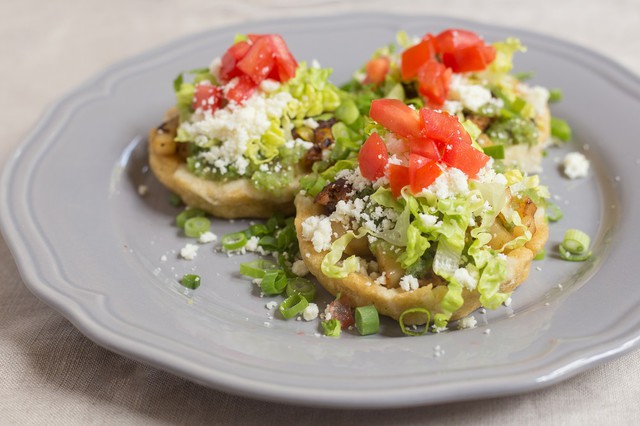 Sandra Gutierrez's Potato & Chorizo Sopes
Tart flavors in beer aren't new; however, adding tart fruit to beers that aren't soured is somewhat novel. Belgians sours and Berliner Weiss have used tartness in their flavor profiles through the use of wild yeasts or bacteria. Recently, brewers have been experimenting with prickly pear cactus to add the tart dimension. In the spirit of complementing this Mexican-inspired dish, we are going to suggest a prickly pear flavored beer to complement the tart tomatillo.
Suggestion: Shiner Prickly Pear, Shiner, Texas Georgia Local Recommendation: Reformation Lark, Woodstock, Georgia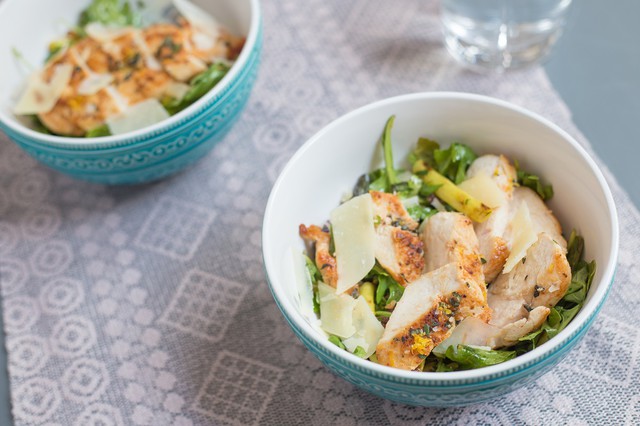 Chicken with Snap Bean, Olive & Arugula Salad
The Hop Crisis of 2008 might have been one of the best things for craft beer. The hop crisis was caused by hop acreage replaced by farmers looking to grow more lucrative crops coupled with bad weather yielding a disappointing hop harvest. Large brewers were safeguarded by contracts guaranteeing them their hops, but small brewers were at a disadvantage. For many brewers, the solution involved using previously unused hop varieties supplementing their regular hops. This solution indirectly led to the citrus-hopped beers we see today. This dish with peppery arugula is complemented by citrusy Sorachi Ace Hop flavored farmhouse ale.
Suggestion: Brooklyn Sorachi Ace, Brooklyn, New York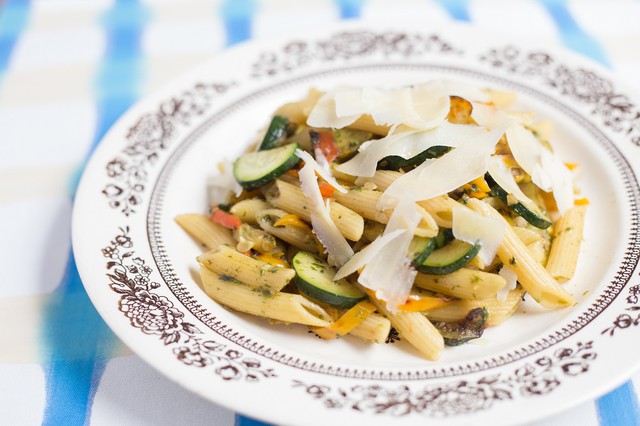 Pesto Penne with Summer Squash & Peppers
Spend any time reading about beer and you will come across the term "noble hops." There are four varieties of hops that are considered noble: Tettnanger, Saaz, Spalt, and Hallertau. These varieties are considered noble because they are used in about every German and Czech beer style. All these noble hops smell more bitter than they taste. For a dish of summer squash and peppers, we suggest a pilsner that cleans the palate without bringing a lot of bitterness.
Suggestion: Highland Pilsner, Asheville, North Carolina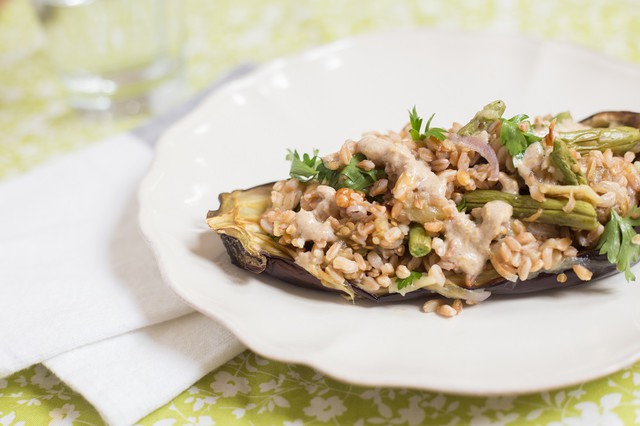 Stuffed Eggplant with Farro, Green Beans & Walnuts
Darker malts produce many flavors in beer including chocolate, coffee, and nuts. Nuts are often overlooked as a flavor component of beer but really stand out in the traditional Octoberfest Märzen. For this garden treat of nutty farro and walnuts, we suggest a Octoberfest Märzen.
Suggestion: Harpoon Octoberfest, Boston, Massachusetts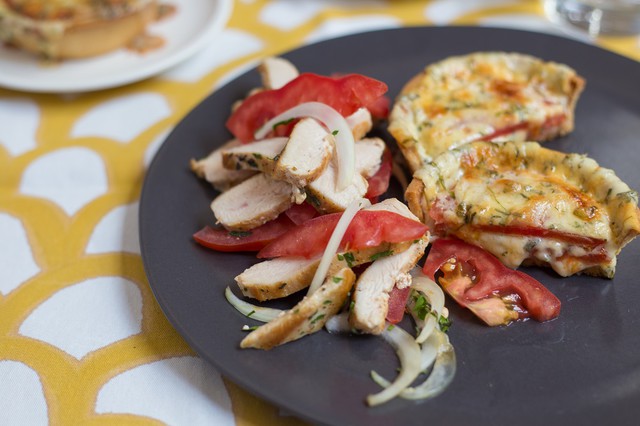 Tomato Pie with Vidalia Onion & Herbed Chicken Breast
Wheat beers are the quintessential summer beer. A sweet malt base lets yeast bring flavors beyond aroma. Wheat beers also serve as the perfect vehicle for fruit flavors in a beer. For this dish of sweet tomato and sweeter Vidalia Onion, we suggest a mango-flavored wheat beer.
Suggestion: Anchor Mango Wheat, San Francisco, California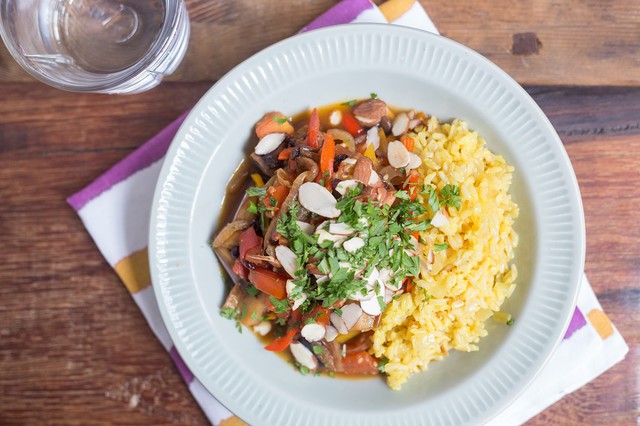 Eggplant Provencal with Tomatoes, Peppers & Saffron Rice
What is a doppelbock? It's safe to assume it's twice as strong as a bock, but what is a bock? A bock is a dark beer, with the doppelbock being a maltier, darker version. Wait- wouldn't we consider stouts doppelbocks since they are dark malty beers? Nope, a stout is an ale while a doppelbock is a lager, making it the perfect dark beer to enjoy year round. For this dish of eggplant and tomatoes, we suggest the malty doppelbock to complement the meatier vegetables.
Suggestion: Weihenstephaner Korbinian, Freising, Germany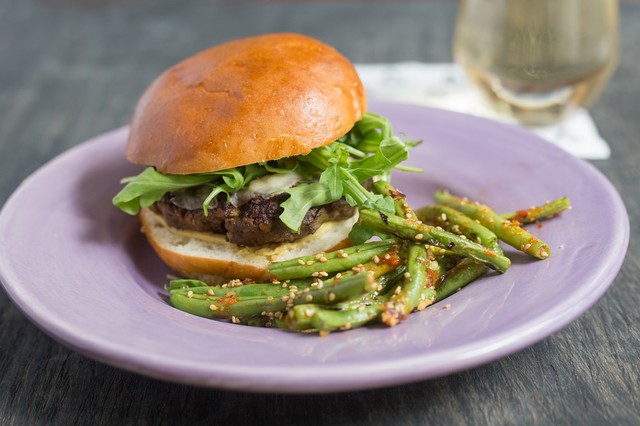 Beef & Mushroom 'Blended Burger' with Spicy Snap Beans
Session has joined the craft beer nomenclature as a proper adjective to describe lower alcohol content beer. Yes, an 8.5 percent beer might be wonderful; however, having too many with friends can be dangerous, hence the push for a lower alcohol beer you can enjoy more than one of. For this twist on the classic American burger, we recommend a classic session IPA.
Suggestion: 21st Amendment Down To Earth, San Francisco, California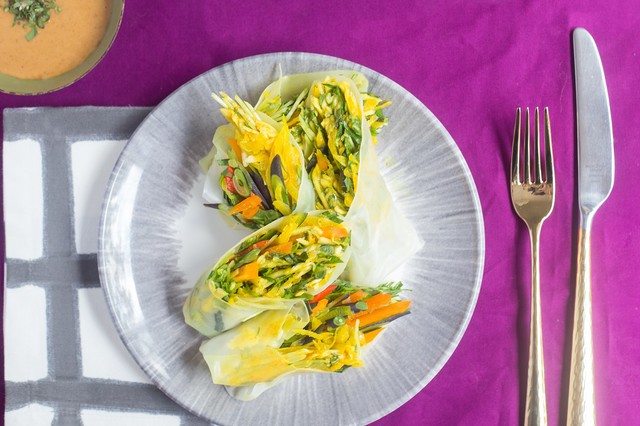 Summer Harvest Rainbow Roll
Lambics are a broad style of beer sharing the commonality of wild yeast. Lambics range from super tart all the way to super sweet, but all are brewed with wild yeast. How does one ferment with wild yeast? Simple- if you happen to be in Belgium, leave the beer in a large open vat and the yeast floating in the air will work magic. Anywhere else in the world probably means ordering yeast from Belgium. For this spring roll of colors, we suggest a strawberry lambic to bring some added sweetness.
Suggestion: Timmerman's Strawberry Lambic, Itterbeek, Belgium