Wine Pairings for the Week of July 4th, 2016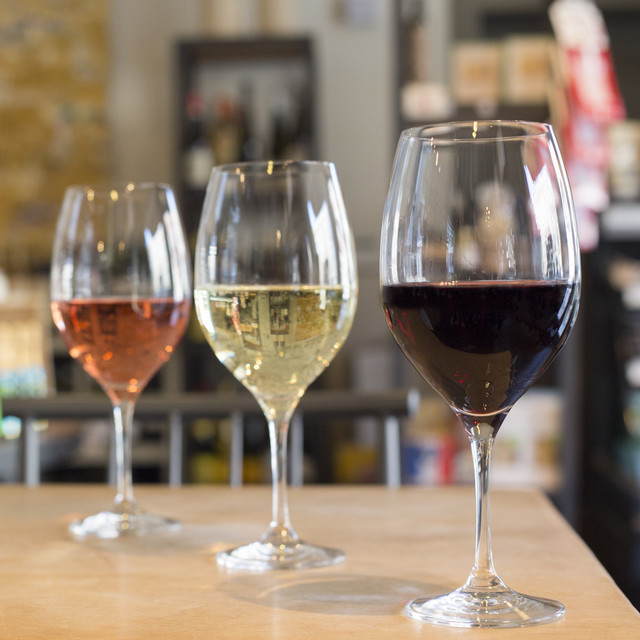 Each week, Wine Specialist Sarah Pierre brings you suggestions to complement your PeachDish meals. Sarah is one of the owners at 3 Parks Wine Shop in Glenwood Park, Atlanta. She paired up with the team of The Shed at Glenwood and The Pig and The Pearl and opened 3 Parks in 2013. Prior to opening the store, she spent most of her career working and managing notable restaurants in Atlanta and New York City. Sarah selects all of the wines that are offered at 3 Parks Wine Shop and also assists in pairing wines for local events and dinners throughout Atlanta.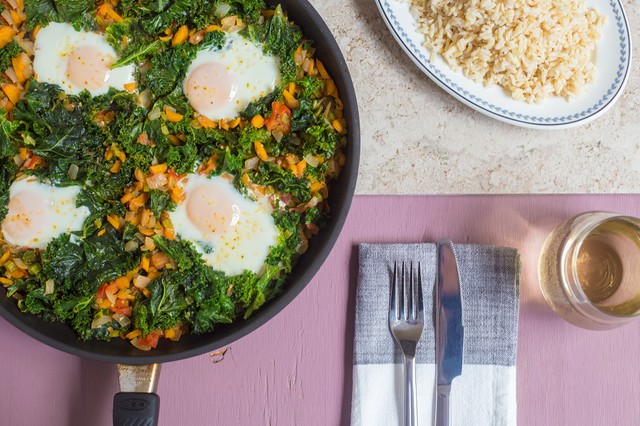 Summer Skillet with Veggies & Eggs
Sparkling Wine - What can you pair with eggs! BUBBLES! A blanc de blancs, 100% Chardonnay, will create balance, vibrant acidity, and effervescence that will cut through the richness of the eggs. Suggestion: Charles de Ferè, Cuvee Jean-Louis Blanc de Blancs, Fère-en-Tardenois, France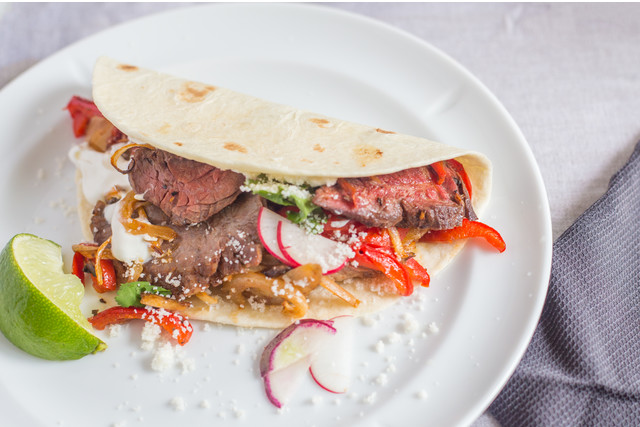 Hanger Steak Fajitas with Radish, Lime and Cotija Cheese
Primitivo - Due to the Tex-Mex style of the dish you can pair it with a bigger red wine. This taco doesn't have spicy heat so it won't conflict with the dryness of the wine. The tannins will soften and fruit flavors will emerge when paired with a hanger steak. Suggestion: Matané Primativo, Puglia, Italy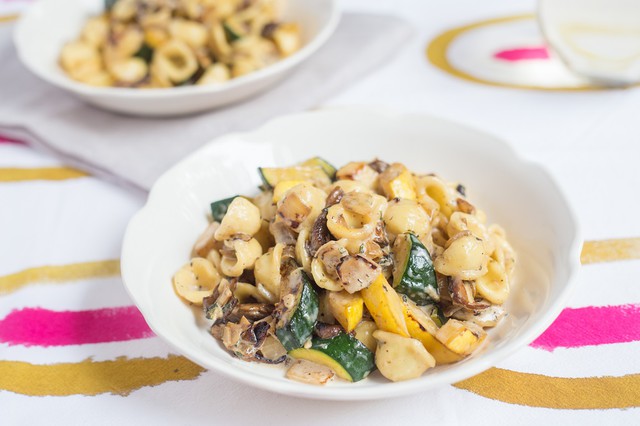 Orecchiette with Summer Squash & Mushroom
Chianti - An Italian wine will pair well with this pasta dish due to the meaty flavor of the mushrooms. The uniqueness of this pairing will bring out the juicy character of the wine. Suggestion: Collazzi I Bastioni, Chianti Classico, Italy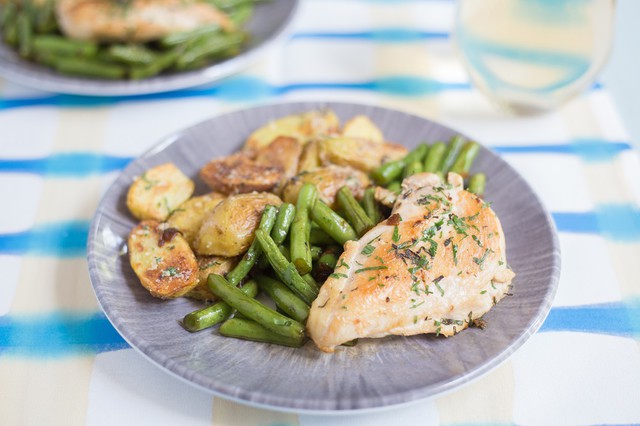 Herbed Chicken with Garlicky Green Beans & Roasted Parmesan Potatoes
Sauvignon Blanc - Herbaceous flavors are unique to Sauvignon Blanc making an easy pairing rule...pair green with green. The herb rub on the chicken as well as the green beans will be complemented by the green notes in a Sauvignon Blanc. Suggestion: Clos Henri Sauvignon Blanc, Marlborough, New Zealand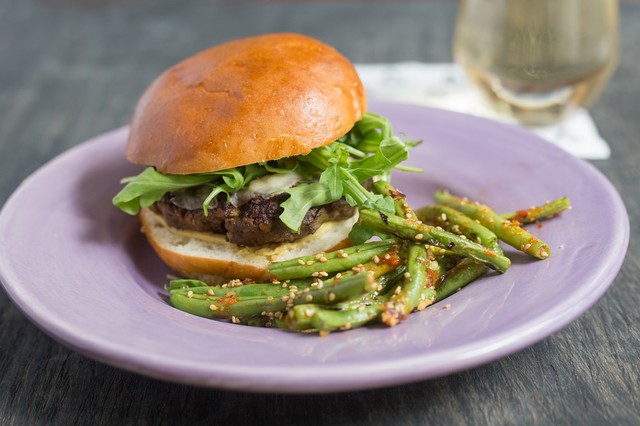 Beef & Mushroom 'Blended Burger' with Spicy Snap Beans
California Cabernet - Go with a classic pairing! With heavier toppings on the burger stick to richer and bolder reds. Suggestion: Uppercut Cabernet, Napa Valley, California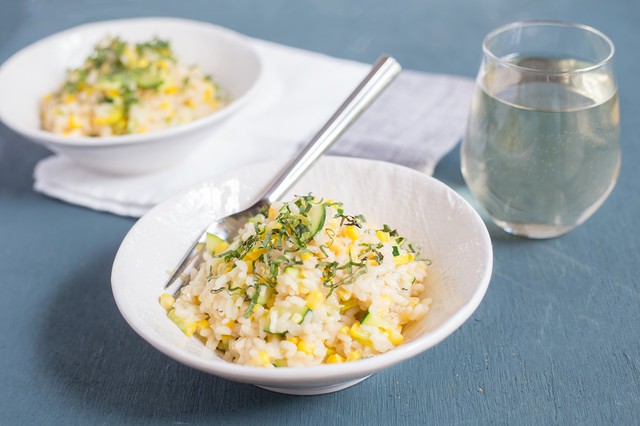 Corn, Summer Squash & Basil Risotto
Italian Chardonnay - It only makes sense when pairing wine to go to the source of the dish. Risotto originated in Northern Italy, so to Italy we will go. The creamy risotto and the sweet summer squash & corn will only be enhanced with a glass of Chardonnay. Suggestion: Tenuta di Nozzole Le Bruniche Chardonnay, Toscana, Italy Buon appetito!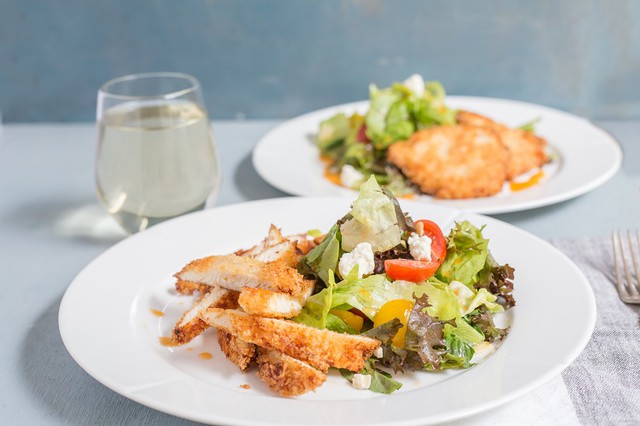 Panko Crusted Chicken with Lettuce & Herb Salad
Pouilly-Fumé - 100% Sauvignon Blanc from the Loire Valley. Perfect feta cheese pairing. The wines have a ton of structure, a touch of smokiness, and minerality. These wines are delicious! And coincidentally, that high acidity in the wine is perfect with "fried" chicken. Suggestion: Henri Bourgeois Pouilly-Fume, Loire, France