Meet the Chef: Todd Richards
CHEF TODD RICHARDS is an Atlanta chef known for his fried chicken. His restaurant, Richards' Southern Fried opens this week (!!!) and we couldn't be more excited. Todd is also executive chef at White Oak Kitchen & Cocktails, and was formerly at the Ritz-Carlton Buckhead, The Shed in Glenwood Park, and The Pig & The Pearl at Atlantic Station. Chef Todd is self-taught and in 2013 was a James Beard Award semi-finalist for Best Chef Southeast. He has also been a contestant on Iron Chef America. Todd's cooking elevates and promotes Southern cuisine and community.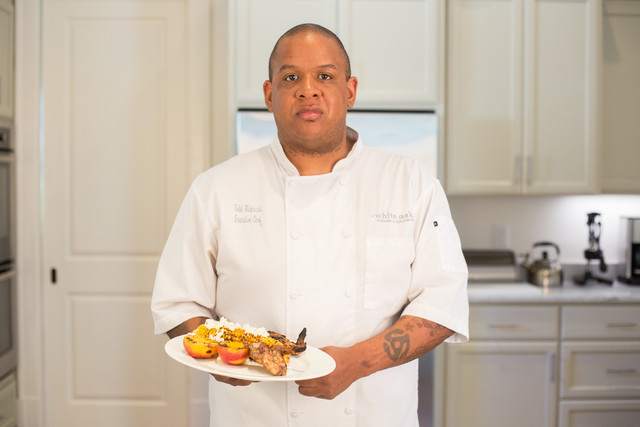 Todd recently came into the PeachDish test kitchen to cook his Coffee Rubbed Chicken Wings with Queso Corn & Grilled Peaches. This summertime favorite is the perfect meal to grill outdoors, while you take in the beautiful summer weather- and appreciate the delicious seasonal offerings.
Chef Todd also sat down for an interview with us- check out his responses below!
What is one of your first memories of cooking?
What's the most challenging part of your job?
How would you describe your cooking style?
What's the best thing you've ever eaten?
What's your favorite food indulgence?
What's a charity that you love and support?