Meet the Chef: Jennifer Hill Booker
We're so excited to add a new dessert kit to our store line-up, right at the height of peach season! Jennifer is a Georgia Grown executive chef, cookbook author, and food writer whose culinary style is "Modern Southern Healthy Cuisine with a French Accent." Her first cookbook, Field Peas to Foie Gras, marries traditional southern cooking with French techniques and influences in a way that any contemporary cook can appreciate. Jennifer's roots are in Mississippi and she received her culinary certification from Le Cordon Bleu in Paris- she now lives in Lilburn, Georgia with her two daughters. Jennifer Hill Booker has been a guest chef around the world and is a member of the James Beard Foundation, the Atlanta chapter of Les Dames d'Escoffier International, the Georgia Restaurant Association, Slow Foods, and Georgia Organics.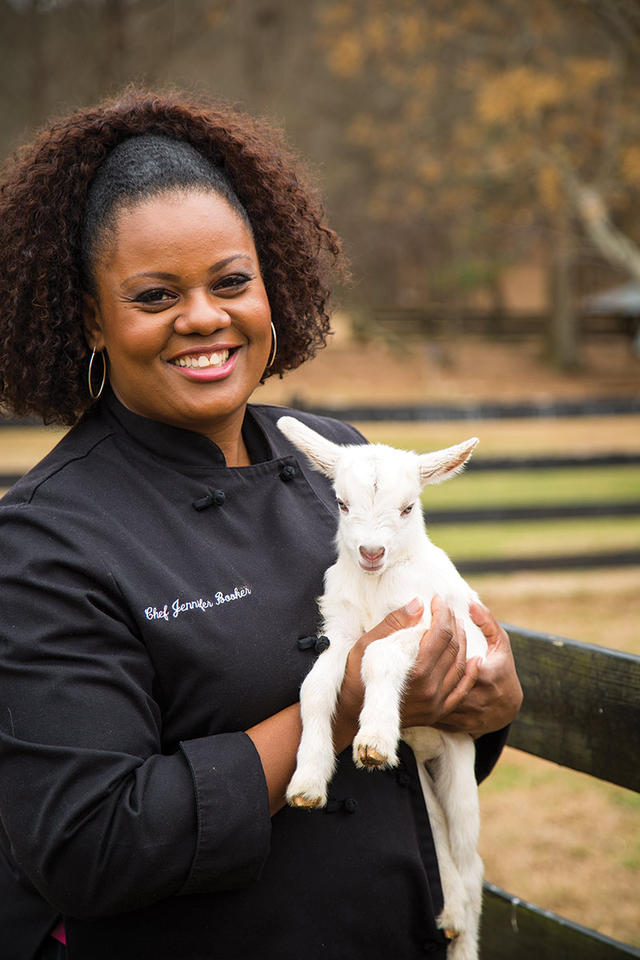 Jennifer joined the PeachDish crew in our test kitchen to make her super delicious peach cobbler available now in our store. She's passionate about this dish because "pastry shops in Paris boasted all kinds of beautiful pastries, cookies, candies and cakes, but I never saw one cobbler: To surprise my favorite instructor at Le Cordon Bleu, I made a small peach cobbler for him. After he tasted it, he said he thought it well-prepared and delicious -- ­­deserved praise for this Southern dish, indeed!" Jennifer strongly belives in cooking seasonally, so a peach cobbler in Gerogia just made sense! Cobbler is a humble dessert that lets the natural sweetness and rich flavor of the peaches speak for itself. There's no need to fuss with complicated doughs and delicate crusts, this dessert comes together without trouble. Don't worry when the warm, golden scent coming from your oven starts drawing a crowd-- this kit feeds four, so there's enough to share.
Listen to our interview with Jennifer!
Why peach cobbler?
Why did you become a chef?
What's the most challenging part of your job?
How would you describe your cooking style?
Where do you find your inspiration for new recipes?
What's the best thing you've ever eaten?
What's your favorite guilty food indulgence?
Who's your favorite southern cook?
What charities do you love and support?
Thanks for coming out, Jennifer, we love your cobbler! To learn more about Chef Jennifer Hill Booker check her out online: