Beer Pairings for the Week of June 27th, 2016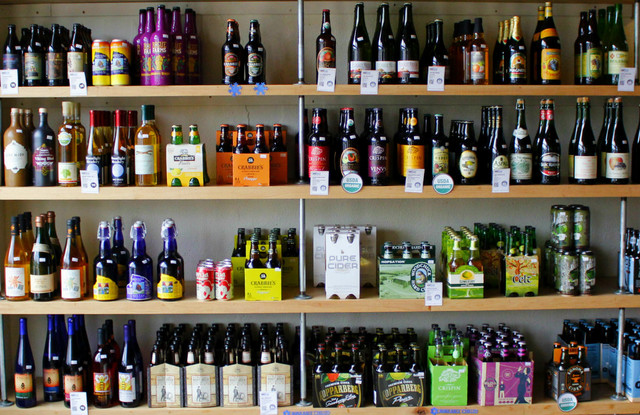 Looking for the perfect brew to go along with your PeachDish meals? We've got you covered. We've partnered with the owners of BeerGirl, a local Atlanta shop, to help you select the perfect beverage. BeerGirl's passionate owners, Alexia Ryan and Erik Lewis opened their shop with the dream of connecting the people of their community with delicious craft beer from the South and beyond. Here are this week's suggested pairings: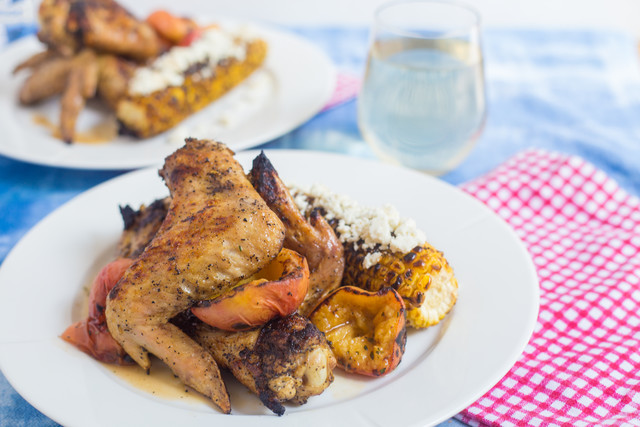 Todd Richards' Coffee Rubbed Chicken Wings with Queso Corn & Grilled Peaches
In the era of the citrus India Pale Ale, most people think the flavors in beer come from adjuncts like fruit juice. While true, some of the time it is amazing the flavors that good old barley, hops, and yeast can add all on their lonesome. Want coffee and chocolate? Add the right malts, boil them the right length of time, and those flavors will show up all on their own. For this dish, an IPA with a strong coffee flavor, and a little chocolate will be the perfect wing complement.
Suggestion: Stone Mocha IPA, Escondido, California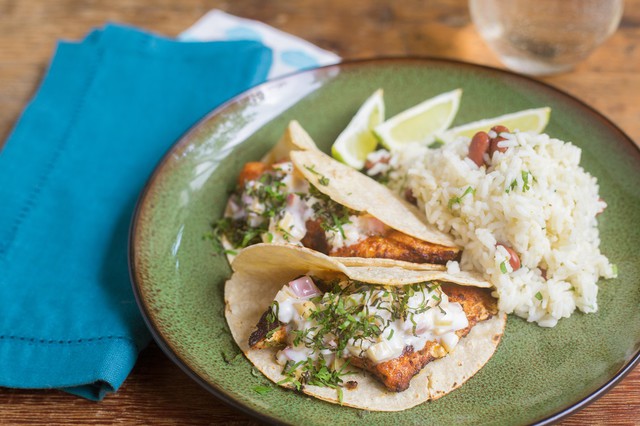 Blackened Catfish Tacos with Peach Crema, Red Beans & Rice
Throwback beer has progressed beyond the cheapest six pack available at the gas station that goes with skinny jeans. Prohibition and consolidation of the brewery marketplace removed lots of fine beers from the shelves. Believe it or not, we brewed good beer before Anchor, Sierra Nevada, and the Boston Beer Company started the modern craft beer movement. The number two selling beer from 1937 to the mid-1950s was a pale ale, not the modern adjunct lagers of today. With the blackened catfish, we suggest a vintage pale ale that will bring a little bitterness to this spice party.
Suggestion: Old Tankard Ale, LaCrosse, Wisconsin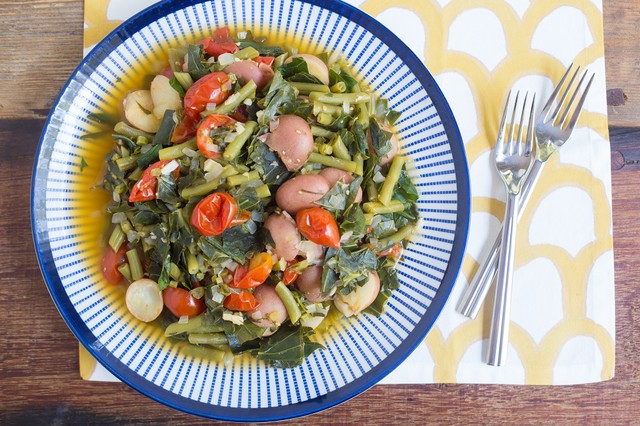 New Potato and Green Bean Tomato Ragout
The Belgian Tripel is a beer style you may imagine brewed by monks of the low country since the middle ages. However, your imagination is wrong- the first tripel was brewed sometime in the early 1930's and was originally called a strong ale. Westmalle coined the term tripel in 1956. I prefer the name they originally called it -superbier- however, the monks abandoned it after a poor response from the focus group. This dish reminds us of something our grandparents would make from the first harvest from their garden so to complement it we suggest a Tripel with some nice peppery yeast.
Suggestion: Boulevard Long Strange Tripel, Kansas City, Missouri Georgia Local Recommendation: Red Brick Three Bagger Rum Barrel Aged Tripel, Atlanta, Georgia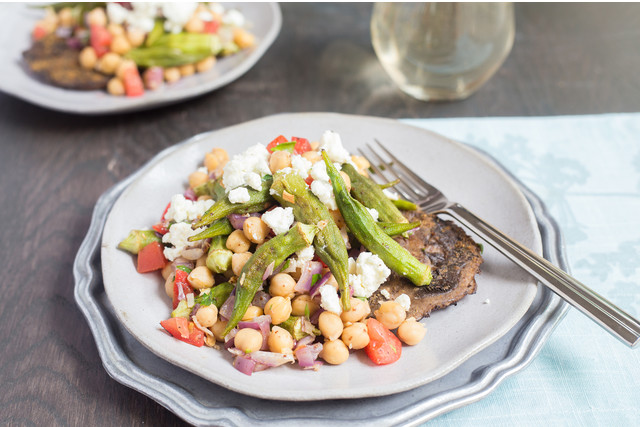 Roasted Portabella Mushroom topped with Okra & Chickpea Salad
Sumac is a flavor that I'm surprised more brewers haven't embraced. Well, the folks at Brooklyn Brewing did embrace it for a one-time offering, though I doubt there is any still in existence. The essence of sumac is tart lemon with a little sweetness, not the bitter that lemon tends to have on the end. For this dish featuring a lemony sumac spice, we will pair it with a lager flavored with Meyer Lemon. The lemon should add a tart but sweet flavor that will complement the sumac flavor.
Suggestion: Anchor Meyer Lemon Lager, San Francisco, California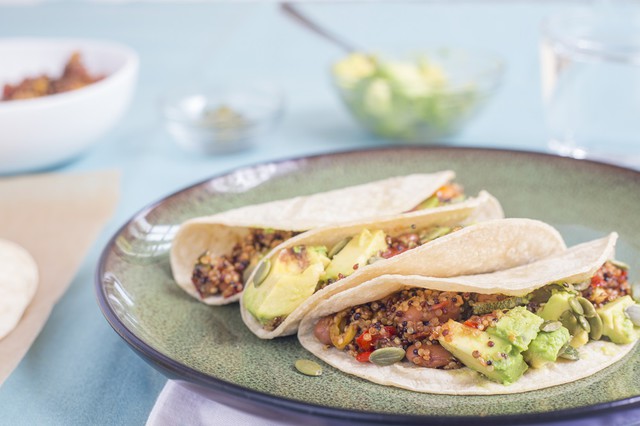 Veggie Tacos with Quinoa & Avocado
Fruit flavored beers are ubiquitous with summer. Brewers try to outdo each other by adding slightly different citrus flavors to the IPA, but there is an actual style called fruit beer. Not a very exciting category name but one that allows a brewer a great deal of freedom. For these tacos, we will pair them with a beer flavored with cactus that adds a tart citrus component.
Suggestion: Shiner Prickly Pear, Shiner, Texas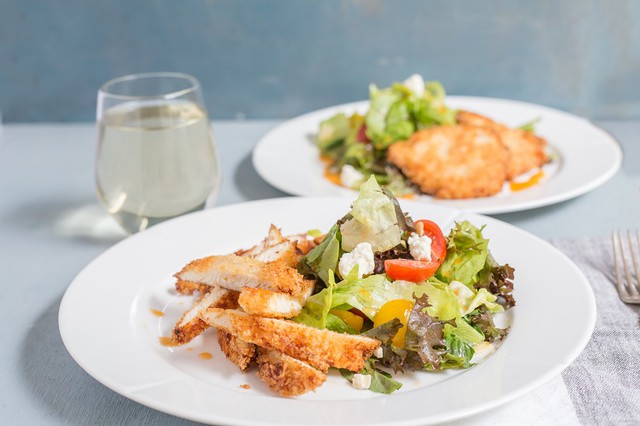 Panko Crusted Chicken with Lettuce & Herb Salad
Is mead a beer or a wine? The answer is neither. Mead, the world's first alcoholic beverage was discovered when honey spontaneously fermented. Mead is still, meaning little or no carbonation, but sometimes mead can be carbonated. Truthfully it is neither beer or wine. With the hodgepodge of alcohol laws in the United States, it is safer to sell as a wine which allows for a higher alcohol content. We choose a mead for this pairing to complement the sweet salad dressing with a sweet beverage.
Suggestion: B. Nektar Kill All the Golfers, Ferndale, Michigan Georgia Local Recommendation: Monk's Mead, Atlanta, Georgia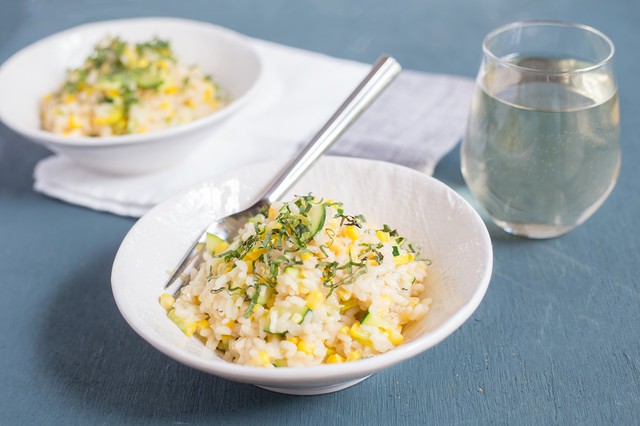 Summer Squash, Basil & Corn Risotto
Berliner Weisse - Berliners are light bodied and lower in alcohol (3-5%) so they won't overpower the delicate flavors of sweet summer squash and crisp corn. The tartness and a dry finish leaves the palate feeling clean and ready for the next beer!
Suggestion: Bayerischer Bahnhof Berliner Style Weisse, Leipzig, Germany Georgia-local recommendation: Creature Comforts Athena, Athens, Georgia