Beer Pairings for the Week of July 11th, 2016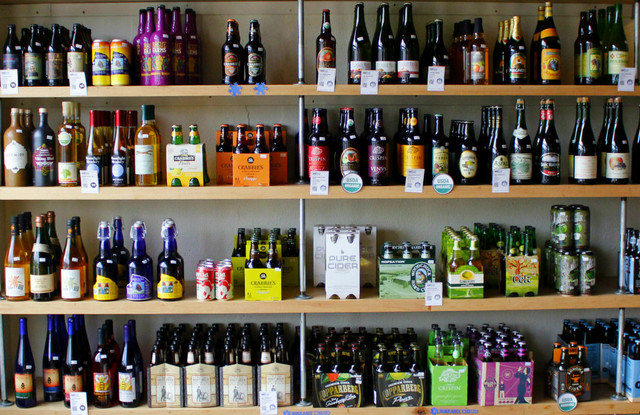 Looking for the perfect brew to go along with your PeachDish meals? We've got you covered. We've partnered with the owners of BeerGirl, a local Atlanta shop, to help you select the perfect beverage. BeerGirl's passionate owners, Alexia Ryan and Erik Lewis opened their shop with the dream of connecting the people of their community with delicious craft beer from the South and beyond. Here are this week's suggested pairings: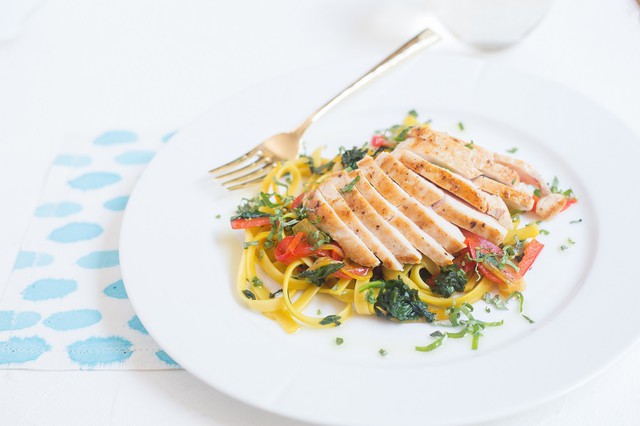 Fettuccine with Chicken, Spinach & Saffron
Belgian beers require more study with modern styles mixing with newer styles, named to confuse the new beer enthusiast. Heck, that even extends to making you think all beer in Belgium is brewed by monks. Truthfully, when we think of a monk most imagine Friar Tuck from the Daffy Duck interpretation of Robin Hood don't we? For this dish, let's go with a malty Belgian Dubbel that will complement the buttery flavors with a deep sweetness.
Georgia Local Recommendation: Cherry Street Dylan's Dubbel, Cumming, Georgia Suggestion: Ommegang Abbey Ale, Cooperstown, New York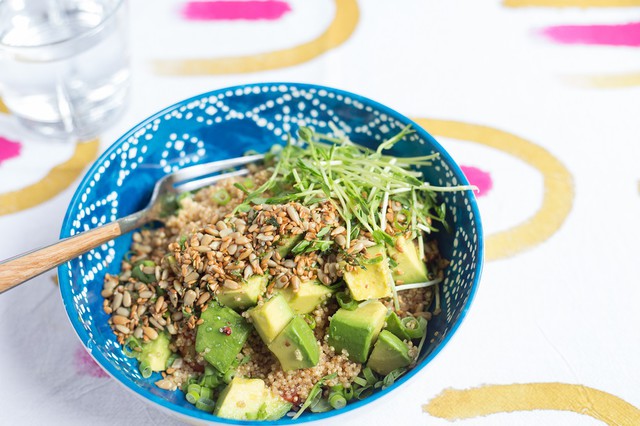 Quinoa Bowl with Avocado, Sprouts & Toasted Seeds
Estate-produced cider is a whole lot more common than estate-produced beer. Why is that? Apples produce more fermentable material in a smaller land footprint than grain. It takes a lot of land to grow barley, wheat, and rye which do not have the sugar content of apples. Not to mention, hops won't grow everywhere, while apples have a wider range of temperature zones in which they can flourish. For this no added gluten dish, we suggest a dry estate-grown apple cider that will cleanse the taste buds so that the flavors of the dish will pop.
Suggestion: Foggy Ridge Serious Cider, Dugspur, Virginia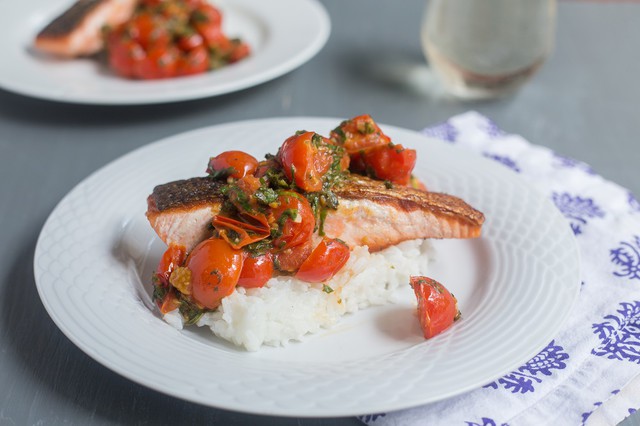 Salmon with Cherry Tomatoes & Chard
We've said it before: wheat beers lack appreciation for their ability to convey flavor. Hefeweizen or wit, the wheat beer can be as complicated as the brewer's imagination. Recently, brewers have started realizing that wheat beer should be embraced and celebrated; hopefully, the hop heads amongst us will realize every beer doesn't have to be bitter to be good. To help the hop lovers make that transition, we suggest a hoppy wheat beer to complement the earthy chard while not overshadowing the other flavors.
Suggestion: Boulevard 80 Acre Hoppy Wheat, Kansas City, Missouri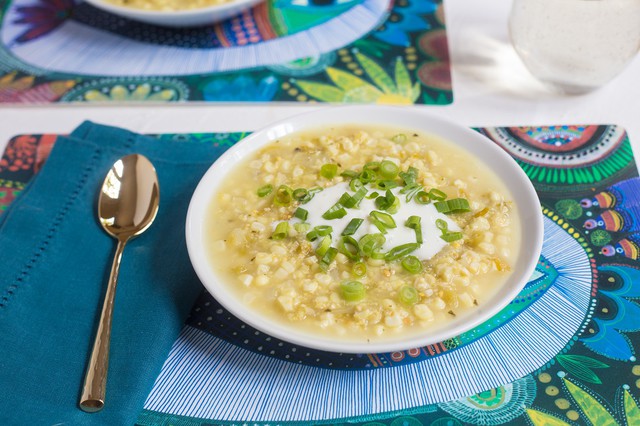 Summer Corn & Tomatillo Chowder
One of the first things we do when someone is new to craft beer is to ask a few questions on what they like to drink. If they say Negra Modelo or Dos Equis, we know they favor darker lagers. Recently, pairing dark lager drinkers with their first craft beer has gotten a lot easier thanks to U.S. brewers producing versions of Mexican lagers. Oddly enough, Mexican lagers are interpretations of Vienna lagers. (Sidebar: Austrian brewers taught Mexican brewers how to brew beer during the brief time that Mexico was ruled by Austria). For this dish featuring tomatillo, the familiar flavor of a Mexican lager will make the dish taste more authentic.
Suggestion: 21st Amendment El Sully, San Francisco, California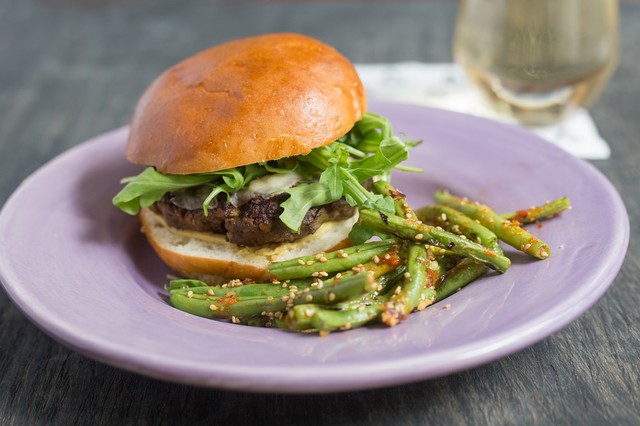 Beef & Mushroom 'Blended Burger' with Spicy Snap Beans
Session has joined the craft beer nomenclature as a proper adjective to describe lower alcohol content beer. Yes, an 8.5 percent beer might be wonderful; however, having too many with friends can be dangerous, hence the push for a lower alcohol beer you can enjoy more than one of. For this twist on the classic American burger, we recommend a classic session IPA.
Suggestion: 21st Amendment Down To Earth, San Francisco, California
Suggestion: B. Nektar Kill All the Golfers, Ferndale, Michigan Georgia Local Recommendation: Monk's Mead, Atlanta, Georgia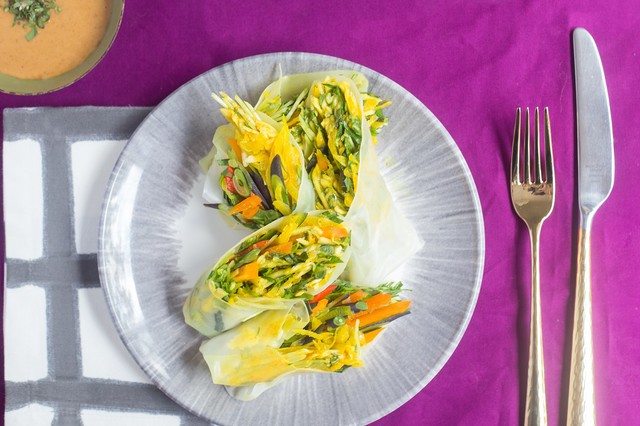 Summer Harvest Rainbow Roll
Lambics are a broad style of beer sharing the commonality of wild yeast. Lambics range from super tart all the way to super sweet, but all are brewed with wild yeast. How does one ferment with wild yeast? Simple- if you happen to be in Belgium, leave the beer in a large open vat and the yeast floating in the air will work magic. Anywhere else in the world probably means ordering yeast from Belgium. For this spring roll of summer colors, we suggest a strawberry lambic to bring some added sweetness.
Suggestion: Timmerman's Strawberry Lambic, Itterbeek, Belgium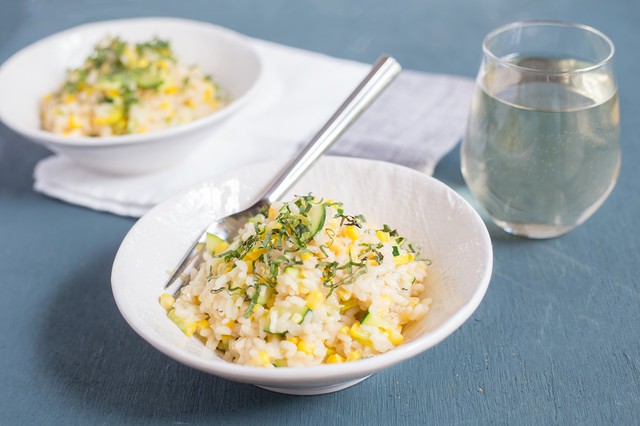 Summer Squash, Basil & Corn Risotto
Berliner Weisse - Berliners are light bodied and lower in alcohol (3-5%) so they won't overpower the delicate flavors of sweet summer squash and crisp corn. The tartness and a dry finish leaves the palate feeling clean and ready for the next beer!
Suggestion: Bayerischer Bahnhof Berliner Style Weisse, Leipzig, Germany Georgia-local recommendation: Creature Comforts Athena, Athens, Georgia