Wine Pairings for the Week of June 27th, 2016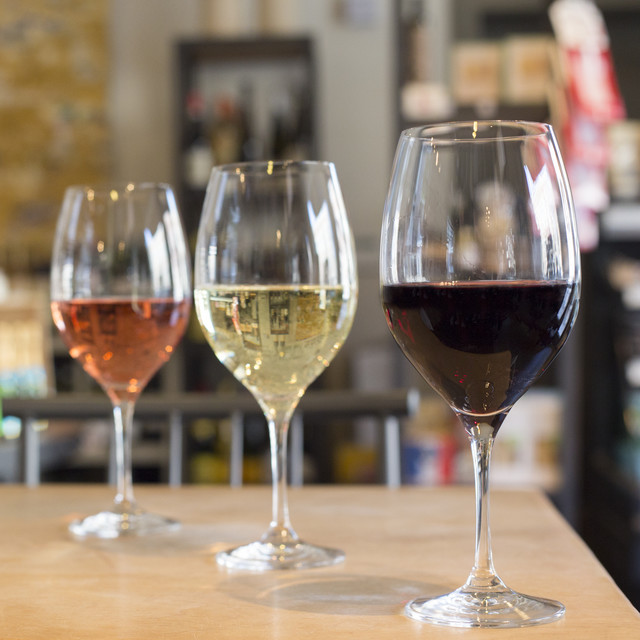 Each week, Wine Specialist Sarah Pierre brings you suggestions to complement your PeachDish meals. Sarah is one of the owners at 3 Parks Wine Shop in Glenwood Park, Atlanta. She paired up with the team of The Shed at Glenwood and The Pig and The Pearl and opened 3 Parks in 2013. Prior to opening the store, she spent most of her career working and managing notable restaurants in Atlanta and New York City. Sarah selects all of the wines that are offered at 3 Parks Wine Shop and also assists in pairing wines for local events and dinners throughout Atlanta.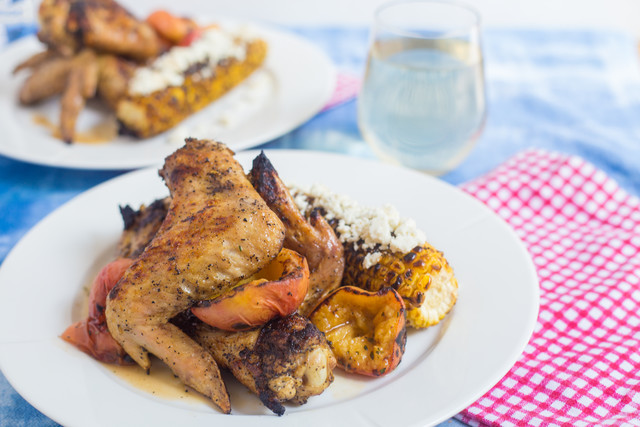 Todd Richards' Coffee Rubbed Chicken Wings with Queso Corn & Grilled Peaches
Dry Riesling - Riesling and coffee are compatible. The racy acidity of a Riesling stands up to the chicken while mirroring the flavors and tang of peaches. Suggestion: Trisaetum Riesling, Willamette Valley, Oregon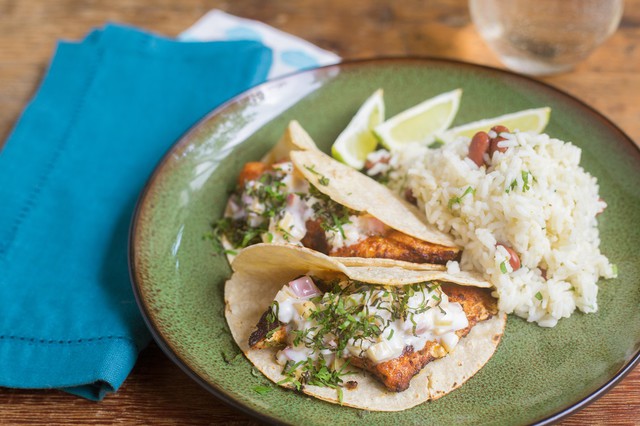 Blackened Catfish Tacos with Peach Crema, Red Beans & Rice
Pinot Gris - Grab a bottle of New Zealand Pinot Gris. The peachy characteristics of the wine will be a nice complement to the crema on the delicately spiced taco. Suggestion: The Ned Pinot Gris, Marlborough, New Zealand
Cabernet Franc - The obvious go-to wine for fish tends to be a white wine for many people. However, the spices and herbs on this taco will merry nicely with a glass of the medium bodied, herbaceous Cabernet Franc. It truly is such a food friendly wine, especially with hearty fishes.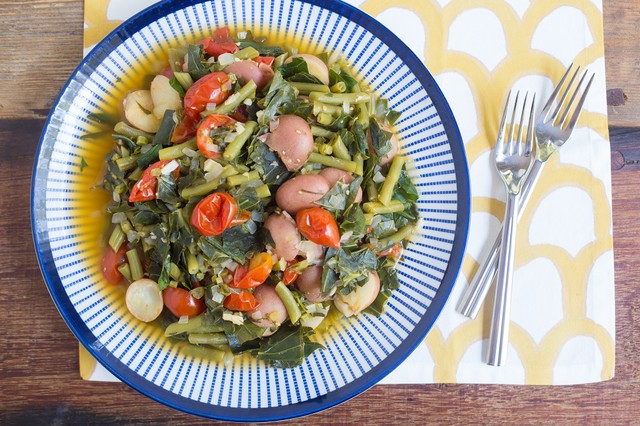 New Potato and Green Bean Tomato Ragout
Cortese - One of Piedmont, Italy's finest white grape varietals. Cortese is distinguished by its crisp, aromatic qualities. This unique wine pairing goes great with hard-to-pair veggies like green beans, and collard greens, and the brightness of the wine is congruent with the tomatoes. Suggestion: Riva Leone Cortese, Gavi, Italy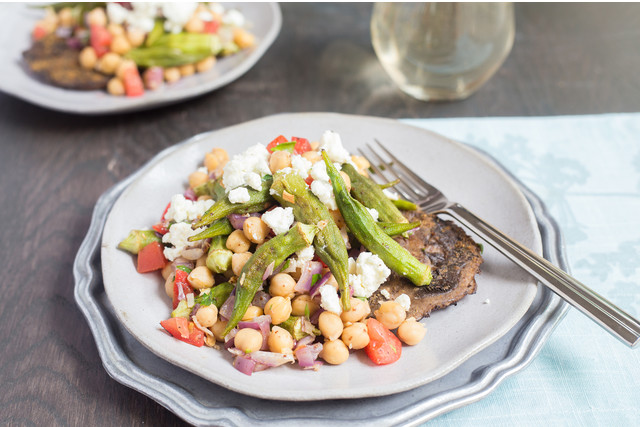 Roasted Portabella Mushroom topped with Okra & Chickpea Salad
Pinot Noir- Pinot Noir pairs with a wide variety of foods. A New World Style Pinot will have earthy and mushroom like undertones that will be lovely with this dish. Suggestion: Petit Clos Pinot Noir, Marlborough, New Zealand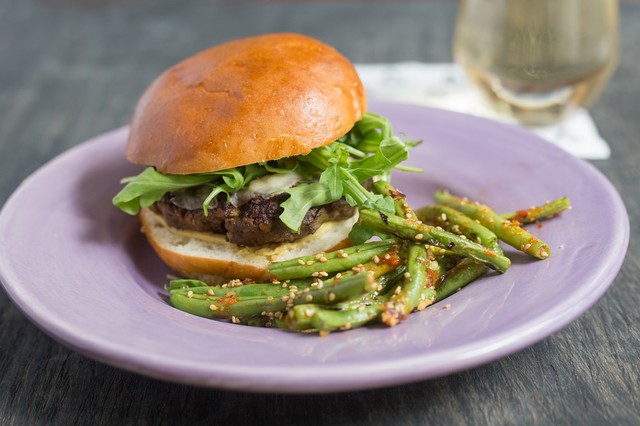 Beef & Mushroom 'Blended Burger' with Spicy Snap Beans
California Cabernet - Go with a classic pairing! With heavier toppings on the burger stick to richer and bolder reds. Suggestion: Uppercut Cabernet, Napa Valley, California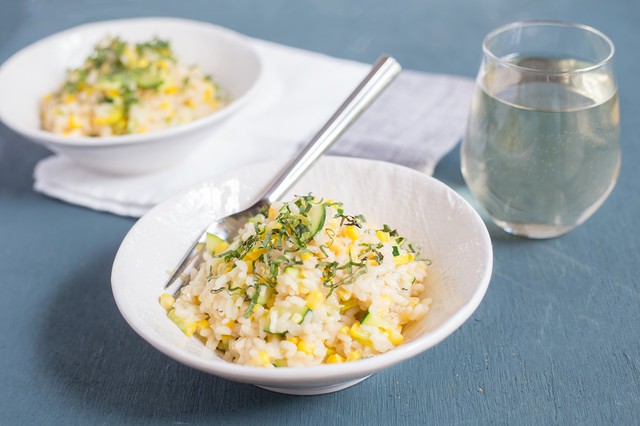 Corn, Summer Squash & Basil Risotto
Italian Chardonnay - It only makes sense when pairing wine to go to the source of the dish. Risotto originated in Northern Italy, so Italy we will go. The creamy risotto and the sweet summer squash & corn will only be enhanced with a glass of Chardonnay. Suggestion: Tenuta di Nozzole Le Bruniche Chardonnay, Toscana, Italy Buon appetito!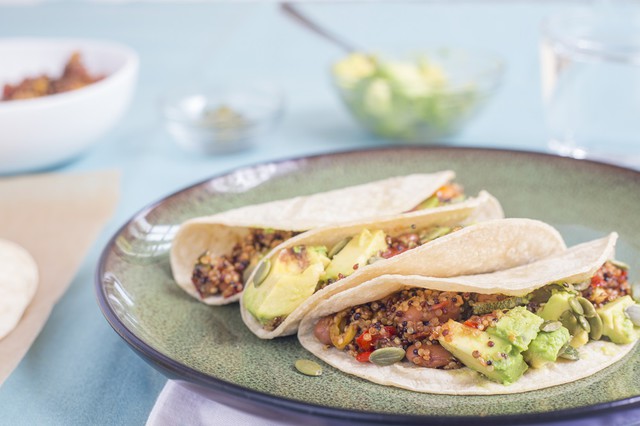 Veggie Tacos with Quinoa & Avocado
Oregon Pinot Noir - The ever so versatile Pinot Noir will pair perfectly with these tacos. The earthiness of an Oregon Pinot will work nicely with the Vegetables. Suggestion: Love Oregon, Willamette Valley, Oregon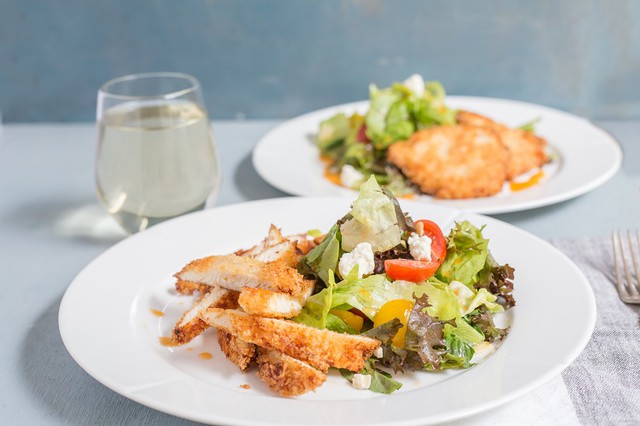 Panko Crusted Chicken with Lettuce & Herb Salad
Pouilly-Fumé - 100% Sauvignon Blanc from the Loire Valley. Perfect feta cheese pairing. The wines have a ton of structure, a touch of smokiness, and minerality. These wines are delicious! And coincidentally, that high acidity in the wine is perfect with "fried" chicken. Suggestion: Henri Bourgeois Pouilly-Fume, Loire, France