Rethink Your Pizza: 5 Unusual Topping Combos You Have to Try
Because life is too short for just cheese and pepperoni.
There will always be a special place in our hearts (and our bellies!) for the traditional pizzas: pepperoni, three-cheese, napoleon… However, the pizza crust can be a vehicle for a variety of food combinations and flavor profiles. From sweet and savory to bold and nutritious, these five recipes are sure to take your pizza-making game to a whole new level.
1)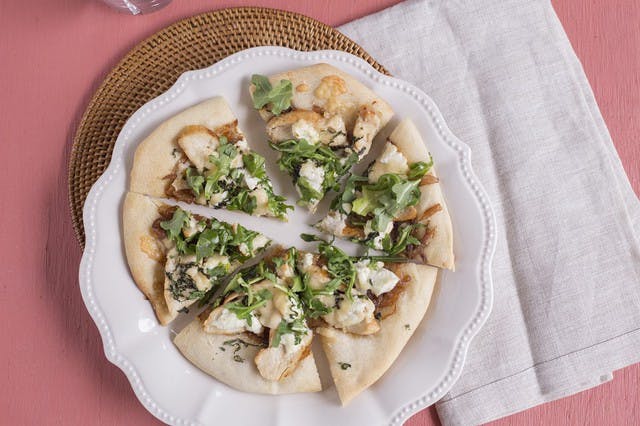 Caramelized Onion Pizza with Chicken, Goat Cheese & Arugula
Instead of the standard tomato sauce, this pizza is topped with caramelized onion, which has a rich, slightly sweet intensity to it. The flavor is balanced out with peppery arugula, tangy chevre, salty Parmesan and seared chicken. Each bite of this simple pizza brings a world of flavor.
2)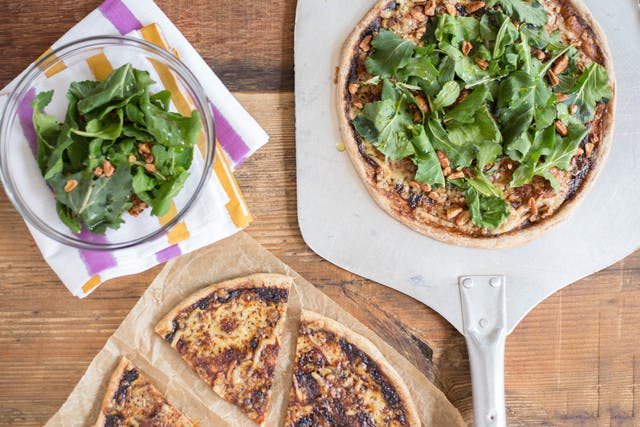 Balsamic-Onion Pizza with Gruyere & Arugula
Pizza is nothing without a good dough, and our friends at Alfresco Pasta in Nashville make one of the best. This pie is topped with a relish made of sweet onions and a balsamic vinegar reduction. Made in North Carolina, Piaz Balsamic Onion Relish has a rich and tangy flavor that balances perfectly with peppery arugula and nutty gruyere. It's a simple, scrumptious dinner, no matter how you slice it.
3)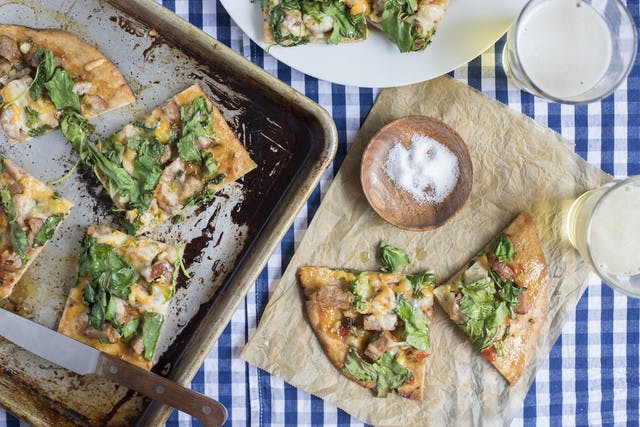 Smoked Chicken Sausage Flatbread with Cheddar, Swiss Chard & Red Pepper Relish
The difference between pizza and flatbread? The answer is highly contested, but for many it comes down to the fact that flatbread tends to be thinner and crispier, while pizza tends to have a thicker layer of sauce and cheese. By that loose definition, this recipe leans toward the flatbread route, as the pizza dough is stretched thin and topped with a spread of Sweet Georgia Red pepper relish instead of standard tomato sauce. It's a blend of sweet peppers, caramelized onion and toasted garlic concocted by our friends at Doux South in Atlanta, GA, and it adds the perfect amount of interesting sweetness and tanginess to elevate the rich spiciness of smoky sausage and cheese.
4)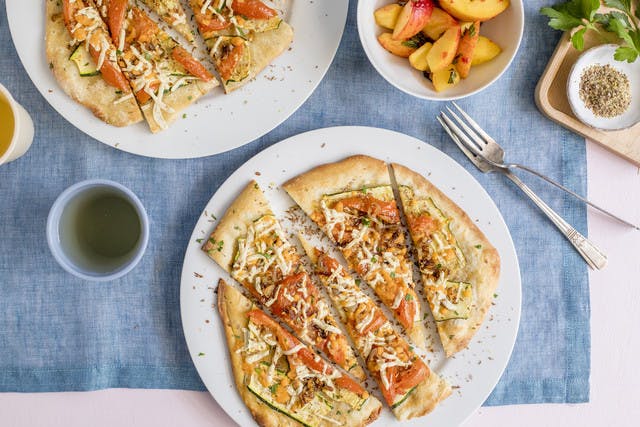 Zucchini-Tomato Flatbread with Spicy Peach-Pepper Jelly Salad
Topped with thinly sliced zucchini and summer tomatoes and paired with a sweet 'n spicy peach salad, this colorful plant-based flatbread is sure to satisfy your summer cravings in a snap.The pizza dough is handmade by Alfresco Pasta in Nashville, and the sweet heat pepper jelly - made with a blend of three chili peppers - is made in Birmingham by our friends at 5ive Oaks. You'll top each flatbread with a sprinkle of vegan pecan "cheese", which is made with ground pecan, Italian herbs and nutritional yeast, an ingredient popular for its "cheese-like" flavor.
5)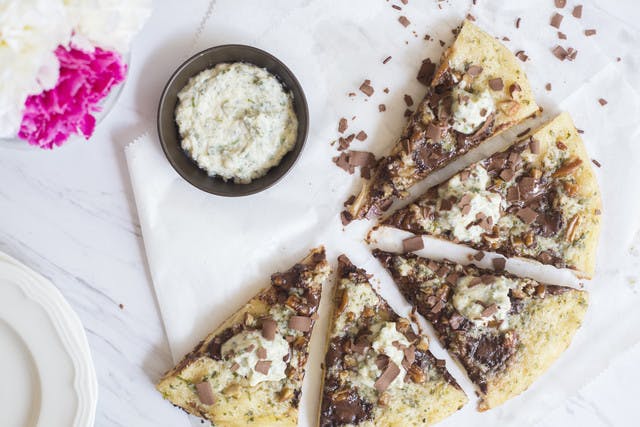 Chocolate Pecan Pizza with Vanilla, Mint & Mascarpone
If your two favorite things are chocolate and pizza, then boy, do we have the recipe for you! Elegant enough for a romantic night in but easy enough to share with friends over a few glasses of wine and good laughs, this dessert pizza is elevated with lush mascarpone, crunchy pecans, bright mint and decadent chocolate twirls.