5 Recipes that Make Eggs Dinner-Worthy
It's time to show everyone that eggs can go beyond the breakfast table! While it's a staple to the morning routine of people all over the world, the humble egg seems to have lost its excitement at the dinner time, while other breakfast companions like pancakes, grits, and waffles are trending their way into our post-5 o'clock appetites.
But why?! The egg is dynamic enough to be a focal ingredient for more than a breakfast recipe. It's versatile, quick to cook and approachable to even the most novice home cooks. Eggs are also rich in essential nutrients and high-quality protein, which makes for a meal that takes minutes to prepare and will keep you happy and satiated for hours. Yum, y'all!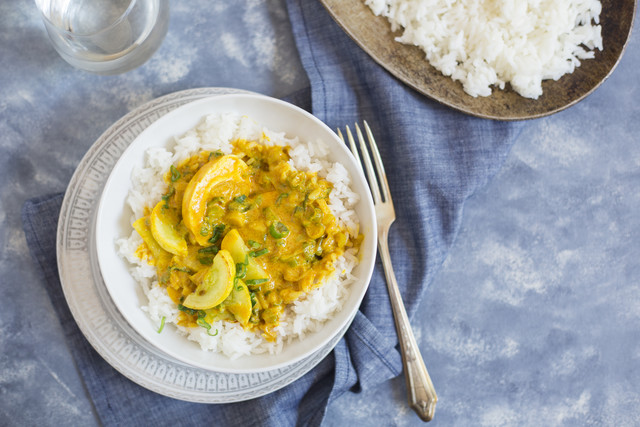 1. Curried Eggs over Rice with Sesame Squash & Green Onions
Fresh farm eggs, boiled soft or hard to your liking, soak up the complex flavors of red curry while adding extra richness to the coconut cream-based sauce. Combine that with fiber-rich summer squash- which is at the peak of its season and, in turn, the peak of taste, color and nutrition - and you have a robust vegetarian dish guaranteed to satisfy both your tastebuds and tummy!
Recipe by Nancie McDermott
2. Farm Eggs with Shallot-Celery Cream & Arugula Salad
Baked, or "shirred", eggs make a delicious, homey meal – especially when you add a little half-and-half, celery and peppery arugula to enhance their rich flavor. It's served with thick rustic bread on the side to soak up every last drop. This brunchy dish can be whipped up in about half an hour, so it's not too much for a lazy Sunday morning, busy weeknights, or whenever the intense breakfast cravings strike.
Recipe by Seth Freedman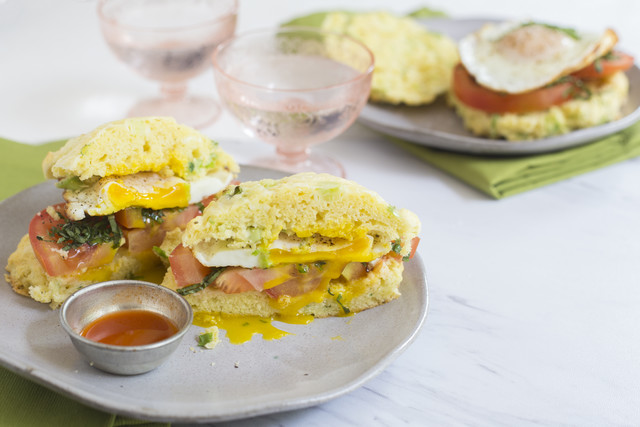 3. Warm Cheddar Scone with Tomato, Basil & Egg
This flavorful scone is filled with slices of fresh tomato and basil, and topped with a freshly cooked sunny-side egg to create a filling sandwich that's perfect for breakfast, noon and night! A runny egg yolk makes for a rich velvety sauce, and if you're a little rusty on how to make the perfect sunny side-up eggs, try this trick. Top it all off with freshly cracked black pepper and sprinkle of coarse sea salt, and you're good to go!
Recipe by Sheri Castle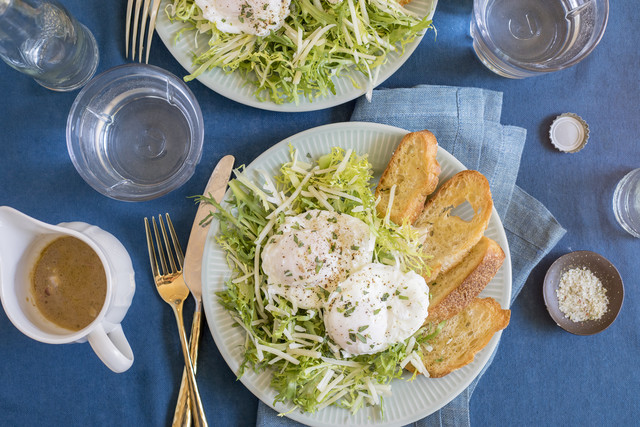 4. Poached Farm Egg & Frisée Salad with Sherry Vinaigrette, Tarragon & Gruyere
Poached eggs may seem intimidating, but fear not; with a steady hand and some patience you'll be rewarded with a velvety yolk that sumptuously ties the plate together. Although the classic Lyonnaise salad is prepared in the style of Lyons, France; that is, with bacon, croutons, and a poached egg, this simple yet enticing dish is completely vegetarian. Although any bitter green fits the flavor profile of this salad, frisée lettuce is the most traditional and its creviced leaves take on smooth dijon vinaigrette and luscious egg yolk like a dream.
Recipe by Cynthia Graubart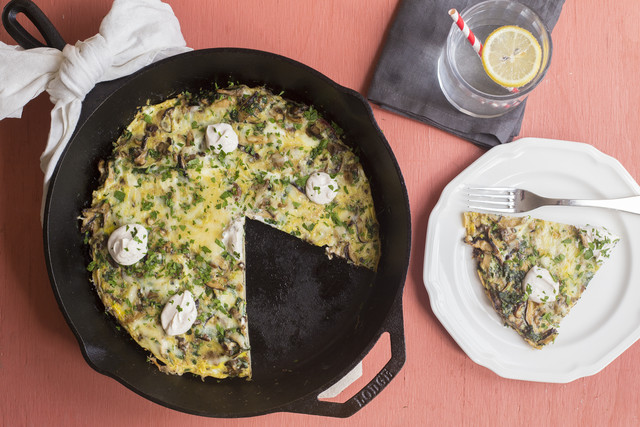 5. Cheesy Farm-Egg Frittata with Potato, Spinach & Mushroom
Who doesn't love breakfast for dinner? A frittata is a one-pan wonder that keeps a foot in both realms. This one features fresh farm eggs, green spinach, earthy mushrooms and Gruyere cheese. A dollop of sour cream, seasoned with Hot Steve salt from Atlanta's own Beautiful Briny Sea, makes the whole skillet (and you!) quite happy.
Recipe by Sheri Castle