5 Recipes that Make Eggs Dinner-Worthy
It's time to show everyone that eggs can go beyond the breakfast table! While it's a staple to the morning routine of people all over the world, the humble egg seems to have lost its excitement at the dinner time, while other breakfast companions like pancakes, grits, and waffles are trending their way into our post-5 o'clock appetites.
But why?! The egg is dynamic enough to be a focal ingredient for more than a breakfast recipe. It's versatile, quick to cook and approachable to even the most novice home cooks. Eggs are also rich in essential nutrients and high-quality protein, which makes for a meal that takes minutes to prepare and will keep you happy and satiated for hours. Yum, y'all!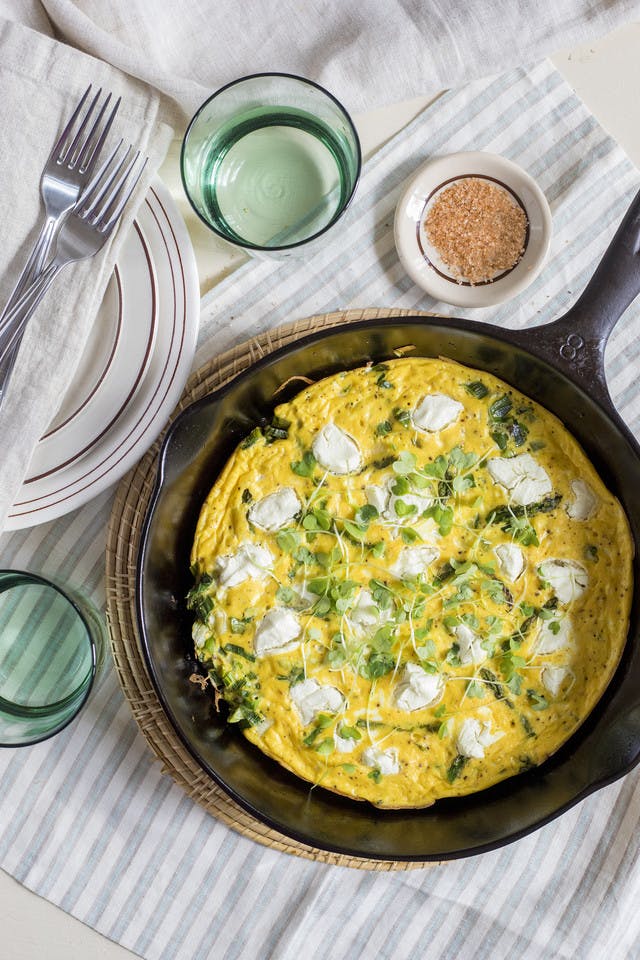 1. Asparagus, Spring Onion & Chevre Frittata with Toasted Ciabatta
There are few more elegant yet approachable one-pan dinners than the frittata. This one celebrates spring with green asparagus and tender spring onions, dotted with crumbles of the mild, tangy, fresh goat cheese known as chevre. Although asparagus tastes equally delicious no matter how it's chopped, placing a few pointy green tips on top makes this dish look like a glamorous magazine photo (or totally Insta-worthy, for the social media-savvy among us). You can order this recipe as a meal kit for the week of April 15th!
Recipe by Sheri Castle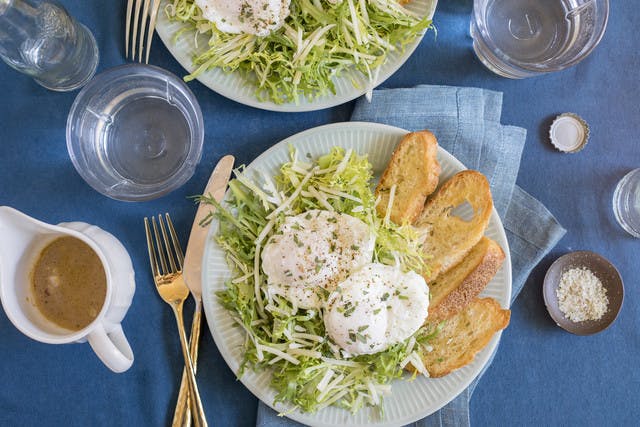 2. Poached Farm Egg & Frisée Salad with Sherry Vinaigrette, Tarragon & Gruyere
Poached eggs may seem intimidating, but fear not; with a steady hand and some patience you'll be rewarded with a velvety yolk that sumptuously ties the plate together. Although the classic Lyonnaise salad is prepared in the style of Lyons, France; that is, with bacon, croutons, and a poached egg, this simple yet enticing dish is completely vegetarian. Although any bitter green fits the flavor profile of this salad, frisée lettuce is the most traditional and its creviced leaves take on smooth dijon vinaigrette and luscious egg yolk like a dream. You can order this recipe as a meal kit for the weeks of April 15th and April 22nd!
Recipe by Cynthia Graubart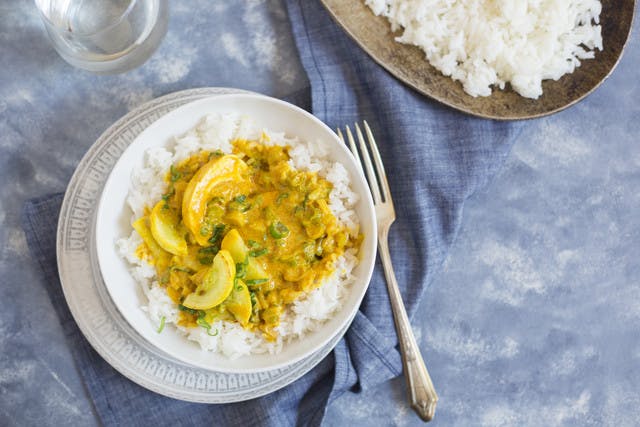 3. Curried Eggs over Rice with Sesame Squash & Green Onions
Fresh farm eggs, boiled soft or hard to your liking, soak up the complex flavors of red curry while adding extra richness to the coconut cream-based sauce. Combine that with fiber-rich summer squash- which is at the peak of its season and, in turn, the peak of taste, color and nutrition - and you have a robust vegetarian dish guaranteed to satisfy both your tastebuds and tummy!
Recipe by Nancie McDermott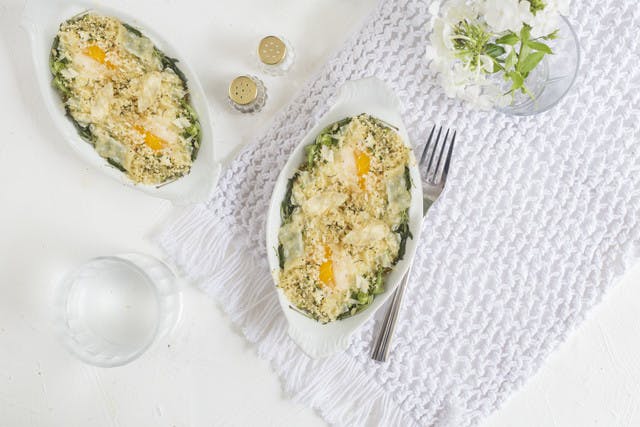 4. Farm Eggs with Shallot-Celery Cream & Arugula Salad
Baked, or "shirred", eggs make a delicious, homey meal – especially when you add a little half-and-half, celery and peppery arugula to enhance their rich flavor. It's served with thick rustic bread on the side to soak up every last drop. This brunchy dish can be whipped up in about half an hour, so it's not too much for a lazy Sunday morning, busy weeknights, or whenever the intense breakfast cravings strike.
Recipe by Seth Freedman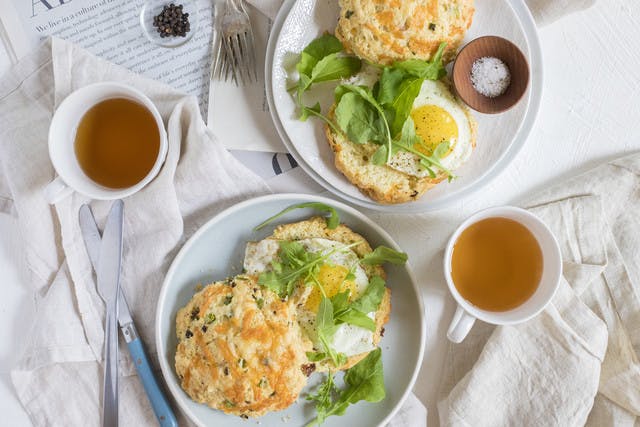 5. Bacon-Cheddar Scone with Sunny-Side Up Farm Egg & Spicy Greens
Homemade scones are far less finicky than biscuits, but hit that same sweet spot of warm fluffy goodness that we wake up craving on Sunday morning (well, every day, to be honest). Imagine a warm, tender scone emerging from your oven and steaming with its rich, savory aroma. Now imagine it split and filled with slightly wilted greens and the perfect sunny-side-up egg. Oh yes, now we're talking!
Recipe by Sheri Castle