Beer Pairings for the Week of June 6th, 2016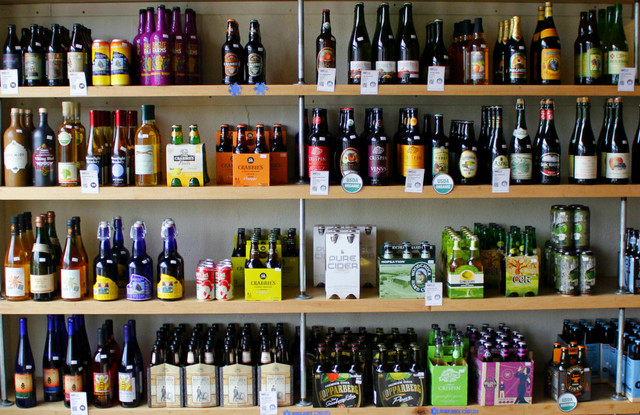 Looking for the perfect brew to go along with your PeachDish meals? We've got you covered. We've partnered with the owners of BeerGirl, a local Atlanta shop, to help you select the perfect beverage. BeerGirl's passionate owners, Alexia Ryan and Erik Lewis opened their shop with the dream of connecting the people of their community with delicious craft beer from the South and beyond. Here are this week's suggested pairings: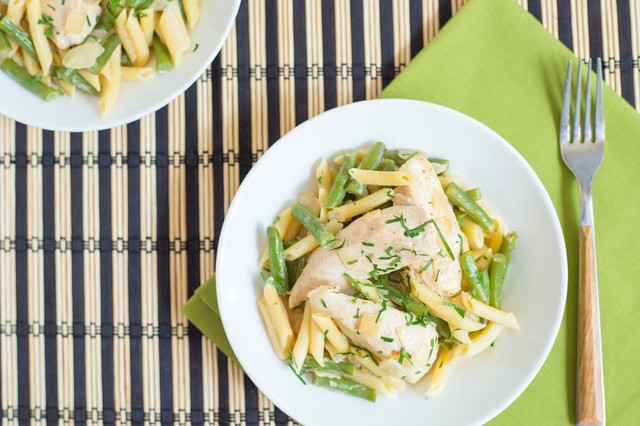 Chicken, Penne & Green Beans with Dijon Cream Sauce
Sometimes when pairing a beer to a Peach Dish, it is helpful to think of what wine would go well with the meal. If we were pairing this dish with a wine we would want one that was tart and crisp. With those flavors in mind, we should choose a tart crisp gose that can stand up to the butter sauce in this dish.
Suggestion: Westbrook Gose, Mount Pleasant, South Carolina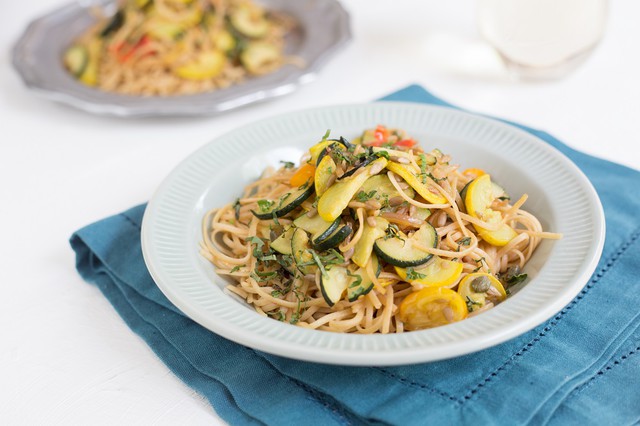 Whole Wheat Linguini with Summer Squash & Cherry Tomatoes
Did you know that radler is German for cyclist? Traditionally a fifty percent mixture of beer and soda radlers are low alcohol beers meant to be consumed while you workout. Kind of puts Gatorade to shame in my opinion. For the fruity flavors in this dish, we want a beverage that brings refreshing complementary fruit flavor.
Suggestion: Victory Cage Radler, Downington, Pennsylvania Georgia Local Recommendation: Red Hare SPF 50/50, Marietta, Georgia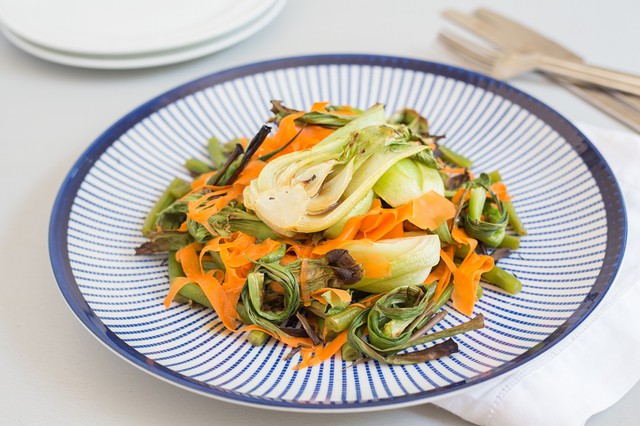 Roasted Bok Choy, Carrot & Green Bean Salad
To those who love the India Pale Ale there is no other beer. IPA aficionados are easy to pick out in a coffee shop. They are the ones who enjoy their coffee black. Their palates simple enjoy bitter flavors so they seek out bitter flavors. Bitter and acidic flavors produce similar effects on my tongue so we recommend a bitter IPA to complement the acid in this salad.
Suggestion: Foothills Brewing Jade, Winston-Salem, North Carolina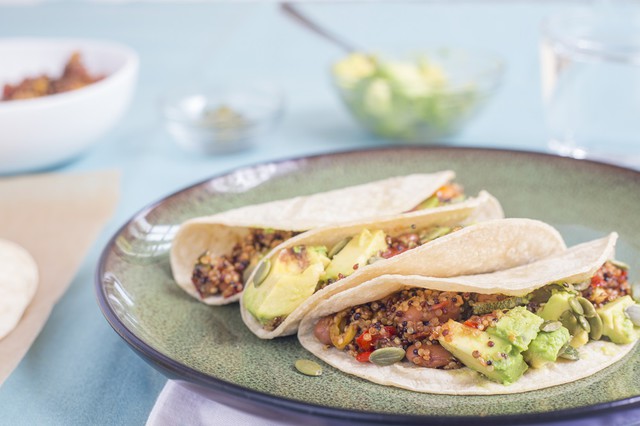 Veggie Tacos with Quinoa & Avocado
Fruit flavored beers are ubiquitous with summer. Brewers try to outdo each other by adding slightly different citrus flavors to the IPA, but there is an actual style called fruit beer. Not a very exciting category name, but one that allows a brewer a great deal of freedom. For these tacos, we will pair them with a beer flavored with cactus that adds a tart citrus component.
Suggestion: Shiner Prickly Pear, Shiner, Texas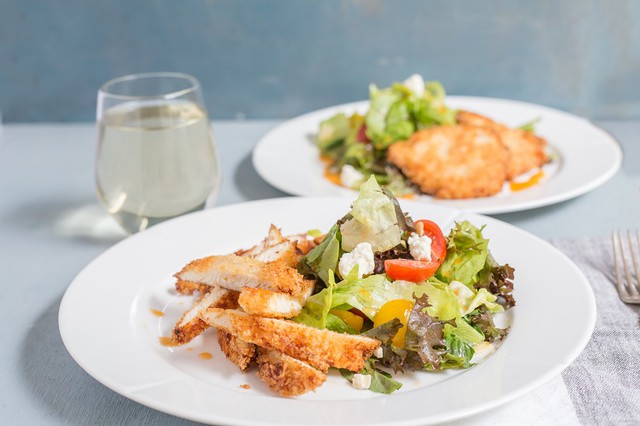 Panko Crusted Chicken with Lettuce & Herb Salad
Is mead a beer or a wine? The answer is neither. Mead, the world's first alcoholic beverage was discovered when honey spontaneously fermented. Mead is still, meaning little or no carbonation, but sometimes mead can be carbonated. Truthfully it is neither beer or wine. With the hodgepodge of alcohol laws in the United States, it is safer to sell as a wine which allows for a higher alcohol content. We choose a mead for this pairing to compliment the sweet salad dressing with a sweet beverage.
Suggestion: B. Nektar Kill All the Golfers, Ferndale, Michigan Georgia Local Recommendation: Monk's Mead, Atlanta, Georgia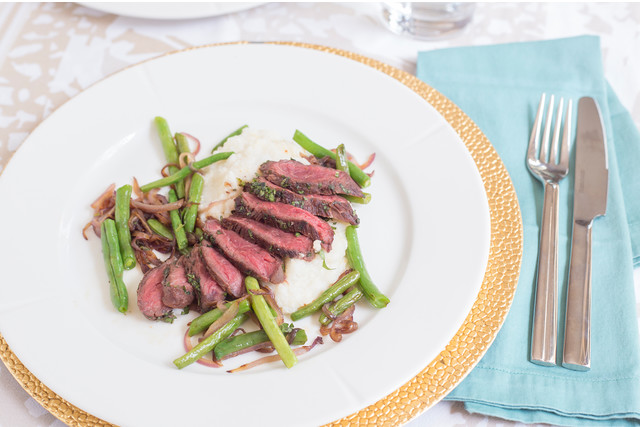 Herbed Hanger Steak with Green Beans, Red Onions & Grits
Steak always demands a big, bold beer. For us, it doesn't get any bolder than a barley wine. The Roman army marched on wine, but when out of grapes they would make barley wine. What is barley wine? Well, it's a beer where every available sugar has been removed from the malt bill to give yeast plenty of food to produce lots of alcohol. For this dish, we suggest a barley wine that brings lots of malt sweetness, lots of bitter, and lots of alcohol to complement the big steak flavor.
Suggestion: 21st Amendment Lower DeBoom, San Francisco, California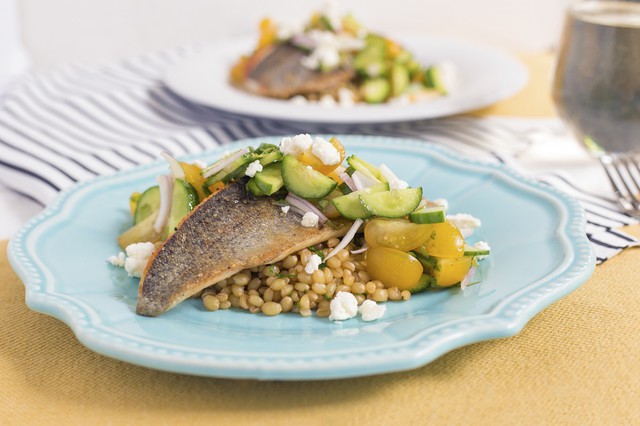 Terry Koval's Trout with Sungold & Cucumber Gazpacho Over Wheat Berries
American Wheat Beer- The understated character of wheat beer is ideal for matching with light fish and the beer's botanicals will complement the cucumber and feta. American wheats possess very little of the fruity esters that are the hallmark of their German and Belgian counterparts and instead offer a cleaner and light bodied alternative that won't overpower this dish.
Suggestion: Bell's Oberon, Galesburg, Michigan Georgia-local recommendation: Southbound Scattered Sun Belgian Wit, Savannah, Georgia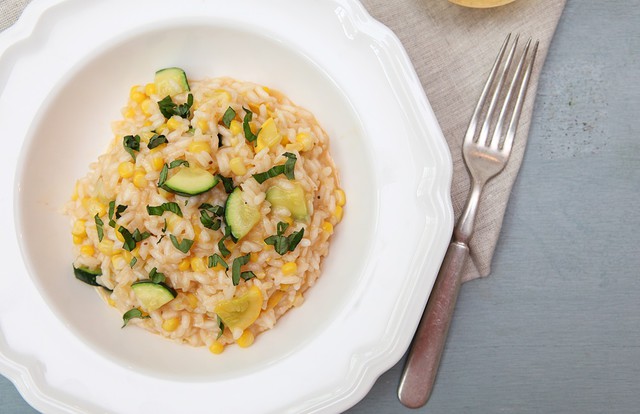 Summer Squash, Basil & Corn Risotto
Berliner Weisse - Berliners are light bodied and lower in alcohol (3-5%), so they won't overpower the delicate flavors of sweet summer squash and crisp corn. The tartness and a dry finish leaves the palate feeling clean and ready for the next beer!
Suggestion: Bayerischer Bahnhof Berliner Style Weisse, Leipzig, Germany Georgia-local recommendation: Creature Comforts Athena, Athens, Georgia