Wine Pairings for the Week of May 30th, 2016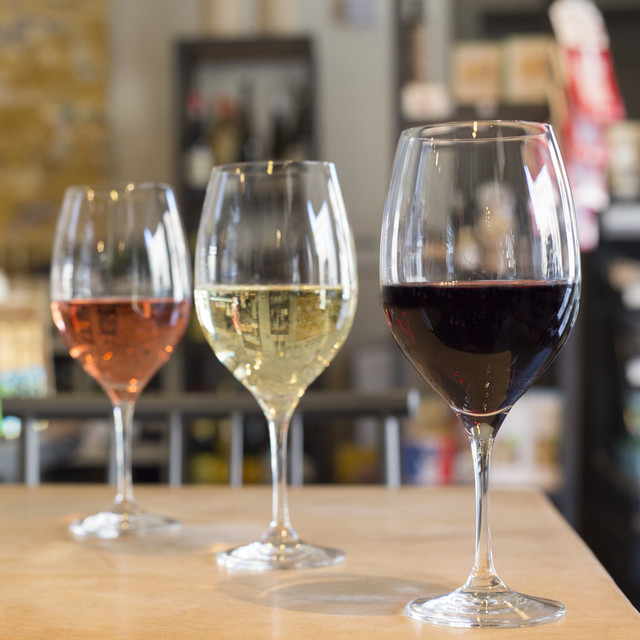 Each week, Wine Specialist Sarah Pierre brings you suggestions to complement your PeachDish meals. Sarah is one of the owners at 3 Parks Wine Shop in Glenwood Park, Atlanta. She paired up with the team of The Shed at Glenwood and The Pig and The Pearl and opened 3 Parks in 2013. Prior to opening the store, she spent most of her career working and managing notable restaurants in Atlanta and New York City. Sarah selects all of the wines that are offered at 3 Parks Wine Shop and also assists in pairing wines for local events and dinners throughout Atlanta.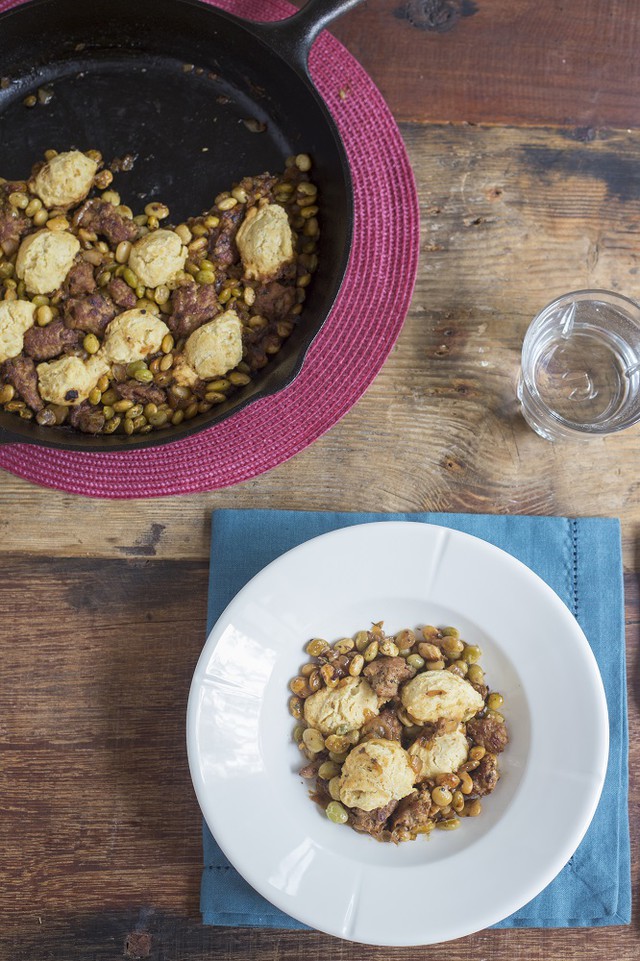 Pork Skillet with Butter Beans & Cornmeal Drop Biscuits
Grenache Blend - A red from Southern Rhone will be a perfect match for this Pork Skillet. It will have a nice expression of fruits and berry, but will still offer a perfect level of dryness/tannin that will be great with this dish. Suggestion: CDR, Cotes du Rhone, France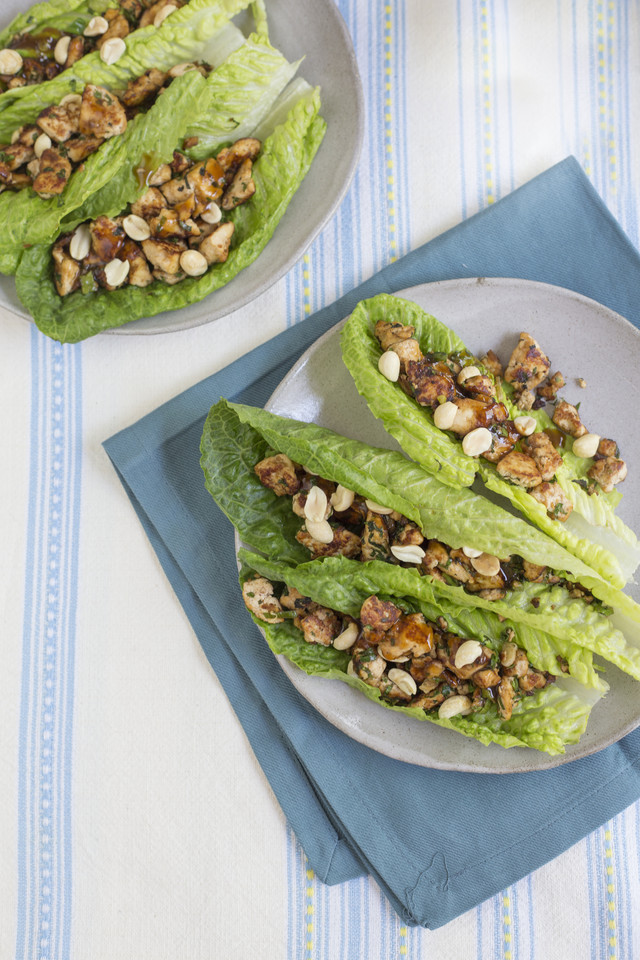 Natalie Keng's Tofu Lettuce Wraps
Sauvignon Blanc - Pair a crisp glass of Sauvignon Blanc with this Peachdish. Perfect pairing for these wraps with a nice pop of mint and basil. Suggestion: Cloisonne Sauvignon Blanc, Alexander Valley, CA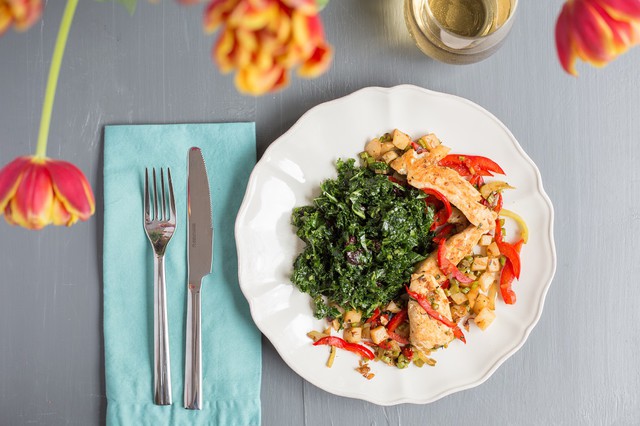 Chicken, Pepper & Potato Sauté with Kale-Berry Salad
Provence Rosé - There isn't anything in this Peachdish that doesn't call for a glass of Rosé. Be sure to grab a bottle from Provence, France. Suggestion: Chateau Saint Pierre Rosé, Provence, France
Whole Wheat Couscous Salad with Cucumber, Vidalia Onion & Tarragon
Vinho Verdé - It's important to keep the wine light and fresh for this dish. A glass of slightly effervescent Vinho Verdé will not overpower this salad. Suggestion: Calamares Vinho Verde, Portugal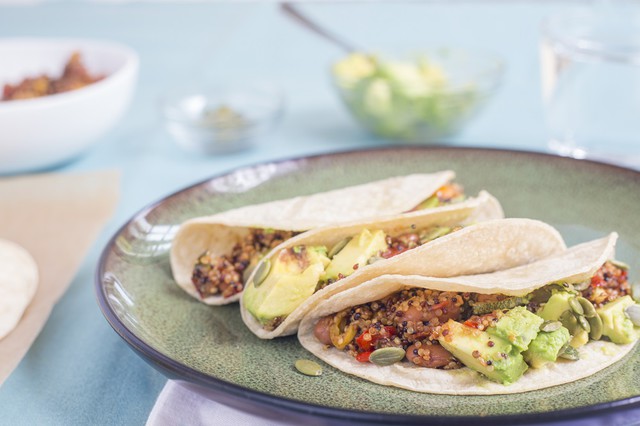 Veggie Tacos with Quinoa & Avocado
Oregon Pinot Noir - The ever so versatile Pinot Noir will pair perfectly with these tacos. The earthiness of an Oregon Pinot will work nicely with the Vegetables. Suggestion: Love Oregon, Willamette Valley, Oregon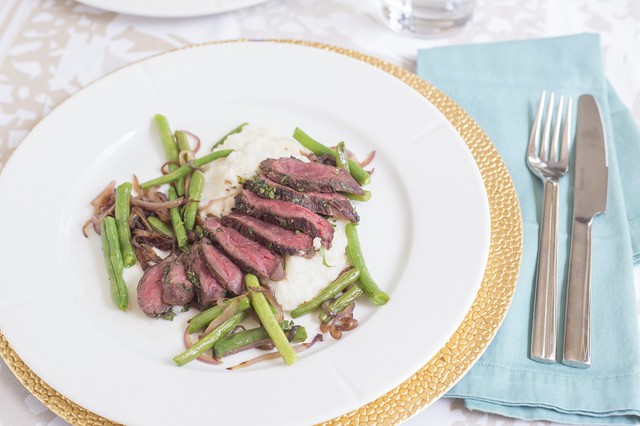 Herbed Hanger Steak with Green Beans, Red Onions & Grits
Cabernet - Go big or go home. There aren't many times where California Cabernets always fit the bill. When you have a steak, however, take advantage of the opportunity.
California Rosé - Go with a Rosé that mimics a red. Many California Rosés are made with intent, so some tend to be fuller. Suggestion: Bedrock Rosé, Napa Valley, California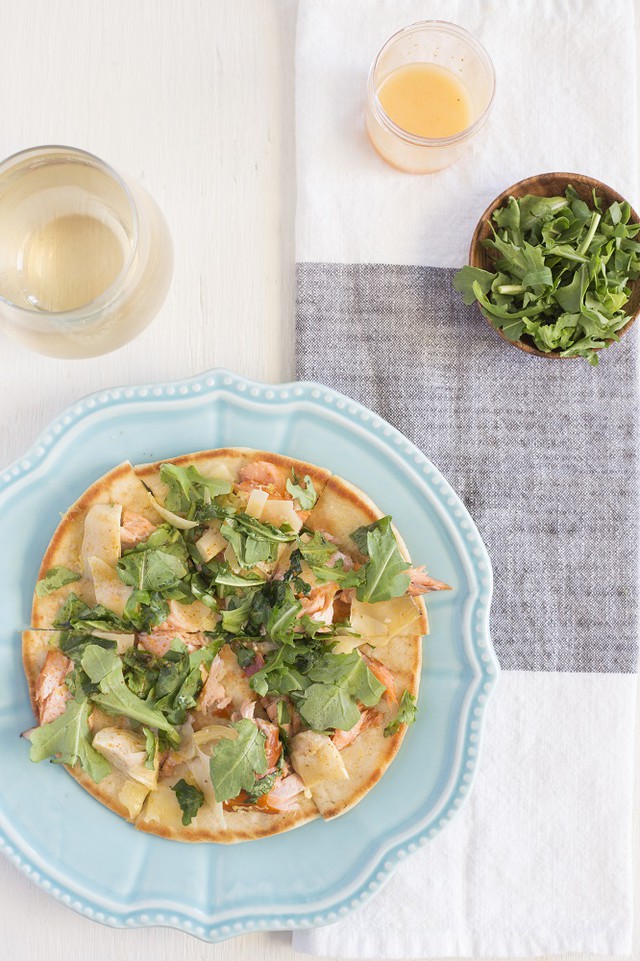 Smoked Salmon Flatbread with Artichoke & Arugula
Artichokes are commonly considered a difficult ingredient to pair with wine. Getting a bit technical here but wanted to explain - Artichokes contain a naturally occurring chemical called Cynarin which makes everything taste sweeter, including wine, but not in a good way. To counter that, you want to find an extremely dry, crisp wine that is higher in acid. Additionally, incorporating a salty component, smoked salmon, to the dish also minimizes the effect of Cynarin.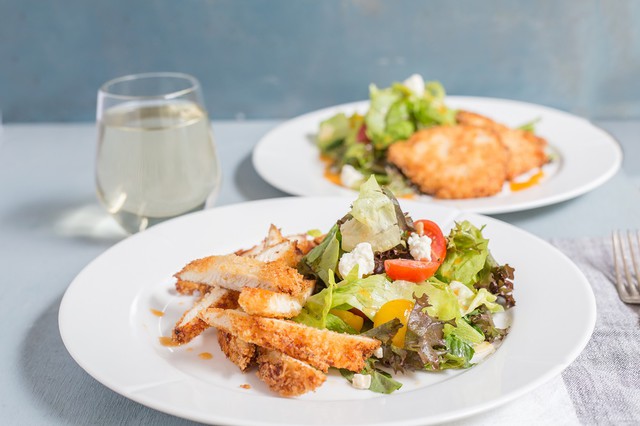 Panko Crusted Chicken with Lettuce & Herb Salad
Pouilly-Fumé - 100% Sauvignon Blanc from the Loire Valley. Perfect feta cheese pairing. The wines have a ton of structure, a touch of smokiness, and minerality. These wines are delicious! And coincidentally, that high acidity in the wine is perfect with "fried" chicken. Suggestion: Henri Bourgeois Pouilly-Fume, Loire, France