Fun at the Farm!
This summer, we're making time for fun. Once a month, the PeachDish gang is taking the afternoon off and visiting a Georgia farm.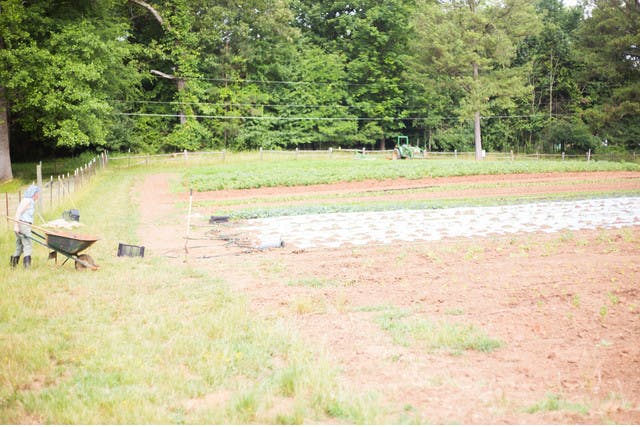 Last Friday we visited Decimal Place Farm, home to some of the happiest goats in Georgia. This trip was a two-for-one (maybe it was a Memorial Day sale?); Mary Rigdon, the owner of Decimal Place Farm in Conley, made room on her land for Hungry Heart Farm about a year ago.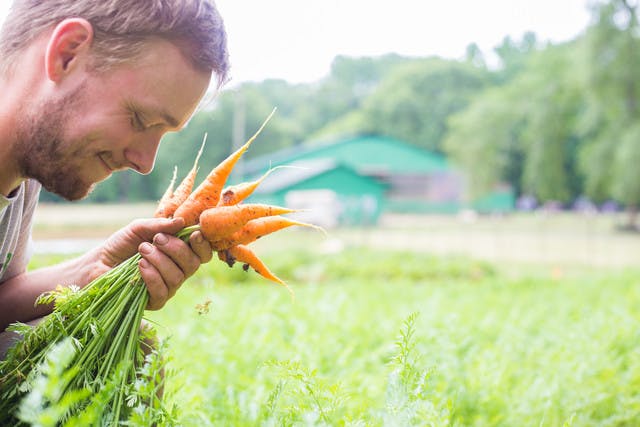 Hungry Heart is new and growing, but there were still plenty of vegetables for us to harvest and taste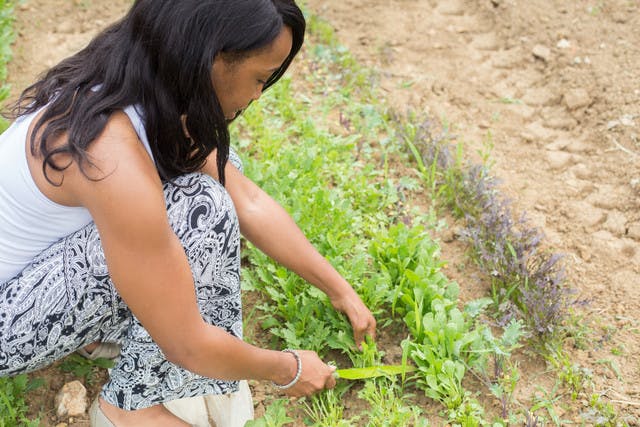 (Ranji's already a pro!)
We loved their "spicy mix" greens. Matthew's blend of arugulas, kales, and more was super flavorful straight from the ground. Matthew and Kristin have a salad spinner on the land to wash the greens created from the drum and motor of a washing machine.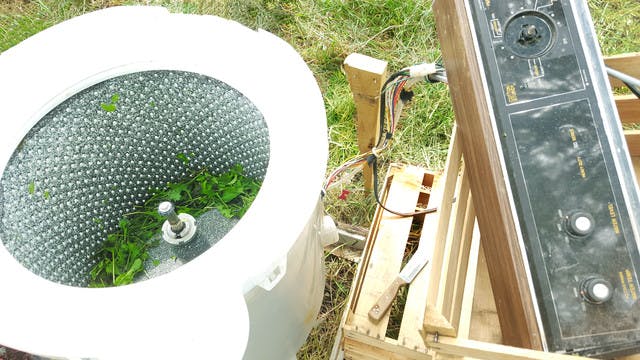 When we tossed the spicy mix with their carrots, beets, radishes, and some mason jar salad dressing, it was absolutely kicking. In the spirit of farming community, Hungry Heart uses Decimal Place's goat manure in their compost. It's just one step on their almost-there path to organic certification. The farm also boasts a newly built shed and they're beginning to use smaller plots of land for herbs.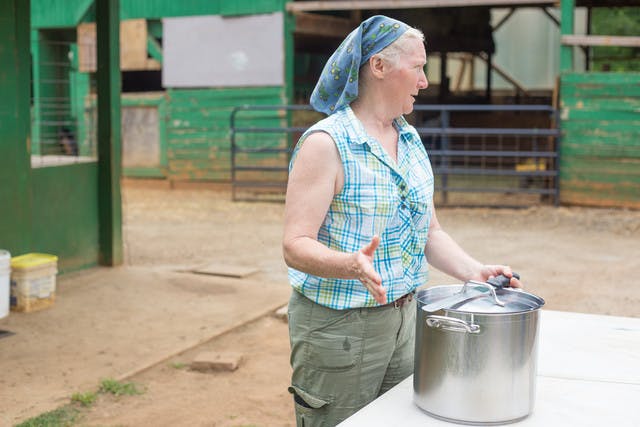 We switched gears from growing to goats and visited Decimal Place's dairy. We got to be goats as we walked up the ramp and crouched through the goat-height door into the milking room. We couldn't go into the cheese-making room for sanitation reasons, but we pressed our noses to the window and waved hi to some friends.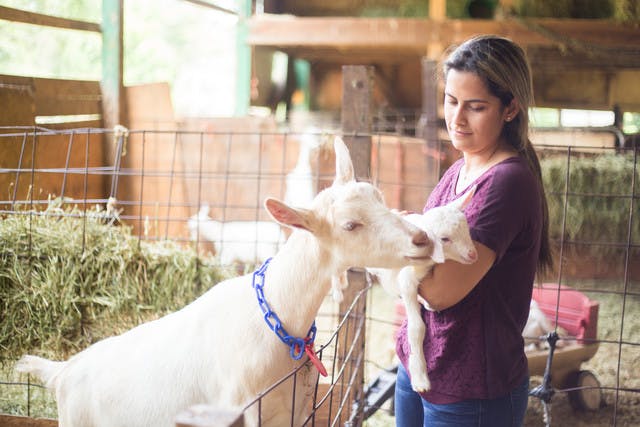 It turns out Mary's Saanen milk goats are delightfully friendly. We got to hold baby goats and there may have been murmurs of insurrection and kidnapping (get it? kid-napping?) from the peanut gallery.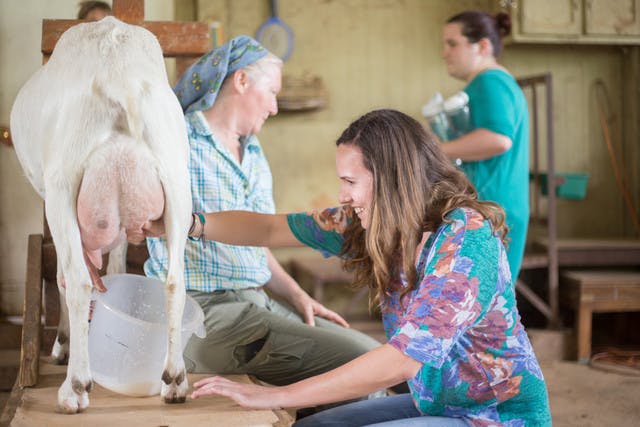 Cheyenne was kind enough to let us milk her- after all, what's a field trip without hands-on activities?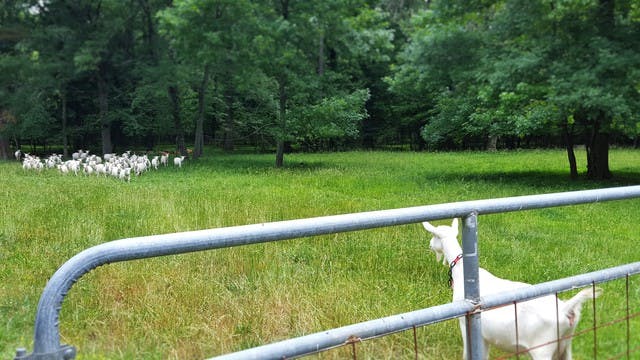 As Mary led Cheyenne back into the fenced pasture, there was a rumbling in the distance as all the other goats started running to her. It's unsure if it was to see the strange humans or because Cheyenne is secretly a herd alpha, or perhaps a goat goddess. While I ruminated on the phenomenon of standing before ruminant royalty, the rest of the gang headed onward for a tour of the woods. The goats took it in their heads to join us, which slightly alarmed those of us who thought the goats were fully enclosed in the pasture.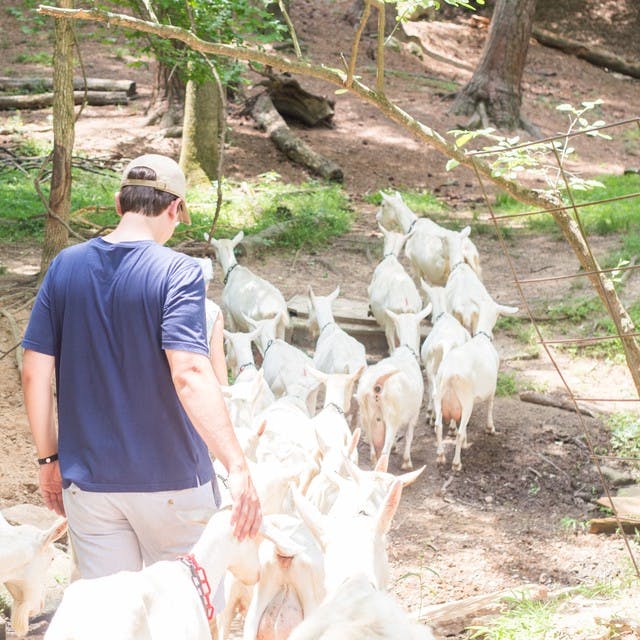 They walked next to, around, by, and through us as we made our way into the woods. The goats loved the fragrant pine needles Mary would occasionally pull down for them, but it's a special treat since too much makes their milk taste like gin. We went full circle through the woods, crossing a small creek that some crawfish call home and started setting a lovely harvest table for lunch.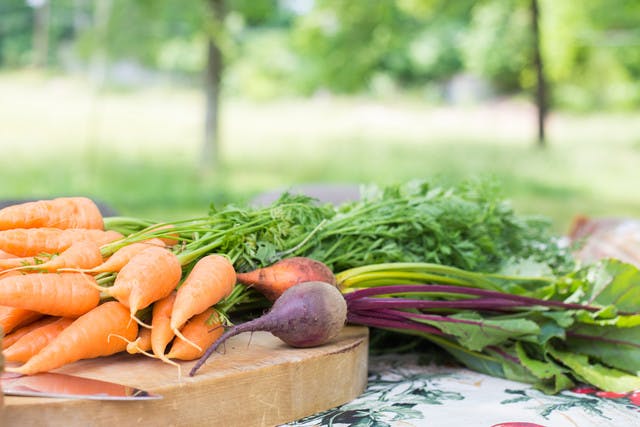 Hungry Heart brought their vegetables, Decimal Place brought deliciously fresh chevre and tuma cheeses, and Judith brought crackers, cured meats, and condiments. We grazed and chatted under a shady tree by the field, full of food and gratitude that we live so close to such wonderful farmers. It's likely we would've been content to stay all day, but the waning of the sun (and Google calendar alerts) told us it was time to go back to the office so we could keep working to get farmers like Mary, Kristin, and Matthew's food to our customers' doorsteps.