Panko Popularity
Panko dishes have been a casual Japanese meal for around 100 years. The Japanese were introduced to German schnitzels during the world wars and created their own take on the dish. In the past couple of decades, panko has poked its head into the U.S. dining scene, rapidly growing from a trendy restaurant fad to a mainstay in white picket fence homes.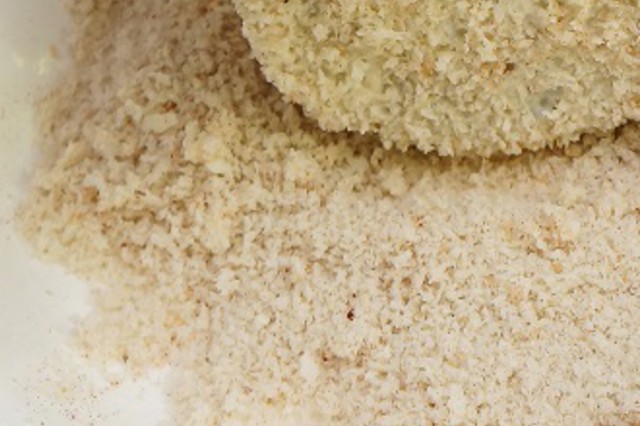 It's no great surprise that panko crumbs are loved internationally- these oddly-shaped breadcrumbs are great for frying and baking proteins and vegetables, and their unique texture gives food a light, airy mouthfeel. The traditional heaviness of fried food gives way to cloudy crispness when panko crumbs are used.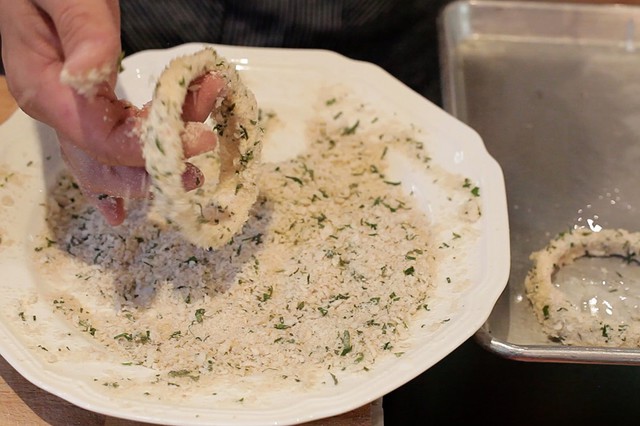 Unlike most breadcrumbs, panko crumbs come from bread that has been shredded, not grated or crushed. This process creates crumbs that are irregular in size and texture- there's no gold standard of what a single panko crumb should look like. Aside from being a darned effective crumb, panko's variety is what gives it a solid foothold in the new American cuisine. Food trends are rejecting the commercialized uniformity of the mid to late 20th century in favor of more organic forms. We wanted the outcasts, the misfits, the bad boys of the crumb world- we wanted panko.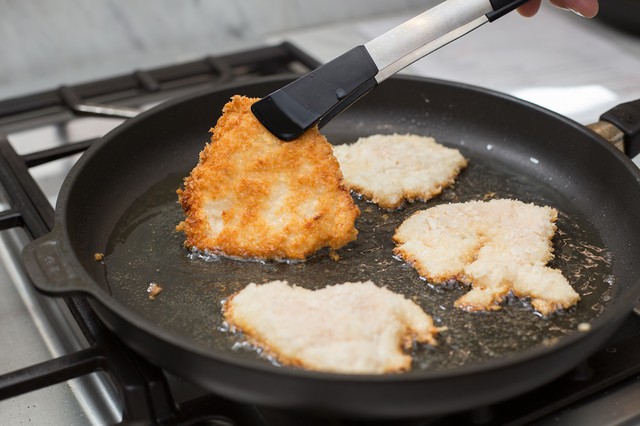 And like our favorite bad boys, panko has only gotten better with age. Many modern breads are made with plenty of sugar and honey (*cue beleaguered sigh from our resident dietician, Mary Alice*) which, while normally villainized, is happy news for frying. The higher sugar content means that when the meat hits the heat, the crumbs cling together better, creating a seal of protection against soggy oil syndrome. Everything get fried, but not saturated (see, Mary Alice? It's not all bad). The extra sugars also help in caramelization; even the fairest ivory crumb turns that delicious, toasty golden brown that we just can't resist.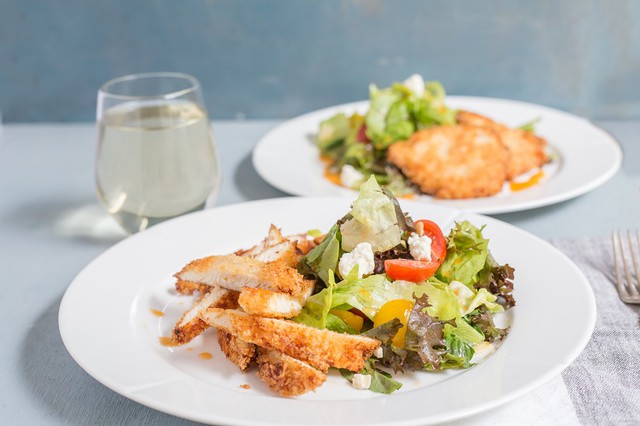 All this goodness combines to reduce the need for messy, unhealthy deep frying. A quick shallow fry, like in our Panko Crusted Chicken with Lettuce and Herb Salad, creates beautiful and delicious results. Panko-fried or -baked dishes stay crisp at room temperature, making them perfect in salads or al fresco summer meals.
Check out panko's versatility in the recipes below
Fried Green Tomatoes with Roasted Pepper Salad & Chevre
Beef Tenderloin with Herbed Onion Rings & Charred Okra
Pork Chops & Spicy Collards Sandwich with Sweet Potato Wedges
Panko-Parmesan Chicken with Sauteed Spinach & Golden Beets
Chicken Croquettes with Tomato & Okra Gravy
North Georgia Pecan Crusted Trout with Roasted New Potatoes and Filet Beans & Watercress Salad Dressed with a Basil Vinaigrette
Butter Bean & Barley Salad with Feta & Eggplant Coins
Quinoa & White Bean Veggie Burgers with Potato Wedges
Chicken Breasts Stuffed with Herbed Goat Cheese & Piccolo Farroto with Tomatoes and Romano Bean Salad
Chicken Stuffed Squash with Fresh Tomato Sauce
Orange-Glazed Turkey Meatballs with Ginger Sweet Potatoes & Roasted Broccoli
Fettuccine with Meatballs and Shaved Soffritto and Fresh Herbs
Classic Beef Meatloaf, Mashed Potatoes, Sauteed Spinach & Mushrooms
Roasted Cauliflower with Tahini & Capers, Lamb Meatballs in Tomato-Basil Sauce, Barley Spinach Risotto
Jicama Salad, Mustard Roasted Chicken Thighs, Summer Squash, Shaved Brussels & Okra-Radish Sauté