Beer Pairings for the Week of May 30th, 2016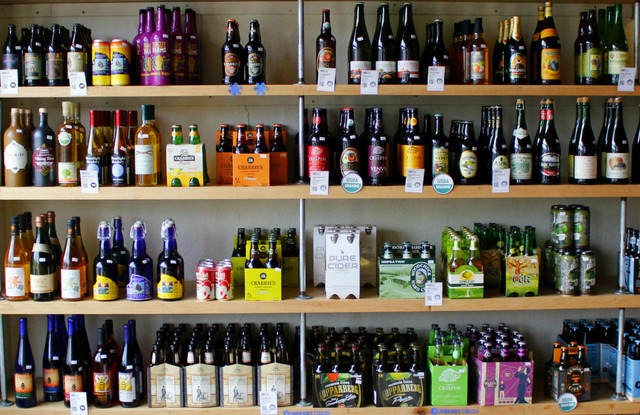 Looking for the perfect brew to go along with your PeachDish meals? We've got you covered. We've partnered with the owners of BeerGirl, a local Atlanta shop, to help you select the perfect beverage. BeerGirl's passionate owners, Alexia Ryan and Erik Lewis opened their shop with the dream of connecting the people of their community with delicious craft beer from the South and beyond. Here are this week's suggested pairings: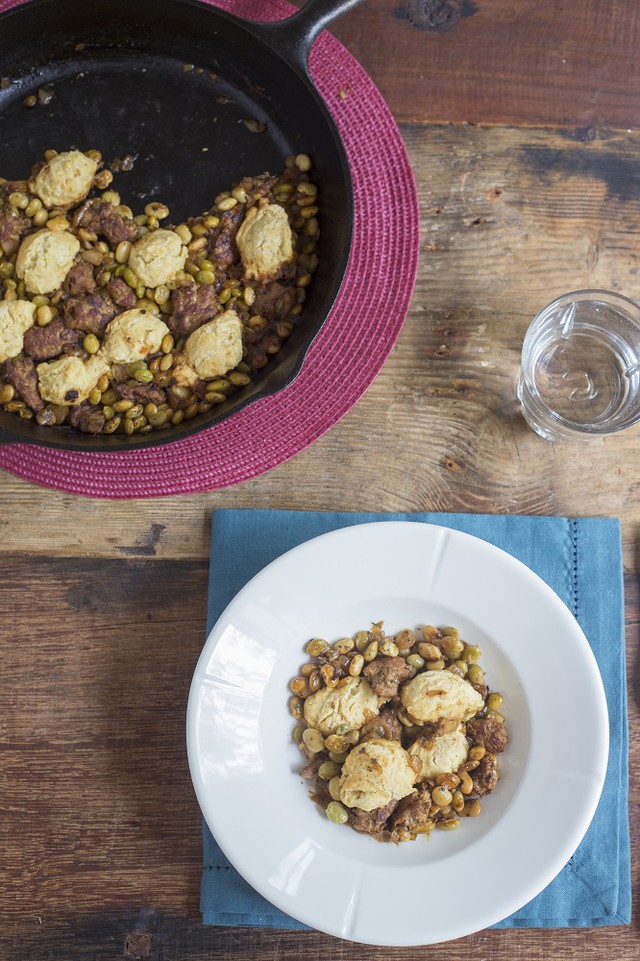 Pork Skillet with Butter Beans & Cornmeal Drop Biscuits
Lager refers to cold fermentation as in lagering, not a specific light colored beer. While lagers are largely pale in color, they do not have to be light colored. The addition of darker malts produces beers with the flavors of stouts and porters that retain the refreshing, clean mouthfeel of a lager. For this hearty dish, we will complement the season it is served in with a hearty refreshing dark lager.
Suggestion: Sprecher Black Bavarian, Glendale, Wisconsin
Whole Wheat Couscous Salad with Cucumber, Vidalia Onion & Tarragon
Technically speaking any beer with fruit is considered a Spice, Herb, or Vegetable Beer. I guess ordering a fruit flavored IPA is more descriptive than asking for an SHV. While citrus is all the rage, there are vegetables like cucumbers that can add a refreshing flavor to the beer. For this dish featuring cucumbers we suggest a cucumber farmhouse that will provide a refreshing complement.
Suggestion: Uinta Cucumber Farmhouse, Salt Lake City, Utah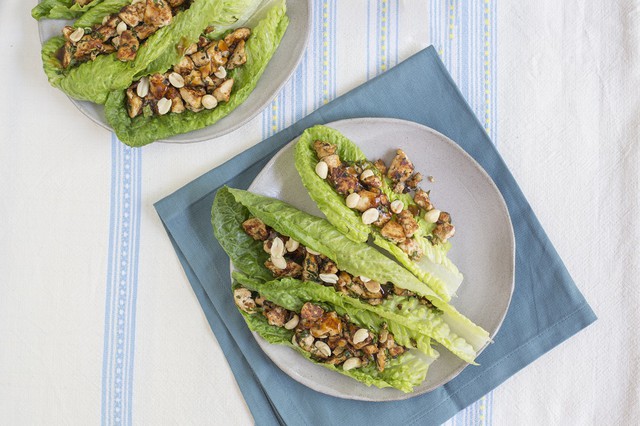 Natalie Keng's Tofu Lettuce Wraps
It should be no surprise that at Beer Girl we have a fondness for sour beer styles, which is the primary reason we love summer beer. From Berliner Weiss to gose, we love sour beer. Sour brings an unexpected flavor that shows beer is more than sweet or bitter. The Asian flavors will pair nicely with a sour-salty gose, making this dish really pop.
Suggestion: Anderson Valley Briny Melon Gose, Boonville,California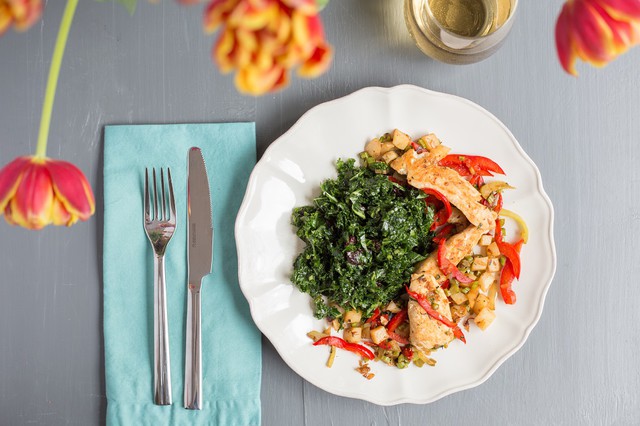 Chicken, Pepper & Potato Sauté with Kale-Berry Salad
What makes a beer imperial? Originally imperials were brewed for the royal family of Russia, but now imperial simply means more. More hop, more alcohol and in the case of an imperial IPA a lot more hop bitterness. The term double is synonymous with imperial. This dish has sweet, bitter, spicy, and tart components so we will pair an imperial IPA which will compliment the bitter.
Suggestion: Green Flash Imperial IPA, San Diego, California Georgia Local Recommendation: Orpheus Transmigration of the Souls, Atlanta, Georgia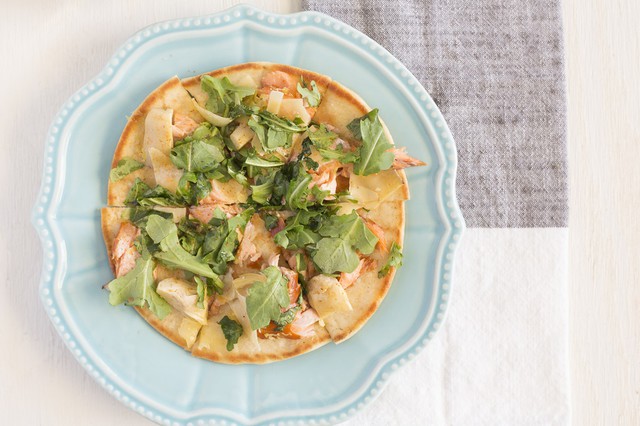 Flatbread with Smoked Salmon, Artichoke & Arugula
We've said it before: wheat beers are under appreciated for their ability to convey flavors. Hefeweizen or wit the wheat beer can be as complicated as the brewer's imagination. Recently, brewers have started realizing that wheat beer should be embraced and celebrated; hopefully the hop heads amongst us will realize every beer does not have to be bitter to be good. To help the hop lovers make that tradition, we suggest a hoppy wheat beer to complement the bitter arugula while not overshadowing the other flavors.
Suggestion: 80 Acre Hoppy Wheat, Kansas City, Missouri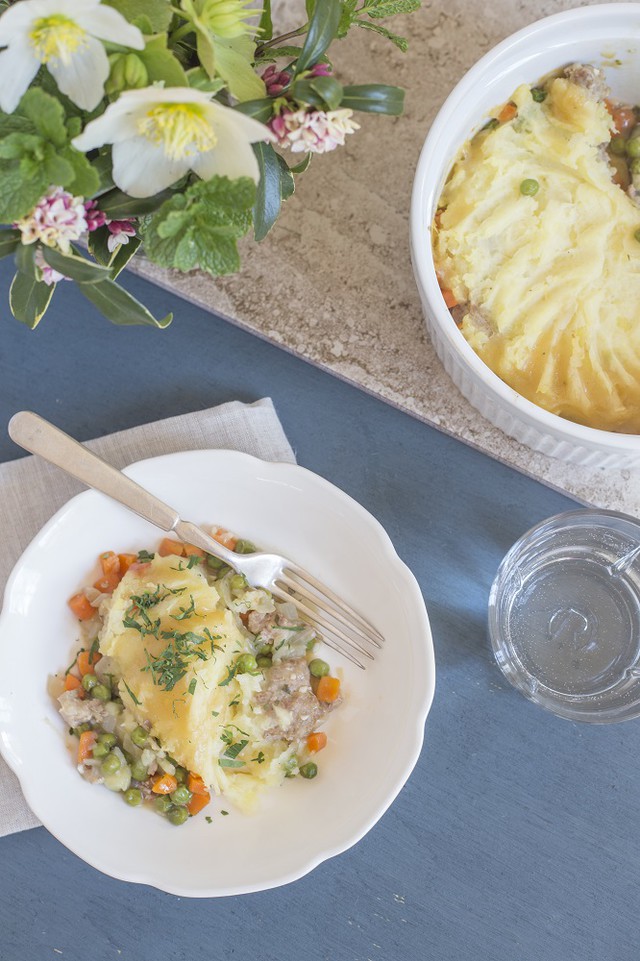 Cottage Pie with Pork, Carrots & English Peas
Did you know that ciders come in two major styles? We don't mean red apple or green apple, we mean dry or sweet. European ciders lean towards dry while American ciders run sweeter. With a classic cottage pie, try a dry Irish cider- it will clean your palate between forkfuls.
Suggestion: Magners/Bulmers Dry Irish Cider, Clonmel, Ireland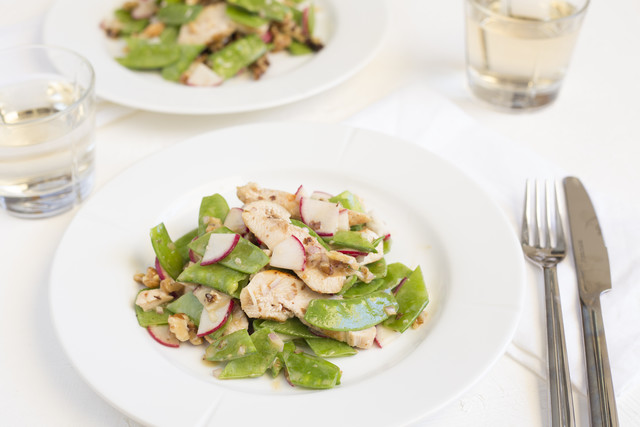 Chicken Breast, Snow Pea & Walnut Salad
As a child, my favorite thing about Chinese food were the snow peas. This flat sweet vegetable was fascinating. As an adult, I'm still a fan, but I also know that sweet complements sweet, so to bring out the sweet of the snow pea we will pair it with a hefeweizen. A hefeweizen brings the sweet with a little banana flavor which should go really well with this delicate dish.
Suggestion: Widmer Hefeweizen, Portland, Oregon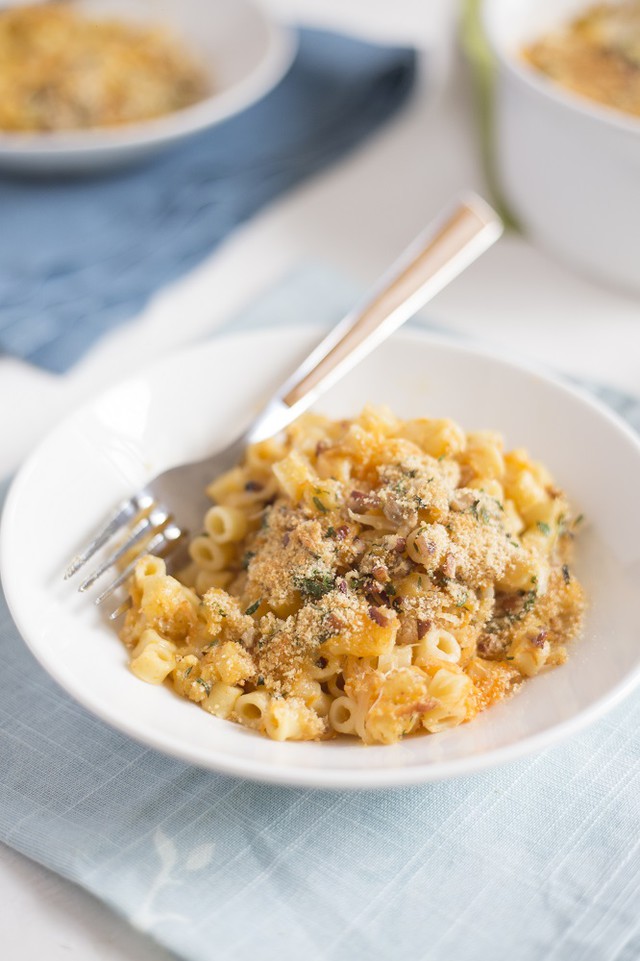 Ditalini & Spring Vegetable Casserole
Ciders are characterized as sweet or dry. Among the dry ciders, there can be several different designations of dryness much like you find in wine, but there aren't as many designations to classify a sweet cider. For a dish featuring spring vegetables we want to avoid a pairing that is too dry or too sweet so we will choose a semi-sweet cider. It should compliment the spring vegetables without overshadowing with too much sweetness.
Suggestion: Bite Hard Semi Sweet Cider, Boonville, California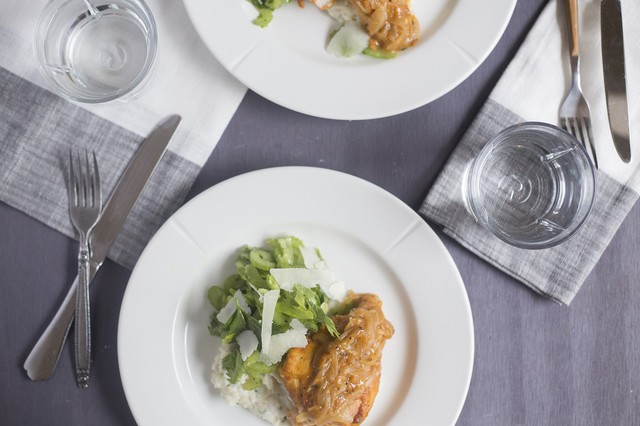 Virginia Willis' Smothered & Covered Chicken with Herb Grits and Celery Salad
Lactose has many uses in beer. You can take the lactic acid and sour a beer, or use the lactose sugar to sweeten a beer. Wait, wouldn't the yeast just eat the sugar and make more alcohol? Lactose sugar is un-fermentable which means adding it not only allows the brewer to add the milk monicker, but also to sweeten the beer without increasing the alcohol content. Milk stouts are the comfort food of beer and it will complement the "smothering"
Suggestion: Left Hand Milk Stout Nitro, Longmont, Colorado