Beer Pairings for the Week of September 19th, 2016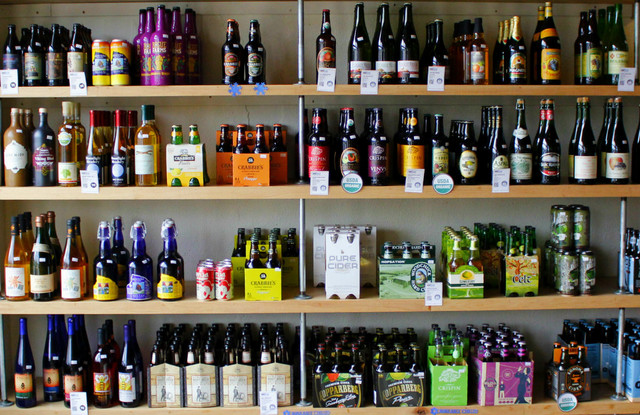 Looking for the perfect brew to go along with your PeachDish meals? We've got you covered. We've partnered with the owners of BeerGirl, a local Atlanta shop, to help you select the perfect beverage. BeerGirl's passionate owners, Alexia Ryan and Erik Lewis opened their shop with the dream of connecting the people of their community with delicious craft beer from the South and beyond. Here are this week's suggested pairings: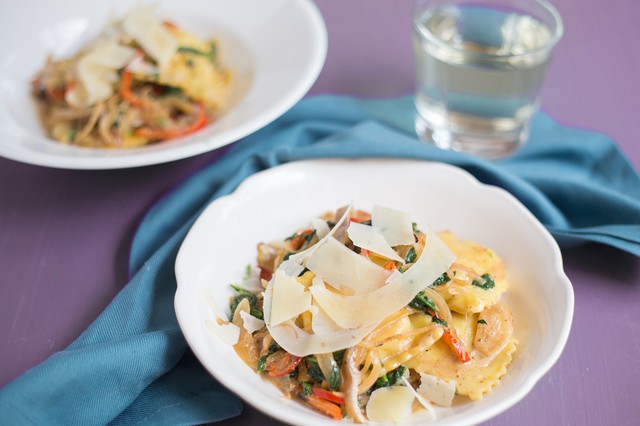 Shrimp and Langoustine Ravioli with Peppers & Spinach
Pairing beer with pasta can be tricky especially when we are dealing with flavors beyond tomato sauce. Lighter styles of beer help lighter flavors shine and we can think of no better lighter style of beer for a shrimp pasta than the pilsner. Pilsners are a type of lager that feature a lighter malt bill with a distinctive hop bite.
Georgia Local Recommendation: Arches Pilsner, Hapeville, Georgia Suggestion: Victory Prima Pils, Downingtown, Pennsylvania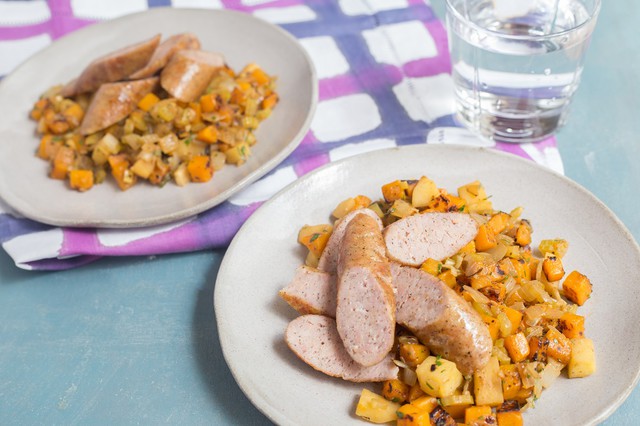 Smoked Chicken Sausage with Butternut Squash & Tart Apple
Sausage and apple scream fall much like darker lagers herald Oktoberfest. Wait doesn't Oktoberfest start in October? Nope, Oktoberfest starts this week and this is the perfect celebratory meal. The only thing that would make this meal of chicken sausage and apples better would be a slice of pumpernickel bread. So we suggest a beer with rye malts which will lend sour and spicy characteristics of pumpernickel to this dish.
Suggestion: Great Divide Hoss, Denver, Colorado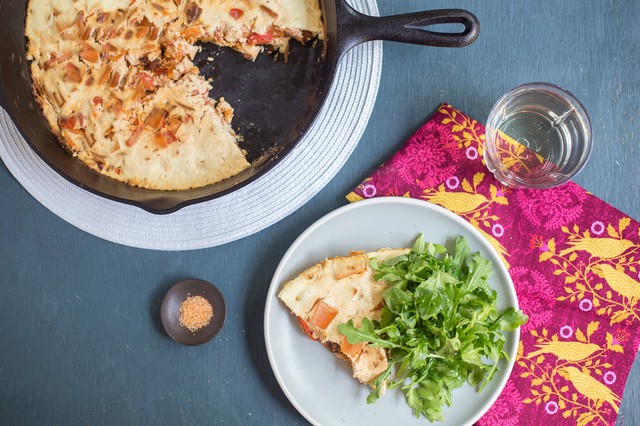 Silken Sweet Potato Frittata with Arugula Salad
Pairing like flavors is a much better way to highlight an ingredient than contrasting flavors. While there aren't a whole lot of sweet potato beers, there are an abundance of pumpkin beers this time of year. For this frittata featuring tomato and sweet potato, we suggest a complementary pumpkin beer that will bring some additional sweetness.
Suggestion: Shipyard Pumpkin Head, Portland, Maine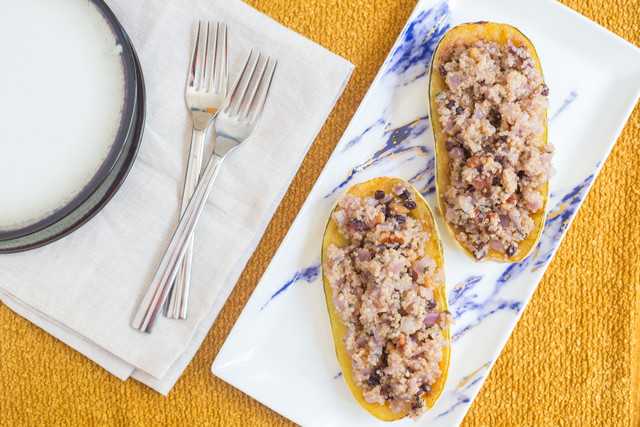 Roasted Delicata Squash Stuffed with Quinoa, Currants & Sage
Roasting vegetable brings out a sweetness and depth of character that other cooking methods can never approach. Belgian strong ales bring fruity aromas and spicy flavor along with the extra carbonation from bottle conditioning. This beer style will play well with the sweetness from the roasting while adding just a little punch of spice.
Suggestion: Duvel, Breendonk-Puurs, Belgium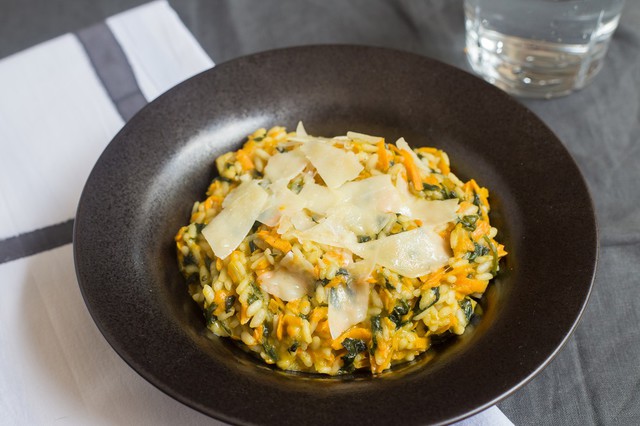 Sweet Potato Risotto with Parmesan & Nutmeg
Pumpkin beers are all the rage this time of year, but pairing a pumpkin beer can be tricky. You get the flavor of pumpkin, cinnamon, nutmeg, and brown sugar, so most will think dessert. However, pumpkin and sweet potato are like flavors so they complement each other while also letting the nutmeg shine.
Suggestion: Dogfish Head Punkin Ale, Milton, Delaware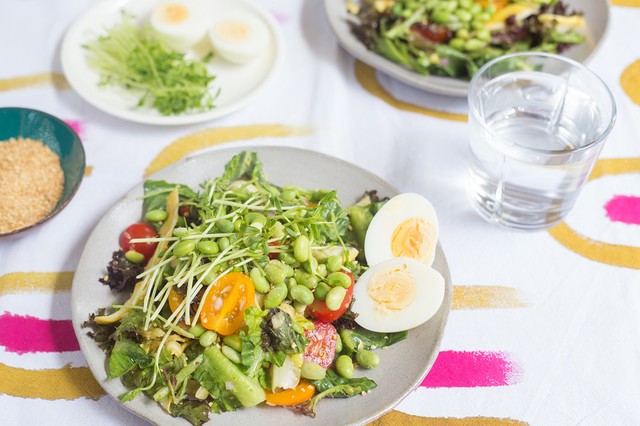 Late Summer SuperFood Salad
If we want to ramp up the health benefits of superfoods, the best bet is to add in a beer fermented with a wild yeast strain. Yeasts are a good source of protein, fiber, minerals and B vitamins. For this dish, we are going to suggest a beer fermented with Brettanomyces that will add a dry characteristic to the meal.
Suggestion: Boulevard Saison Brett, Kansas City, Missouri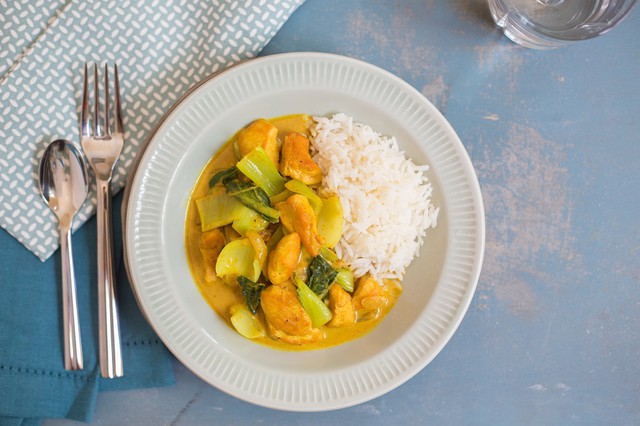 Curried Chicken Breast with Bok Choy & Jasmine Rice
Because of the craft beer industry's penchant for experimentation, we now have beers with virtually every spice profile available in the market. So, when looking to pair a dish with some regional flavor profiles, why not try a beer with the same or similar regional flavor profiles? Try something like a witbier with lemongrass and ginger that will enhance those complex curry spices.
Georgia Local Recommendation: Second Self Thai Wheat, Atlanta, Georgia Suggestion: Westbrook White Thai, Mount Pleasant, South Carolina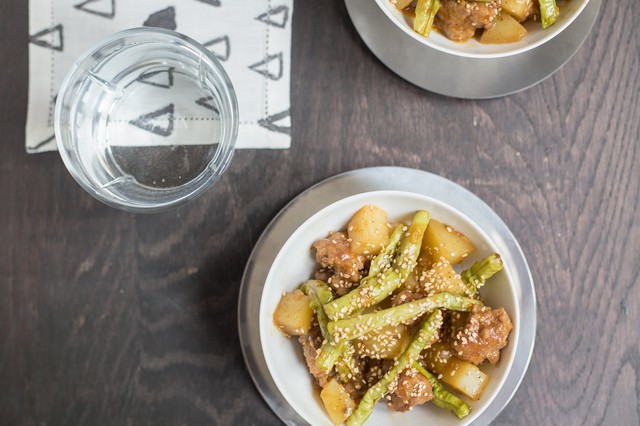 Pork Hot Pot with Long Beans & Glazed Potatoes
Belgian beer and Asian inspired food pair wonderfully together. Belgian beers, from the dark malty quadruple to the lighter Belgian blondes, do not rely on hop bitterness as a primary flavor component. For this dish, we suggest pairing the dominate flavors of garlic and ginger with a Belgian Blonde that brings some toasty malts and a whole lot of sweetness.
Suggestion: Evil Twin Joey Pepper, Brooklyn, New York